| | |
| --- | --- |
| Brent Venables discusses Winston, stopping Florida St. | |
---
| | | |
| --- | --- | --- |
| Tuesday, September 16, 2014, 8:25 PM | | |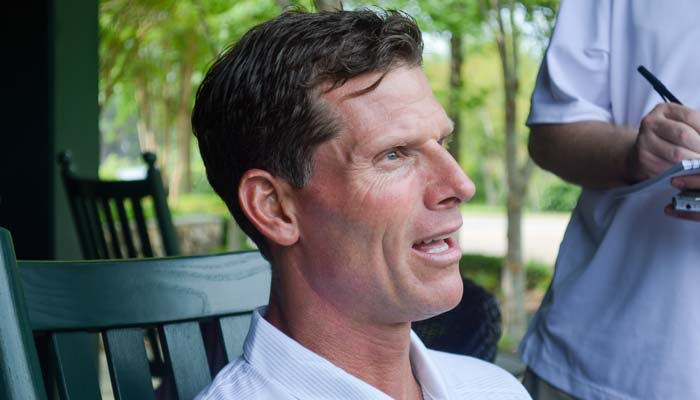 CLEMSON – Defensive coordinator Brent Venables

Brent Venables
Def. Coordinator / Linebackers
View Full Profile spent the majority of Tuesday's question and answer session with the media answering questions about Florida St quarterback Jameis Winston and last year's 51-14 blowout loss to the Seminoles.
Venables was reminded that in two chances against Florida St. since his arrival at Clemson, the Tigers have given up 49 and 51 points, and he said that Clemson has to play better in order to earn a win.
He then noted that it isn't just Clemson that Florida St. has had success against.
"We need to play better than we've played the last couple of years. They've had their way with about everybody," Venables said. "It's not a Clemson thing. It's not a Clemson defense thing. They've got a Heisman Trophy guy back there. But, it's something we're looking forward to."
The talk quickly turned to Winston, and Venables said that not much has changed in Winston's game – he's just more experienced.
"He's like all the great players; he's instinctive, fast, strong, he's got a big arm, he's a great decision maker, a great leader, confident, consistent, all those things," Venables said. "It's been well-documented. Everyone has broken him down. He won the Heisman a year ago and he's the same guy. He's probably just more experienced. He played well beyond his years a year ago. That was the story going into the game a year ago and that proved to be true, not only in our game but in other games. He's beyond his years in every way; playmaking, decision making, handling success and adversity. He has continued to win. He's a winner."
Venables said that Winston's ability to make plays with his feet is "uncanny" for a player his size.
"He's strong. Athletic. He's very uncanny in his running style," he said. "He's a big guy. To the naked eye he may not seem fast, but he's faster than you think. He's stronger and quicker than you think. He's always got his eyes downfield. That makes him very dangerous. Some guys are scramblers to run, some guys are scramblers to throw and with him, he'll do both. It's much easier to play a guy who can't do both, but he can."
He then laughed when asked yet another question about the Florida St. signal caller.
"He's probably the first pick in the draft when he comes out, so take out Winston and look at past Heisman winners and guys who have dominated the college game and they all have the same qualities, from leadership and toughness and competitiveness to being highly skilled," Venables said. "You name it. They're multi-faceted in their skill set. They don't just do one thing, whether it's (Todd) Gurley or Adrian Peterson or go down to the Charlie Wards of the world. Go down the list and you see the things they are able to do. They're highly talented and highly skilled."
Other notes
Rashad Greene
"He's very good. He can take the top off the defense. He understands coverage and spacing and he can catch a short one. He's strong enough to break tackles. They get him the ball in a variety of ways."
How can you get your players to play with the same intensity FSU showed last season?
"That comes in your preparation. It comes with guys studying, knowing what to expect, practicing with a focus, be sharp. On the road you have to be confident, be poised, play aggressively and with intelligence. They have to be willing to fight for four quarters. There will be some adversity. They don't have to be perfect and make every play but we have to play well as a team."
How the defensive line held up last season
"I think solid in some aspects. Not so well in others. Obviously I don't think I'd fool anyone if I came in here and said that we overwhelmed them. That didn't happen, but we played well enough in some aspects though overall we didn't play well enough defensively anywhere to have a chance to win."
The challenge of tight end Nick O'Leary
"What I like about him as a coach is his toughness. He is a very tough player. He's got deceptive speed, exceptional hands and is very strong. He understands how to get open. He's very physical in his route-running. He's a very good player."
Jayron Kearse

Jayron Kearse
So. Safety
#20 6-4, 215
Fort Myers, FL
View Full Profile to nickel?
"Korrin (Wiggins) has done a great job. We work two and three teams deep at each position. Jayron has played a variety of positions for us just like Martin Jenkins

Martin Jenkins
RS Sr. Cornerback
#14 5-9, 185
Roswell, GA
View Full Profile and Korrin. We have to train guys to play multiple positions to create depth. I think Korrin did very well last year as a true freshman. Martin (Jenkins) is also another quality player who plays there. Hopefully nobody gets hurt where your hand is not forced that way. We do have some guys who can play multiple positions, though, and he's one of them."
The lesson of someone like Tony Steward

Tony Steward
Sr. Linebacker
#7 6-1, 236
Hastings, FL
View Full Profile
"It's a lesson to all of us; coaches, fans, media. We're so quick to judge and anoint or label guys a bust or you're quick to go on to the next hot shot recruit when in reality, typically, usually the best players are your fourth and fifth-year seniors. Are they better as a freshman in high school or a senior? And 100-percent of the time it's going to be as a senior. That's what it is to me as much as anything. Yeah, you're happy for him. He's had to fight through some adversity and some conditions beyond his control. I think he has had the maturity because he's a senior and because of some things he's faced. Obviously you always pull for those kinds of guys."