| | |
| --- | --- |
| Brent Venables and the "secret sauce" that keeps Clemson's coaches happy | |
---
| | |
| --- | --- |
| Thursday, July 15, 2021, 8:00 AM | |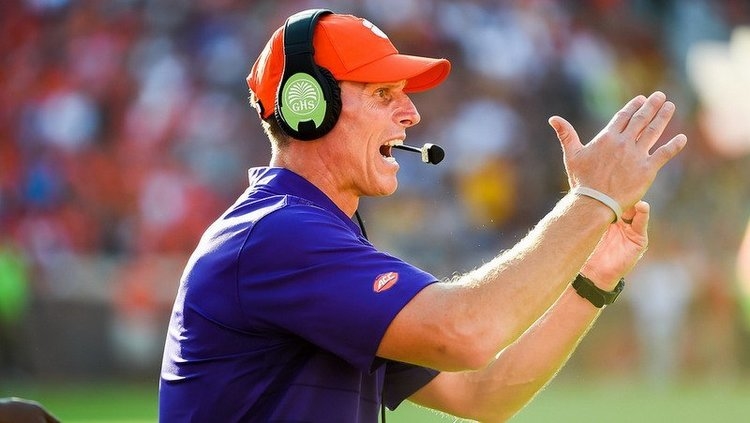 College football as we know it seems to change daily, with reports of Name/Image/Likeness deals dominating the airwaves and the internet, a harbinger of sweeping changes to come in the sport we all love. But tucked away in a corner of South Carolina sits Clemson University, where the coaches stick around and are rewarded for their loyalty (and excellence) with some of the best contracts in the game.
It's the Clemson Secret Sauce.
Defensive coordinator Brent Venables was given a five-year extension to his current contract by the Clemson Board of Trustees Compensation Committee Wednesday afternoon, and the extension includes a $100,000 per year increase that pays him $2.5 million per year through 2026.
Venables is the highest-paid assistant coach in college football, and with offensive coordinator Tony Elliott's new contract, the Tigers have two of the three highest-paid assistants in college football.
Venables agreed to a five-year, $11.6 million deal back in 2018 that included a base salary of $2 million per year along with a $200,000 retention bonus over the first two years and a $400,000 retention bonus over the final three years.
Venables left Oklahoma to become the defensive coordinator at Clemson after the 2011 season and begins his 10th season at the helm of Dabo Swinney's defense this season. His tenure is one of the longest for a coordinator in all of college football.
I did a little research Wednesday evening (turns out there isn't really a list of tenured assistant coaches that's easy to find), and turned my attention to the 10 coaches (and schools) that have been at their school longer than Swinney has been at Clemson.
Iowa head coach Kirk Ferentz started in 1998 and his defensive coordinator is Phil Parker, who has been with the Hawkeyes since 1999. However, he spent the first 12 years as the secondary coach before taking over as defensive coordinator in the same year as Venables, 2012.
TCU's Chad Glasgow was with the Horned Frogs from 2001-2010 as the safeties coach, left for a year, and then returned to coach the safeties in 2012. He's been either the sole coordinator or co-coordinator since 2015. In Utah, Morgan Scalley is in his 14th year with the Utes but just his sixth as the defensive coordinator.
Oklahoma State's Jim Knowles has been on the job since 2018. At Middle Tennessee State, Rick Stockstill hired our old friend Scott Shafer, who once famously spit gum in Swinney's direction when Shafer was the head coach at Syracuse. John Rudzinski has been at Air Force for 14 years but just four as the defensive coordinator.
Alabama's Nick Saban has had a revolving door of coaches, including coordinators, and the Navy defensive coordinator is entering his third year. At Duke, David Cutcliffe's co-defensive coordinators started as GA's but have been on the job less than five years each. There has been a shakeup at Ohio, but neither defensive coordinator matches Venables' 10 years in the same position at the same school.
Unless there is someone out there – and there could be – who has kept his job as defensive coordinator through a coaching change and been there longer than 10 years, Venables is tied with those other two for the longest-tenured coordinators. Of course, former Virginia Tech assistant Bud Foster would hold the outright title if he was still around.
Clemson's staff stability has long been the talk of college football, and it helps that Athletic Director Dan Radakovich, President Jim Clements, and the Board of Trustees aren't afraid to spend the money necessary to keep everyone happy. That kind of synergy – between the administration and the athletic department and the football staff – doesn't happen everywhere. You can look at Florida State as a place that has had dysfunctional relationships for years, and that finally brought the program down.
It also helps that the assistants love to coach for Swinney and love coaching for the Clemson fans.
"Coach Swinney is as good as there is in this profession," Venables said. "You can recruit great players and live and work in a place that's got a sense of community to it. You have great appreciation from your fan base and great support. The stadium's full each and every week, and you can beat anybody you play. There's nobody on this earth that I have more respect for (than Swinney). I know who he is and what he stands for. And I know how he's made me a better husband and a father and a Christian and a coach. And just very, very thankful for him.
"That doesn't mean we have to agree with everything. He doesn't expect that with everything he thinks. But we certainly are there to support him in every way. He's as real as it gets. I know he's a fierce leader, somebody that is an incredible man, husband, father, Christian, leader, coach. I know he cares deeply for his players and his program and the former players, and every one of the members of our families."
Radakovich says that is the "secret sauce" that Clemson enjoys.
"Brent's was really kind of easy," Radakovich said of the contract process. "I think if you look overall over the last five, six or seven years, part of the secret sauce if there really is any as it relates to the success of our football program is the fact that Dabo has been able to retain his assistants. He likes that. It's great for the players. They have that constant voice. It's good for Dabo. He continues to have the same people around him and that is something that is really important for the success of our program.
"We have had success so I think rewarding that success is important. So we have been able to do that. The Board has been very helpful in making that happen so we wanted to make sure we continue that into this year."