| | |
| --- | --- |
| Blanks far from satisfied with first scrimmage effort | |
---
| | | |
| --- | --- | --- |
| Monday, August 12, 2013, 11:53 PM | | |
CLEMSON – Clemson's much-maligned secondary took a beating in the scrimmage last Saturday, as injuries once again claimed the playing time of veterans and freshmen alike.
One of veterans expected to be an anchor in the defensive backfield this season is sophomore Travis Blanks
Travis Blanks
So. Defensive Back
#11 6-0, 190
Tallahassee, FL
View Full Profile , who is making the transition from Nickel-SAM to full-time safety this year. Blanks told the media Monday afternoon following practice that he didn't play like a leader or a veteran, and gave a fairly frank assessment of his play in the scrimmage.
"I played terrible," Blanks said after Monday morning's practice, the Tigers' second two-a-day of August camp.
Blanks then said that there is no need to worry – he rarely makes the same mistake twice, and is looking at the scrimmage as a learning experience.
"I know what I can do," Blanks said. "And I'm usually a guy that corrects my mistakes. I rarely make the same mistake twice. So I'll get all that stuff corrected this week. We don't play Georgia for another 19 days, so it's not like we play them tomorrow. We are just looking at this week as getting better and I am correcting my mistakes."
Blanks said the problems during the scrimmage were due to having "bad eyes."
"I think the biggest thing in the scrimmage Saturday was I had bad eyes," he said. "And whenever you have bad eyes, you'll be in bad position."
He then said that he wasn't going to use his move to safety as an excuse for his performance, saying that football is still football.
"I wouldn't excuse my performance because I've been at safety," he said. "I know what to do. I know my responsibilities and assignments. That's not the reason. It has been a transition, but it has been a good transition. You have to go at full speed. Football is still football. I still have to read my keys and fight off blocks. While it is a transition, it's not completely different. It is different because I am 12 yards deep and not five yards deep."
Veterans Darius Robinson
Darius Robinson
Cornerback
#8 5-10, 175
College Park, GA
View Full Profile , Martin Jenkins
Martin Jenkins
RS Jr. Cornerback
#14 5-10, 180
Roswell, GA
View Full Profile and Garry Peters
Garry Peters
RS Jr. Cornerback
#26 6-0, 195
Conyers, GA
View Full Profile missed the scrimmage along with freshman MacKensie Alexander
MacKensie Alexander
Fr. Defensive Back
#2 5-11, 185
Immokalee, FL
View Full Profile . Another freshman, Adrian Baker
Adrian Baker
Fr. Cornerback
#21 6-1, 170
Hollywood, FL
View Full Profile , missed all but the first series after injuring his knee. The injuries paved the way for other freshmen – like Ryan Carter
Ryan Carter
Fr. Defensive Back
#31 5-10, 175
Grayson, GA
View Full Profile , Jayron Kearse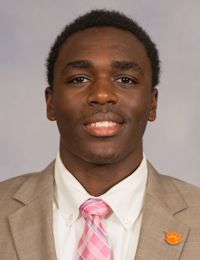 Jayron Kearse
Fr. Safety
#20 6-4, 205
Fort Myers, FL
View Full Profile and Marcus Edmond
Marcus Edmond
Fr. Defensive Back
#29 6-1, 180
Hopkins, SC
View Full Profile – to get meaningful snaps.
Blanks said that it's good to give guys opportunities, but at some point the entire group needs to regain its health.
"It's not real positive to have guys out," he said. "No matter who it is, it's never a positive to have guys out. But there are opportunities that come out of that. We've got a bunch of the young guys developed. So that is the opportunity that guys have, but it's never good to have guys out. We got the young guys like Adrian Baker and Marcus Edmond reps with the first team, so there are ways to get better through adversity with the guys out."