| | |
| --- | --- |
| Behind the scenes with the real Tajh Boyd: Quarterback, team leader, cleanup man | |
---
| | | |
| --- | --- | --- |
| Wednesday, September 25, 2013, 9:29 AM | | |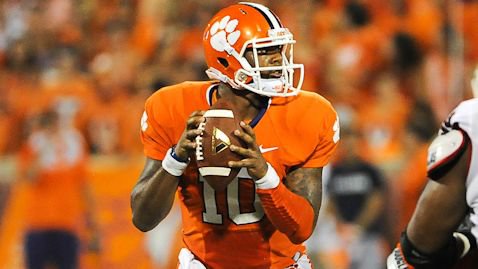 CLEMSON – The Friday night before Clemson's season opener against Georgia, the Clemson football team boarded the buses and made the short trip from the hotel to a local movie theater.
Whether at home or on the road, the Tigers almost always watch a movie together – as a team – the night before a football game, and Clemson head coach Dabo Swinney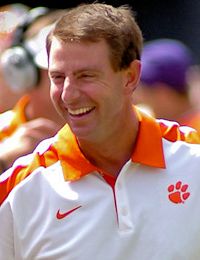 Dabo Swinney
Head Coach
View Full Profile reminds the players of who they are and what they represent, a not-so-gentle reminder to leave the theater in better shape than they found it.
On this night, however, the players and coaches began boarding the buses for the short trip back to the hotel and noticed that someone was missing. An important someone.
Tajh Boyd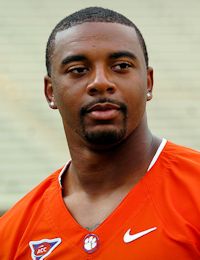 Tajh Boyd
RS Sr. Quarterback
#10 6-1, 225
Hampton, VA
View Full Profile , the leader of the team, the Heisman hopeful and record-setting senior quarterback for the Tigers, was nowhere to be found. Was he on the first bus? The second bus?
A quick check found Boyd, still inside the theater.
The entire week before the game, Boyd's face had splashed across millions of screens across the country as the major networks and media outlets previewed the season. He was a Heisman hopeful. A future NFL draft pick. The face of Clemson's football resurgence. His face adorned magazine covers and newspapers. Tajh Boyd was hot.
But on this night, he wasn't Tajh Boyd the celebrity or Tajh Boyd the Heisman hopeful. He was Tajh Boyd, the senior leader of a football team that needs a leader. On this night, he was Tajh Boyd, the cleanup man.
The coaches walked back inside the theater and found their quarterback cleaning up trash that his teammates had left behind, making sure that the theater was in better shape than when he and his teammates arrived. After all, he not only represents Clemson and Swinney, but he is also the son of Tim and Carla Boyd, and they raised their eldest son to be that kind of person, the kind who performs selfless acts even when the cameras are turned off.
The following night, he would perform under the bright lights of Clemson's Memorial Stadium and with the glare of a national television spotlight reflecting off his helmet. But on this Friday night, he worked alone in a darkened theater, far away from the television lights and magazine covers, doing the kind of little things that would resonate with his younger teammates.
The move should have astounded his head coach. It didn't.
"We go back in there and he is cleaning up everybody's popcorn, drinks and trash," Swinney said. "Most everybody did what they were supposed to do and threw their trash away. That is what we talk about – we represent Clemson and that is what you do. But there was some trash that was left behind and he is in there cleaning it all up. That is servant leadership."
The move didn't go unnoticed by Boyd's teammates, according to Swinney.
"The same thing happened last Wednesday night up at N.C. State," Swinney said. "I am usually one of the last ones out, and I walking out and look up and a lot of the popcorn had spilled on the floor. Well Hot Rod (Roderick McDowell) had gone and gotten a broom and he had swept the entire floor and swept the popcorn into a pile. People don't see those types of things. But that type of leadership is special and gives you a chance."
People are always asking me if Boyd – who comes across as bigger-than-life but also genuine and approachable – puts on a front for the media and the public. Surely, they ask, he turns into the selfish athlete we all read and hear about once the cameras have been turned off and the recorders have been put away.
Not even close.
Johnny Manziel trots around the country attending concerts and lashing out at anyone and everyone on his Twitter account. Terrell Pryor got himself and his school into trouble at Ohio St. The news surrounding college football is littered with stories of selfishness and drug use and cash payouts, and people begin to think that every college football player is that way.
What they don't see is the humble quarterback picking up trash so his teammates don't get into trouble, and that act isn't simply an act. It is the real Tajh Boyd.
"That is just who he is. That is in his DNA," Swinney said. "He speaks up when he needs to. He is always out in the community doing different things and trying to be a leader for this football team. That is why he is successful – he makes everybody around him better. He is the heart and soul of this football team."
Swinney received an email last week from a parent whose son attends Clemson, and she wanted to let the head coach know what his quarterback was doing once practice was over and he was out of the sight of the coaches.
"I think it was Monday or Tuesday night after practice, and Tajh and a couple of other players went out to the intramural field," he said. "This lady emailed me and told me that her son was throwing the ball and here comes Tajh Boyd, and Tajh is like, 'Hey, let's play catch.' And they are throwing the ball around and she couldn't believe that he would do something like that. What an impact. Nobody is looking or paying attention, he just goes out and does it on his own."
Senior offensive lineman Tyler Shatley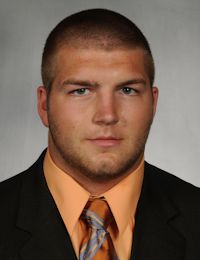 Tyler Shatley
Gr. Offensive Guard
#62 6-3, 295
Icard, NC
View Full Profile said that he and Boyd – at Boyd's urging - and some of the other players plan to give back to their fellow students this week.
"We were talking about this earlier," Shatley said Tuesday. "Some of the guys, like Tajh and Sammy [Watkins] and a few of the guys might go out to Bowman Field and deliver pizzas to the students who are working on the floats for Homecoming. They stay out there all night. But that just shows what a great leader Tajh is, and a way for us to show our thanks to the students. That says a lot about his character. He is just committed to doing the little things right."
I asked Boyd what drives him to do those little things the right way, and he told me that it all comes down to the kind of character a person wants to possess.
"It was something that was instilled in me as a kid, and it's values that I've learned here as well," Boyd said. "Once you get to this point, you understand that life is about more than just football. It's how you represent yourself all the time, on and off the field. It just becomes second nature.
"I try and enjoy every moment now, because I am older and in this position where I am in my last few months here at Clemson. Wherever I go people know who I am. If I go somewhere to eat, people are staring at me, and even if I go to PetSmart people are talking to me. It is just one of those deals where you are representing something more than yourself. It is not a front or a fake thing, and I definitely thank my parents for it."
They give out Heisman Trophies for play on the field, and Boyd might indeed be in the running for that coveted award later this season. But if they gave out an award for being a good citizen and a great team leader, he would get my vote. Happy birthday Tajh.