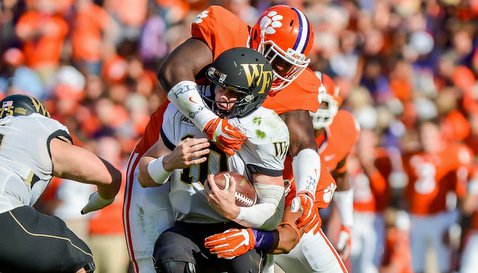 | | |
| --- | --- |
| Are the Monsters back in Death Valley? | |
---
| | | |
| --- | --- | --- |
| Friday, March 14, 2014, 12:08 PM | | |
CLEMSON – Clemson fans have been longing for a return to the good old days of Clemson football, the days when defensive monsters like Levon Kirkland

Levon Kirkland
Linebacker
# 0, 0
,
View Full Profile , Jeff Davis, Brentson Buckner

Brentson Buckner
Defensive Tackle (1990 - 1993)
#89 6-3, 315
Columbus, GA
View Full Profile , Terry Kinard, Brian Dawkins

Brian Dawkins
Safety (1992 - 1995)
#20 6-0, 200
Jacksonville, FL
View Full Profile and Michael Dean Perry roamed Death Valley instilling fear into opposing offenses.
Those days may be about to return.
Clemson's blowout loss to West Virginia in the 2012 Orange Bowl was undoubtedly the lowest point – the Tiger defense was shredded, humiliated and trampled, and many despaired that there might never be a feared defense to cheer for in their lifetimes.
Clemson head coach Dabo Swinney

Dabo Swinney
Head Coach
View Full Profile added defensive coordinator Brent Venables

Brent Venables
Defensive Coordinator / Linebackers
View Full Profile after that Orange Bowl loss, and along the way several young players who were still trying to find their way on that miserable night in Florida grew up.
During the 2013 season, Clemson's defense finished 24th nationally while leading the nation in tackles for loss with 123. The defensive line was a big reason for that astounding number, and they are all back in 2014, including defensive tackle Grady Jarrett

Grady Jarrett
Sr. Defensive Tackle
#50 6-1, 290
Conyers, GA
View Full Profile , who thinks his defense will take another step forward this season.
"I believe we have the personnel and the coaching staff to be if not the best, certainly one of the best in the country," Jarrett said last week. "We just have to come out and stick to it everyday. We have young guys, young talent on the corners, but outside of that we're all seasoned vets. The sky is the limit for us as long as we believe in our coaches. We have to cut out the big plays and everything will take care of itself. We had so much improvement this (past) year which kind of went unnoticed and unrecognized, but we're just going to keep getting better."
Sack master Vic Beasley

Vic Beasley
RS Sr. Defensive End
#3 6-3, 225
Adairsville, GA
View Full Profile surprised a lot of people by returning for his senior season, and he said that one of the reasons he decided to spend another year in Clemson was due to the fact he wants to see how good the defense can become.
"I'm very excited. We've got a great front seven," Beasley said last week. "We lost guys like Spencer Shuey

Spencer Shuey
Linebacker (2009 - 2013)
#33 6-3, 230
Charlotte, NC
View Full Profile and Quandon Christian

Quandon Christian
Linebacker (2009 - 2013)
#34 6-2, 225
Lake View, SC
View Full Profile , but we've got Stephone Anthony

Stephone Anthony
Sr. Linebacker
#42 6-2, 235
Polkton, NC
View Full Profile and Tony Steward

Tony Steward
Sr. Linebacker
#7 6-0, 235
Hastings, FL
View Full Profile . Our front four, we've got all seniors and we're just ready to make a statement again this year.
"I feel like we've got plenty of time to get better – all spring and all of fall camp. I think by the time it's all said and done, we'll be a lot like Florida State was last year – a top-notch defense and probably one of the best in the country."
Beasley then said that if defense wins championships, he can dream the impossible dream.
"Playing with this group one more time is very big for me," he said. "It's an accomplishment. I just want to go back out here and make a statement with this team one more time and hopefully end it with a national championship run and bring home the national championship back to Clemson."
The big question mark surrounding the defense is the secondary – we've been saying that for a few years now – but Beasley thinks a ferocious front seven will take some of the pressure off that group.
"We have to be more of a leader to the secondary because we have such a young secondary," he said. "That's one of roles to be better this year. We have to be committed this year. We were committed last year, but there's always room for improvement. I feel like with more commitment, we can be the best d-line in the country."
Senior defensive tackle DeShawn Williams

DeShawn Williams
Sr. Defensive Tackle
#99 6-1, 285
Central, SC
View Full Profile says that the fearsome group up front is playing with confidence born of experience.
"We are very confident in the knowledge of the playbook," Williams said. "We can call out things even before they happen. Right now, we are just playing very free and confident."
The defense will get its first big test during the season opener against Georgia, and then two weeks later against Florida St., something that Williams says every player is aware of.
"It does make you push harder," he said. "Because you know what you are about to get into."

Tags: Clemson Football
,
Brent Venables
,
Brentson Buckner
,
Brian Dawkins Sr.
,
DeShawn Williams
,
Grady Jarrett
,
Levon Kirkland
,
Quandon Christian
,
Spencer Shuey
,
Stephone Anthony
,
Tony Steward
,
Vic Beasley