| | |
| --- | --- |
| Another Spiers is headed to Clemson | |
---
| | | |
| --- | --- | --- |
| Tuesday, January 19, 2016, 7:58 AM | | |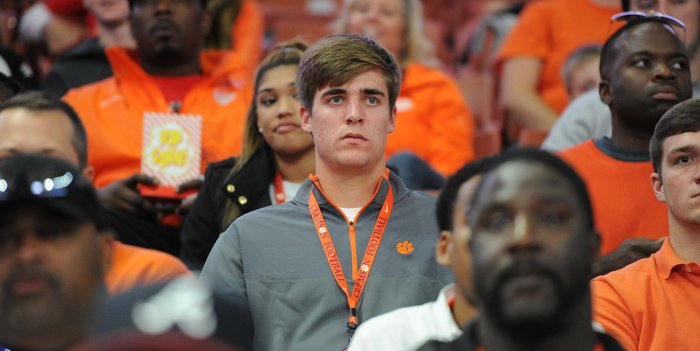 When Clemson fans hear the name Spiers, they immediately think of "Shortstop" Spiers – the baseball player who answered an ad in the school newspaper and became Clemson's punter in the 1980's.
Now, Bill "Shortstop" Spiers' son, Will, is following in the footsteps of his father as he tries to become Clemson's next great punter.
The younger Spiers quarterbacked his St. Matthews (SC) Calhoun Academy team, but has accepted a preferred walk-on spot with the Tigers as a punter, something Will told TigerNet he's been working hard at for a couple of years now.
"Last year I worked with Bradley Pinion a little bit," Spiers told TigerNet Monday evening. "Then about a month ago I went to Dan Orner up in Charlotte who is a kicking guru and he helped me out. That was really beneficial. I really don't know about my average but I'm hitting the ball good. I played quarterback in high school, so I'm basically a quarterback who's punting, not an all-time punter. I have to work on the technique and all. Once I get that down I think I'll be good to go."
Clemson first reached out to gauge Spiers' interest and after his baseball opportunities fell through he said he wanted to fully pursue Clemson's offer.
"They reached out to us first. They said that they want me as a preferred walk-on. They've known that I could punt for a while and that was something in my head that I wanted to do," Spiers said. "Honestly, I thought baseball is the thing I wanted to do, but then that kind of didn't go through right. With football, that's something I really want to do and I'm looking forward to it."
The Tigers lacked consistency in the punting game, as well as on kickoff, and Spiers said he's working on both.
"I kickoff for our school, but I can't soccer style," he said. "I just straight toe it. I can kick it far. They said they don't care how I kick it. If I can kick it in the endzone, that's what they want. I'll continue to work on that, too, but mainly just punting."
As a quarterback and punter at the then-Wade Hampton Academy, Will's father, Bill Spiers, helped the Rebels win back-to-back SCISAA football championships in 1982-83. He also played baseball and followed in his father's footsteps in accepting a baseball scholarship to play at Clemson University.
During his time at Clemson, Spiers batted .320, hit 17 home runs, drove in 119 runs and stole 60 bases in earning Sporting News All-American honors. During his junior season at Clemson, Bill answered an ad in the school newspaper, which had been placed by then-head football Coach Danny Ford. The Tigers were in need of a punter and Bill tried out. He made the team and became starting punter for the Tigers in 1986. That season Bill, who Danny Ford always referred to as "Shortstop," would play in the Gator Bowl. Bill's 39.2 average ranks 12th all-time at Clemson.
In 1998, Bill was inducted into the Clemson Athletic Hall of Fame, and in 2007, into the South Carolina Athletic Hall of Fame.
Will's grandfather, Bud Spiers, his uncle Michael, and cousin Glenn Batson played baseball for Clemson as well.
Despite the success of Spiers' family members, he said he's coming to Clemson to make a name for himself and earn a spot on Clemson's roster.
"My family has supported me through all of this. He (his dad) is telling me to work hard and to always try to do my best, and hopefully, one day I can be the punter at Clemson," he said. "I would love to come in and make my own name at Clemson and come in and show everybody what I can do and continue to work hard. I just want to earn a spot on the team and do my best."
Spiers has been around Clemson his entire life, but took his official visit this past weekend and he said the academic side of the football program really opened his eyes.
"I thought that Vickery Hall was very interesting and how that process works with all of your studies and all," he said. "I think it's a good thing, obviously. I had never really seen that before. I saw it one other time with baseball, but they went more in depth this time. It was really good."