TigerNet

is the oldest and largest Clemson Community online with 152,586 members, 58,176 news articles and 29M forum posts.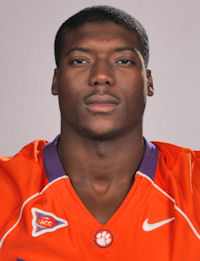 #36
Byron Maxwell
Defensive Back
| | |
| --- | --- |
| Position: | Defensive Back |
| Ht./Wt.: | 6-1, 205 lbs |
| Hometown: | North Charleston, SC |
| 40: | 4.40 |
| High School: | Fort Dorchester |
| Class: | Graduated |
| Exp: | 4VL |
| Years: | 2006 - 2010 |
| Major: | Sociology |
B I O
Overview: Looks to move into a starting cornerback slot as a senior...played in all 14 games as a reserve in 2009, but averaged 23 plays per game...had 36 tackles in 2009 and five passes broken up...had two interceptions, they came in consecutive games against Florida State and N.C. State...went 34 games with out an interception, then had one in back-to-back games...one of the hardest hitting defensive backs in the ACC...has played in three bowl games and has 14 total tackles in those games...had two tackles for loss against Auburn...has played 40 consecutive games, all off the bench, but has averaged 24 plays per game during that span...has never missed a game for the Tigers, joining Marcus Gilchrist, DeAndre McDaniel and Michael Wade as 2010 seniors who have never missed a game...has three caused fumbles for his career...tied for third on the team in the vertical jump with a 38.5 inch figure...had 54 tackles in 2008 even though he never started a game, his career-high for a season...led all defensive backs in fewest plays per tackle, with one every 9.36 plays...named special teams player-of-the-week three times in 2008, only C.J. Spiller was honored more...led all non-starters in tackles in 2008.

2009: Had season-best six tackles in opener against Middle Tennessee when he played 23 snaps off the bench...had three stops against TCU, including a tackle for loss...played career-high 52 snaps against Florida State when Chris Chancellor was injured, he stepped up with five tackles, an interception and a pass breakup...had five stops at South Carolina and three in the ACC Championship game against Georgia Tech...had a recovered fumble against Maryland, so he had three takeaways on the season...had 15 tackles on special teams plays, which led the team.

2008: Played well as a reserve in the Gator Bowl against Nebraska with six tackles in 28 snaps; that included four special teams tackles...special teams player-of-the-week against N.C. State, Wake Forest, and Duke, and defensive player-of-the-week at Virginia...led the team in special teams tackles (21)...he had eight tackles and two tackles for loss in 23 snaps at Virginia; he also had a caused fumble on one of the best hits of the year...had five tackles in 30 snaps off the bench against #24 Alabama...had five stops against N.C. State in 29 snaps...had seven tackles (six first hits) in 38 snaps at #21 Wake Forest...had five stops in 27 snaps against Georgia Tech...led all non-starters in tackles.

2007: Played 24 snaps per game as a reserve cornerback...Clemson's top reserve against N.C. State and Wake Forest by the Clemson radio network...played 317 snaps, third-most on the team among freshmen...played at least double-figure snaps in every game...had 27 tackles, including 21 first hits...had four pass breakups...had three tackles and a sack at Duke...played 32 snaps against #18 Boston College; he had three tackles and a pass breakup...had four tackles against Central Michigan...played a season-high 43 snaps against #21 Auburn with a season-high six tackles and two tackles for loss.

2006: Red-shirted, as he rehabilitated from a torn ACL suffered during his senior year of high school.

Before Clemson: Rated as the #3 player in South Carolina by The State at Fort Dorchester High...#40 player in the nation by ESPN.com, the highest-rated Tiger signee in 2006...#4 player in South Carolina by SuperPrep...#19 defensive back in the nation by SuperPrep...#2 cornerback in the nation by Scout.com, #11 cornerback by CollegeFootballNews.com, and #18 cornerback by Rivals.com...did not play as a senior due to injury...had 60 tackles, 19 pass breakups, and five interceptions as a junior...#5 player in the state by Rivals.com...Super Southern 100 member by Atlanta Constitution...coached by Steve LaPrad...chose Clemson over Georgia, Maryland, Nebraska, Notre Dame, South Carolina, and Virginia Tech...born Feb. 23, 1988...majoring in sociology.

*Courtesy Clemson Media Guide
| | |
| --- | --- |
| | VIDEO HIGHLIGHTS |
Latest Byron Maxwell News
Click the link below to read more!