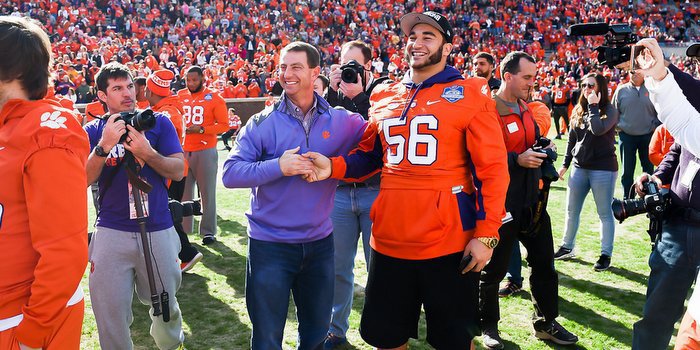 | | |
| --- | --- |
| Pagano says goodbye to Clemson | |
---
| | | |
| --- | --- | --- |
| Friday, February 17, 2017, 2:07 PM | | |
Clemson junior defensive tackle Scott Pagano has asked for his release from the program so he can play elsewhere next season. Pagano released a statement to say goodbye to Clemson on his Facebook account on Friday afternoon.
Dear Clemson Family,
I want to thank you all for the support that you have given me and my family over the past 4 years here at Clemson. I am truly blessed to have had the opportunity to be a part of the Clemson Family and earn a degree from such great institution, especially during such a historic time for Clemson's football program. While Clemson is a long way from Hawaii, I have always felt at home here and will forever treasure my time at Clemson.
Because of this my decision to transfer was one of the hardest decisions I have had to make. I have nothing but the upmost respect and appreciation for Coach Swinney, Coach Venables, Coach Brooks and the other Clemson coaches. I would not have the opportunities in front of me without you. However, the thing that I will miss most is my Clemson teammates. You guys are all brothers and I will always remember the battles we endured.
No matter where football takes me next, I know that there is no where that will come close to playing in Death Valley. From the Tiger Walks to constant encouragement on campus and around town, thank you to the Clemson fans. You guys are the #1 fan base in the country.
I also want to thank my family. Some of you may not know that part of my family moved to SC from Hawaii to support me. Having your support as I begin the next chapter of my journey means the world to me and I appreciate all of the sacrifices you have made for me.
Lastly, none of this would be possible without God. He's blessed me beyond my wildest dreams and I owe all the success that I have had and will have to him.
Thank you all from the bottom of heart. Wherever life takes me next, I will continue to represent Clemson University well.
Mahalo,
Scott Pagano