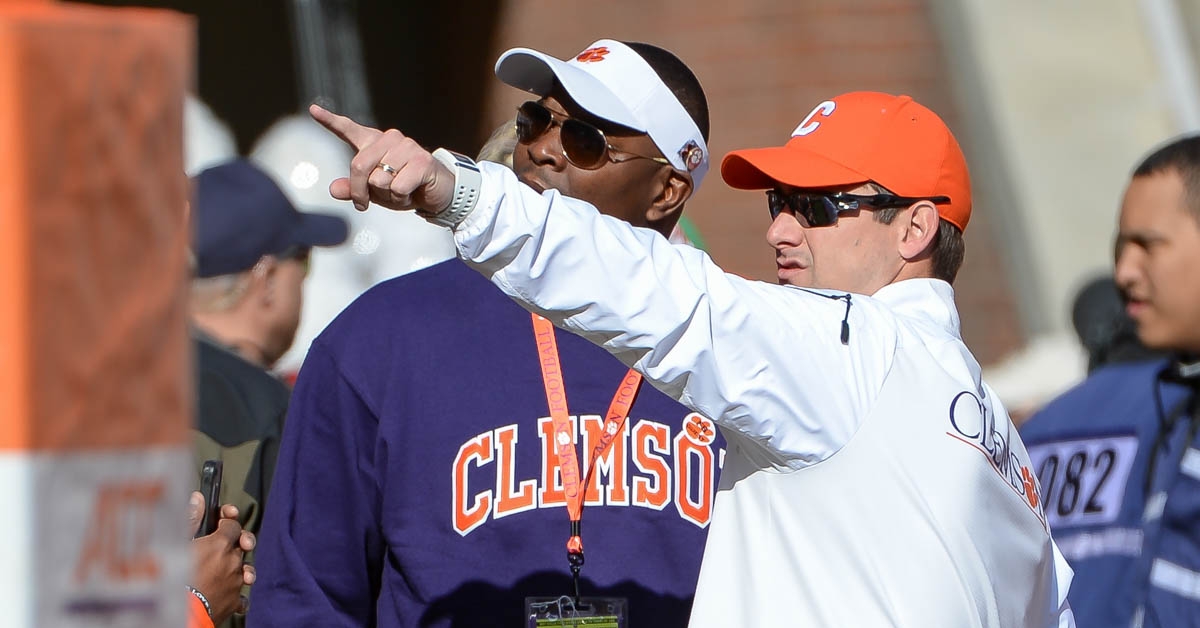 | | |
| --- | --- |
| Former NFL star Keyshawn Johnson doesn't see same Clemson, says Tigers 'back to the pack' in ACC | |
---
| | | |
| --- | --- | --- |
| Thursday, August 11, 2022, 2:18 PM | | |
Former NFL star and Southern Cal great Keyshawn Johnson has been around the Clemson program in his post-playing career, and he feels that after some staff turnover -- the No. 4-ranked Tigers (USA TODAY Coaches Poll) just aren't what he's been used to seeing.
"When Clemson was really on their run, they (were) loaded with NFL talent front-to-back at every position like an Alabama. Like a Georgia. Like an old USC. That's not the case now," Johnson said on his ESPN show Thursday. "They don't have NFL talent at every position from front to back, and they did in the past, and when they gotta go up against some of these other schools that they've now come back to the pack with, it's gonna be tough for them to just be this juggernaut in the conference and just steamroll people like they were in the past. I just don't see it."
Johnson expounded on his reasoning for that and said Clemson is taking a step back due to coaching turnover.
"I just look at where they've been and where they're at now. They were rolling with Deshaun (Watson) and Trevor Lawrence, Johnson said. "They were just rolling. They were having success. What happens when you have success is things start to happen. People start coming into your organization or school and they start to pluck important people. Like a Tony Elliott who was an offensive coordinator and heavy recruiter. Like a Jeff Scott who's a heavy recruiter who's now a head coach. Or Chad Morris who was there many years ago...or now Brent Venables is now at Oklahoma as head coach who was the defensive coordinator and heavy recruiter. Seeing sort of those things happen, he's lost four coordinators since Clemson got on this run and all four of those guys (were) instrumental in the recruiting process at Clemson.
"When I start to look at that, now you've got Mario Cristobal back at Miami. You know how that might go. He understands at the landscape at Miami and understands the Florida area, he's a hell of a recruiter and is a nice football coach. That could create problems. Florida State is trying to get it turned around and eventually I think they will get it turned around. Then the rest of the ACC is a solid conference that Clemson has now come back to the pack in my opinion. That's one of the main reasons I feel this way."
Johnson believes that Clemson's recruiting in Florida will take a hit with Scott and Eliott both departed now. Clemson has two 4-star prospects committed from the state currently with tight end Olsen Patt Henry and safety Kylen Webb. Additions from the 2022 class out of Florida were both 3-star linebackers in Wade Woodaz and Kobe McCloud.
"Jeff Scott along with Tony Elliott was very instrumental in the south Florida recruiting, which made a huge part of Clemson's major roster when they were winning games. Those guys were very instrumental in getting those players out of IMG Academy or getting those guys out of certain places in south Florida," Johnson said. "So I say when you lose four coordinators over eight years I guess, that's a lot. That's a lot."