| | |
| --- | --- |
| Clemson falls in overtime to Georgia Tech in ACC Tournament | |
---
| | | |
| --- | --- | --- |
| Wednesday, March 9, 2016, 9:44 PM | | |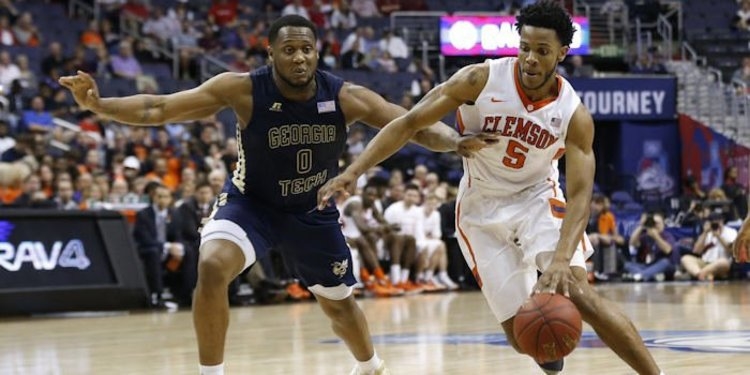 Marcus Georges-Hunt scored 28 points including the two free throws that sent the game into overtime as No. 10 seed Georgia Tech defeated No. 7 seed Clemson 88-85 in the second round of the ACC Tournament on Wednesday. With the loss, Clemson (17-14, 10-8) falls to 18-63 all-time in the tournament.
Clemson trailed Georgia Tech (19-13), 86-85, with 15 seconds left in overtime as Jaron Blossomgame missed a short floater in the lane and was forced to use his fifth foul on Georges-Hunt to stop the clock. Georges-Hunt made both free throws to put the Georgia Tech up three. Clemson had a chance to tie with 2 seconds left, but Gabe DeVoe's desperate three-pointer hit the side of the backboard.
"Obviously a painful loss. I thought our guys played really well for the first 35 minutes of the game," Clemson head coach Brad Brownell said. "Give Georgia Tech's kids and Brian (Gregory) credit. They kept playing and competing. It was tough. Down the stretch, we couldn't get any rebounds and it basically became a free throw contest. We watched them shoot free throws the last six minutes of the game. I really think Jamie and Ramey and all those guys are good. But I think sometimes you get caught up in the moment. I don't know, I'm anxious to see if there weren't one or two that were tough calls against us that kind of keep the momentum going. I thought our guys really competed, played well. But it's frustrating. We couldn't get rebounds. They made a lot of free throws down the stretch. That was the difference."
Clemson led by as many as 18 points in the second half, but Marcus Georges-Hunt's two free throws pulled the Jackets to within one point at 79-78 with 25.4 seconds left in the game. Blossomgame was fouled and hit one of two free throws to put the Tigers up two. Sidy Djitte fouled Georges-Hunt who tied the game with free throws with 12 seconds left. Georgia Tech forced Holmes into to a tough final shot and the game into overtime.
"We were running a little slip screen with J.B. and Avry," Brownell said. "Avry had the option to kind of hesitate and go, or depending on if there was a mix-up, he could stop and throw it back to J.B. and then J.B. would go. Probably would have liked to have started it one or two seconds earlier. Avry decided to go to the rim, draw contact, see if he could get a foul. (He) didn't get a call."
Djitte came off the bench to score 13 points and grab seven rebounds in relief of starter Landry Nnoko, who was in foul trouble early and scored 0 points on 0 field goal attempts in regulation.
Clemson was led in scoring by Blossomgame with 22 points and Avry Holmes with 19.
Clemson will now wait for to see if there is a NIT bid in its future.
"We were 10-8. Seventh seed in the tournament. Actually tied for sixth with Virginia Tech," Brownell said. "I certainly think we are tournament worthy. It would be a good thing for this team to just to get to continue to play more. So yeah we are very hopeful and optimistic that the league will make a good recommendation for us with what we did especially in ACC play this year."