| | |
| --- | --- |
| Clemson Basketball's final season notes | |
---
| | | |
| --- | --- | --- |
| Monday, April 10, 2017, 9:24 AM | | |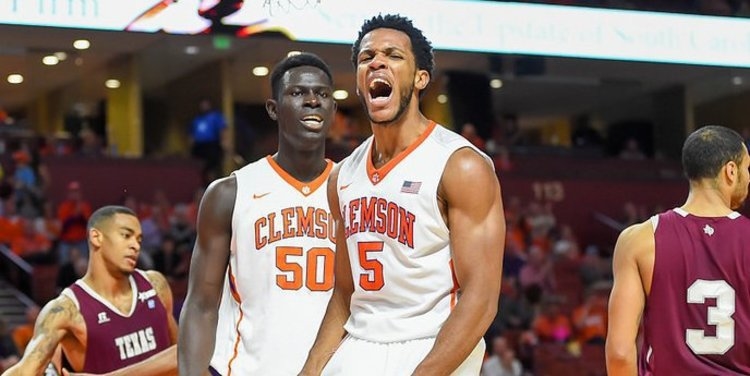 TEAM
• Clemson returned to postseason play for the first time since 2014, earning a bid to the National Invitation Tournament.
• The Tigers finished 18th in the NCAA in fewest turnovers per game (10.7) and 25th in turnover margin (+2.9).
• Clemson's scoring average jumped to 74.8 points per game, its highest figure since the 2008-09 season.
• The Tigers had three players shoot at least 40 percent on three-pointers over the course of the season, for only the second time in school history (1986-87).
• Clemson shot 73.1 percent from the free throw the line, the fourth-best single season mark in program history.
• Clemson produced a perfect month of December (7-0), its first undefeated month since December 2008.
• The Tigers won their first road non-conference game in history against a top-25 opponent on Dec. 21 at South Carolina (20th at the time of the meeting). The win also gave Clemson a victory over an eventual Final Four team for the second consecutive season (Syracuse, 2016).
• Clemson's 95 points in a Valentine's Day win over Wake Forest were its most in a regulation length ACC game since 2006 Senior Day against Georgia Tech.
INDIVIDUAL
• Head coach Brad Brownell tied Cliff Ellis for the Clemson coaching record with 59 wins against ACC competition, and did it in 27 fewer games.
• Jaron Blossomgame was named third-team All-ACC, his second all-conference accolade in the last two seasons. He was the first Tiger since Trevor Booker (2009,10) to earn multiple All-ACC honors.
• Blossomgame finished his career fifth in Clemson history with 1,733 points and eighth with 831 rebounds. Blossomgame, Trevor Booker and Elden Campbell are the only Tigers in history to post at least 1,700 points and 800 rebounds in a career.
• Blossomgame compiled 87 career games in double figures and 32 games with at least 20 points, both top-10 totals in Clemson history.
• Blossomgame was a finalist for the Julius Erving Award, presented annually to the nation's top collegiate small forward.
• Sidy Djitte secured 116 offensive rebounds, the ninth-best single season figure in Clemson history. He was third in the ACC and 12th nationally in offensive rebounds per game (3.6).
• Djitte was No. 1 nationally in offensive rebound percentage, grabbing 17.6 percent of available missed shots according to KenPom.com.
• Gabe DeVoe and Avry Holmes were named to the All-ACC Academic Team.
• Avry Holmes led the ACC in three-point accuracy, the first Tiger to lead the conference in the statistical category since Michael Tait in 1986-87, when the three-pointer was adopted for good.
• Holmes shot 53 percent in conference games from three, behind only Tait's 54.5 percent clip in 1986-87.
• Shelton Mitchell, Clemson's second leading scorer, produced 11 consecutive games with double figures to finish the season. Mitchell averaged 14 points per game over Clemson's last 14 contests.
• Mitchell shot 45 percent from behind the arc, an improvement of over 20 percentage points from his freshman season at Vanderbilt in 2014-15.
• Mitchell's 22 points against NC State on March 7 were the most by a Clemson player in an ACC Tournament debut since 1985 when Glenn Corbit produced the same output, also versus the Wolfpack.
• Marcquise Reed was second among all ACC players, and second in Clemson history, with a 90.6 percent free throw accuracy. He began and ended the season with streaks of 19 makes in a row.
• Reed led the Tigers off the bench with 46 steals, most by a non-starter since 2009-10, and tied for fourth-most in program history by a reserve.