---
| | | |
| --- | --- | --- |
| Wednesday, January 27, 2016, 9:07 PM | | |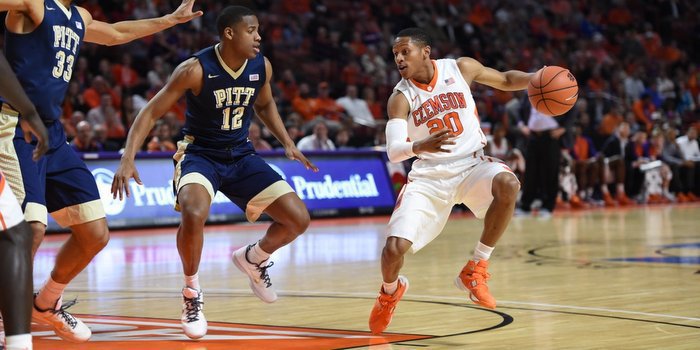 GREENVILLE – The Well made the Tigers well again.
Eight days after a disappointing road loss at Virginia, the Clemson basketball team returned to the Bon Secours Wellness Arena and knocked off No. 23 Pitt 73-60, the Tigers' fourth Top 25 victory this season, the most by a Clemson team since the 1996-97 unit won five.
The Tigers (13-7 overall, 6-2 in the ACC) have four wins over teams currently in the top 35 of the latest RPI, tied for with Virginia for the most in the ACC. Pittsburgh (16-4, 5-3) is 33rd in the RPI.
Jaron Blossomgame continued his hot streak, leading four scorers in double figures in scoring 22 points. Avry Holmes and Jordan Roper each added 13 and Landry Nnoko scored 12. Nnoko also added eight rebounds.
Clemson entered the game with a school-record 29 consecutive made free throws and the streak eventually reached 36 hit their first seven. The Tigers hit 12-of-19 down the stretch, however, and hit 19-of-26 for the game.
"Really good team win tonight. I thought we played about as well as we could in the first half, offensively especially. Pitt really guards you well," head coach Brad Brownell said. "I just thought we shared the ball and moved it. Jaron made a couple of buckets early. It was really exciting to see a bunch of other guys score. I thought Avry was good tonight on both ends. He did a good job on Robinson. He hit a big three against the zone out of a timeout. Donte had a nice basket late in some baseline action that we run. We had a lot of guys contribute and that's what you need in these kinds of games. You need a lot of guys contributing and playing well and we did tonight."
The teams traded early baskets and were tied at 12-12 after a layup by Blossomgame at the 12:17 mark. At that point, however, the Tigers got hot. Jumpers by Holmes and Grantham and a 3-pointer by Holmes put Clemson up 19-12 with 9:23 to play in the half.
The Panthers tried to stay close, but a 3-pointer by Roper and then a Roper steal and layup gave Clemson 29-17 lead. The steal was the 100th of Roper's career, and he is the 10th player in Clemson history with at least 800 points, 125 three-pointers, 200 assists and 100 steals in a career. The most recent Tiger to do it was Andre Young in 2010-11.
Pitt managed to climb back to within 10 at 36-26 with just over two minutes to play, but Blossomgame hit two free throws late and the Tigers held a 40-26 lead at intermission.
The Tigers scored the first four points of the second half for an 18-point lead, and the lead was 17 when Sidy Djitte missed a free throw. The free throw was notable because the miss was the first for Clemson in a while – the Tigers had hit a school-record 36 in a row. Djitte made the second and Clemson led 52-34 with 14:27 to play.
Pitt came roaring back. The Panthers hit four consecutive shots and scored nine consecutive points in making it a single-digit lead at 52-43 with 10:54 play, prompting Brownell to call a timeout to settle his team.
Out of the timeout, DeVoe hit a 3-pointer from the right corner to put Clemson back up 55-43. The shot gave the Tigers new life and Clemson led 63-48 after a Holmes layup with just over six minutes to play.
Both teams then went cold from the floor and Clemson went cold from the line – missing four free throws in a matter of two minutes – and Pitt began one last charge trailing 65-53 with just over three minutes to play. However, the Panthers missed two shots and knocked one rebound out of bounds, giving Clemson the ball with 2:41 to play.
The Tigers went methodical on the offensive end but Holmes missed a floater in the lane. However, the ball skipped off the leg of a Panther defender and the Tigers got a new shot clock. Grantham made the Panthers pay, driving down the right side of the lane for a layup. He was fouled on the play, hit the free throw to complete the three-point play and the Tigers led 68-53 with 1:56 to play. The Panthers promptly turned the ball over and Roper was fouled as the shot clock ran down.
Roper missed both free throws and Michael Young hit a quick 3-pointer, prompting a Panther timeout with Clemson leading 68-56 with 1:12 on the game clock. Holmes was fouled and hit both free throws to put Clemson up 70-56 with a minute to play.
Pitt had one last surge - Robinson hit a 3-pointer that made it 70-60 with 39 seconds to play - but Blossomgame hit two free throws and Roper as the Tigers closed out the win.
"I thought Clemson, they obviously outplayed us. Rebounds, steals, I thought those were the numbers that stood out. More possessions for them," Pitt head coach Jamie Dixon said. "The free throw line hurt us, too. Possessions. I thought they played really well and they are playing well. It's a good win for them. We've been playing good basketball, but simply we got outplayed tonight. We got what we deserved."
Clemson plays the next three games on the road, starting with a noon tipoff Saturday at Florida St. The Tigers then play at Wake Forest and Virginia Tech before returning home for a Feb 8th date against Notre Dame.
"Teams are going to play better at home so we're going to have to play exceptionally well and certainly we're capable," Brownell said. "Whether we actually get it done or not, we'll find out. We're going into it with a good mindset and hopefully relatively healthy. JB did tweak his ankle at halftime and had to get it re-taped, but he seemed fine. We'll have to make sure he's okay tomorrow. We're going into this with as good a mindset as you can have right now."