| | |
| --- | --- |
| Tigers knock off third ranked team in a row, defeat Canes 76-65 | |
---
| | | |
| --- | --- | --- |
| Saturday, January 16, 2016, 4:10 PM | | |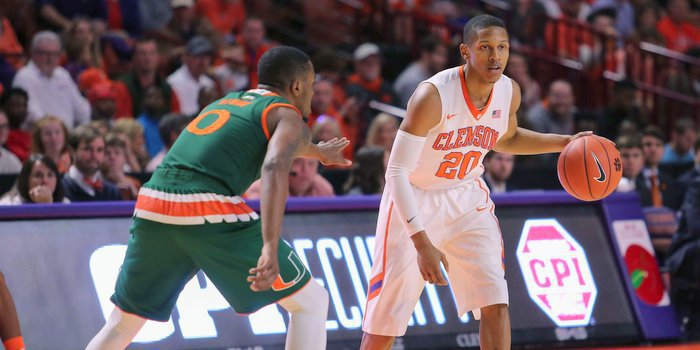 GREENVILLE – Clemson hit three big shots during a two-minute flurry late in the game and set a program record in defeating No. 8/9 Miami 76-65 at the Bon Secours Wellness Center Saturday afternoon, the third straight win over a Top 25 team, something that had never been accomplished in the program's history.
The win was also Clemson's fifth straight ACC win, something that has not happened since the 1996-97 team started 5-0. The Tigers are now 12-6 overall and 5-1 in the ACC), while Miami drops to 13-3 overall and 2-2 in the ACC. Miami had been one of the ACC's hottest teams, coming into the contest winners in eight of its last nine games. The Hurricanes' only loss came at Virginia, a Top 20 team.
The Tigers were led by Jaron Blossomgame's 25 points, while Jordan Roper added 18 and Donte Grantham 14. The Tigers had just eight turnovers and were 15-of-15 from the foul line.
Clemson led 63-60 with just over three minutes to play but Roper's 3-pointer and Sidy Djitte's dunk made it 68-60. Roper then took a Miami turnover to the other end and made it 70-60 with 1:41 to play. Clemson hit all six free throws in the final minute to seal the victory.
"I thought our guys showed a lot of resiliency tonight. It didn't come easy," Clemson head coach Brad Brownell said. "I thought there were some things that happened in the game that could've caused us to lose confidence or to think that this might not be our night - a couple of calls went against us, they banked in a three. We didn't play great defensively tonight. We won this game because we executed very well offensively. Jordan and Jaron were playing at a very high level. That's as high level as we've seen out of a guy in a couple of years for us. To have guys make those kinds of reads and decisions and play with that kind of confidence, I felt like they were the difference in the game."
The first half featured eight ties as neither team managed to create separation. The last tie of the first half came on a Grantham 3-pointer with five minutes to play, tying the score at 29-29. The Canes then went on a 5-0 run over the next four minutes, but Grantham hit another 3-pointer with 1:02 left in the half and the Hurricanes led 34-32 at intermission.
The second half got off to a loud and rocky start. The Tigers tied the score on a quick layup by Blossomgame and Grantham added a layup a minute later that tied the score at 36-36.
Miami went back ahead at 39-36 over the next two minutes, and the Clemson head coach Brad Brownell was called for a technical foul after consecutive questionable calls. Brownell threw his hands up in the air and screamed, "I'll take it" as McClellan hit both free throws putting the Canes up 41-36 with 16:26 to play.
Brownell said he doesn't believe the technical caused a change in momentum.
"I think everybody makes too much into that. I was certainly unhappy," he said. "I thought our guy got fouled and then the play before that I don't know if that was the right call either, so I was disappointed because those are crucial plays. If it helped, great. I've gotten them before and it hasn't helped. Believe me, it's not the reason we won. The reason we won was Jordan Roper and Jaron Blossomgame."
A 3-pointer by Blossomgame made it 41-39 and then Clemson went on a 6-0 run over a three minute span – the last on a layup by Gabe DeVoe – as the Tigers tied the score at 47-47 with 12:08 to play. Miami then went on a 4-0 run over the next three minutes – getting a tip-in from Newton – forcing Brownell to call a timeout with Clemson trailing 51-47 with 9:40 left on the game clock.
Miami eventually extended the lead to six at 57-51, and it was at that point that the Blossomgame show began. He hit a layup and a free throw that made it 57-54 Miami, but Uceda Cruz answered with a short jumper at the other end that made it 59-54.
A short 13 seconds later Blossomgame answered with a trey from the wing that made it 59-57, but Miami's Newton hit one free throw to make it 60-57. Blossomgame answered with a jumper at the top of the key to bring the Tigers to within one at 60-59, and Grantham hit a short jumper 50 seconds later to give Clemson the lead at 61-60 with 5:07 to play.
Jordan Roper drained a jumper from the left win 90 seconds later, and Miami called a timeout with the Canes trailing 63-60 with 3:33 to play in the contest, setting up the final flurry.
Roper said the crowd - listed at 12,575 - helped push the Tigers over the top.
"The crowd was unbelievable," Roper said. "They were huge in those moments where we weren't scoring and we weren't really getting stops. Just their energy really carried our momentum throughout the game. They were a big key to the game."
Clemson plays at Virginia Tuesday night. The Cavaliers are 13-3 but have lost two of their last three.
In past week, Clemson doing its best to make football loss sting less:

W vs 16 Louisville

W vs 9 Duke

W vs 8 Miami pic.twitter.com/8tH6iQ8gSC

— ESPN (@espn) January 16, 2016
Clemson won its fifth straight ACC game Saturday, 76-65 over Miami. It is the sixth time in program history the Tigers have won at least five straight.
The last five-game ACC winning streak by Clemson came in 1996-97, when Rick Barnes' team went 5-0 to start league play.
Clemson has defeated three ranked opponents for the first time in its history, all in the last six days. The Tigers beat No. 16 Louisville, No. 6 Duke and No. 8 Miami.
Saturday's win was Clemson's seventh top-25 win under head coach Brad Brownell. The three wins over ranked foes are the most in a single season at Clemson since 1997-98.
Clemson has now won two straight at home over Miami, and is now 7-2 all-time at home versus the Hurricanes.
The Tigers were 15-15 at the free throw line Saturday, a school record for single-game percentage given a minimum of 15 attempts.
Jaron Blossomgame notched his ACC career high with 25 points Saturday, his sixth 20-point game of the season.
Blossomgame scored double figures for the 15th time in 18 games this season, and for the 43rd time in his career.
Blossomgame matched his career high with nine made field goals.
Blossomgame is 13-13 on free throws the last two games, the longest perfect streak by a Tiger player this season.
Donte Grantham scored double figures for the 10th time this season, his fourth such outing in the Tigers' last five games.
Jordan Roper finished with 18 points, his eighth double-figure game of the season.
Roper also added to his team-high assist total with six helpers, bringing his new tally to 79 for the season. He had just one turnover in 39 minutes and has only 22 on the season.
Roper posted a career-high five steals Saturday against the Hurricanes, most by a Clemson player since Tanner Smith had five against Gardner-Webb on Nov. 11, 2011.
Sidy Djitte notched double-digit rebounds for the fifth time this season, most on the team.
Postgame Quotes
Clemson Head Coach Brad Brownell
Opening statement:
"I thought our guys showed a lot of resiliency tonight; it didn't come easy. Certainly there were some things in the game that could have caused us to lose confidence and think that this just might
not be our night. We had a few calls go against us, they banked in a three and we didn't play great defensively. We won this game because we executed offensively and Jordan (Roper) and Jaron (Blossomgame) were playing at a very high level. That is as a high
a level as we have seen out of guys in the last couple of years, for us to have guys make those types of reads and decisions and play with that kind of confidence. Certainly, I felt like they were the difference in the game."
On if the technical foul he received in the second half helped with momentum:
"I think everybody makes too much out of that, I thought that our guy got fouled and the play before that, I don't know if it was the right call either. So I was disappointed because they were crucial
plays in the game. If they helped, great, but I have gotten them before and they didn't help, so believe me, it isn't the reason we won, the reason we won is because of Jordan Roper and Jaron Blossomgame."
On what the Tigers did to contain Sheldon McClellan:
"I don't know that we did anything special, I think we certainly guarded him and paid attention to him. He is an outstanding player and a guy that when he gets rolling he is hard to guard, he can
score on the zone and he makes deep threes. There wasn't anything special, it was just making sure that guys knew who he was, and where he was and trying to do the best job you could on him. Different guys guarded him, Donte (Grantham) guarded him a lot, but
it wasn't anything special that we did in all honesty."
Miami Head Coach Jim Larranaga
"Well, I thought it was a terrific college basketball game for about 35 minutes and then we collapsed in the last five. We're going to need to do a heck of a lot better job. I thought Clemson was
terrific down the stretch, they made all their free throws, they were 15-15 from the foul line. They made their threes. We're a very good three-point shooting team and we went 7-14 from three, but they out-executed us in the last five minutes and that was
the difference in the ball game."