---
| | | |
| --- | --- | --- |
| Saturday, January 17, 2015, 6:06 PM | | |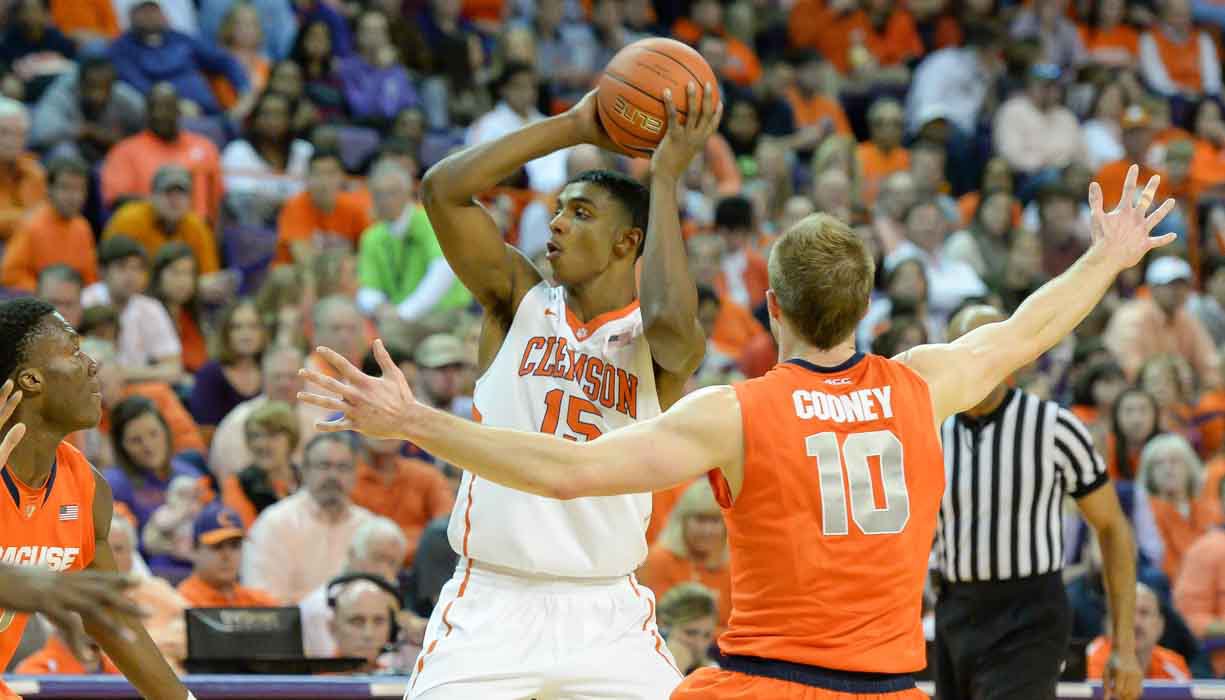 CLEMSON – A large number of Syracuse fans showed up at Clemson's Littlejohn Coliseum Saturday, hoping to see the Orange start of the conference schedule with a perfect 5-0 record and notch an eighth consecutive win. They went home disappointed.
Freshman Donte Grantham

Donte Grantham
Fr. Forward
#15 6-8, 205
Martinsburg, WV
View Full Profile scored 16 points and Jaron Blossomgame

Jaron Blossomgame
RS So. Forward
#5 6-7, 215
Alpharetta, GA
View Full Profile and Rod Hall

Rod Hall
Sr. Guard
#12 6-1, 205
Augusta, GA
View Full Profile each added 15 as the Tigers (10-7 overall, 2-3 ACC) defeated Syracuse (13-5, 4-1) 66-53 in front of a sellout crowd Saturday afternoon. The Orange are now 0-2 overall in Littlejohn.
Rakeem Christmas – the ACC's leading scorer – paced all scorers with 21 points. Clemson out-rebounded the Orange 40-30 and shot 23-51 (45.1%) from the field, including 8-20 (40%) from beyond the arc. Clemson had just 10 turnovers.
Clemson head coach Brad Brownell told the media after the game that he challenged his team to finish the game - something they weren't able to do during their last outing against Virginia.
"Really good performance by our team. We've really played well seven out of the last eight halves," Brownell said. "Even though we only won one game on the road in that stretch, you go back as a coach and evaluate your team's performance. We played very well against Louisville, very well in both halves against Pittsburgh and the first half against Virginia I thought we played well. That was my message at halftime. We've played six out of seven well, now we've got to make seven out of eight. We knew Syracuse was going to make a run at us, we knew it would be a little ugly at times, but I don't think it got under ten. We kept them at bay."
The first half was all Clemson as the Tigers raced out to a commanding halftime lead. Syracuse scored the first basket of the game, but the Tigers scored the next five for the quick 5-2 lead. Syracuse made it 5-4 on a short jumper by Christmas, but the rest of the half was all Clemson.
Syracuse made it 27-13 with just over four minutes left in the half, but 3-pointers by Grantham and Hall and a dunk by Blossomgame fueled a 12-5 run as the Tigers took a 39-18 lead into halftime. The point total was the lowest for the Orange this season, passing the 22 they scored against Cal in a 73-59 loss in November.
Brownell said that his team's ability to make shots was the difference in the game.
"We made eight threes today, we made eight threes at Pittsburgh. We won both of those games in the league," Brownell said. "That's a big part of our team. We struggle to score sometimes. When you make shots like you did today, it energizes your team, it energizes your crowd, it gives everyone a little hop in their step."
The first ten minutes of the second hall saw the momentum swing in the favor of Syracuse as the Orange went on a 14-6 run to cut the lead to just 45-32 at the ten minute mark. Grantham hit a jumper to make it a 15-point lead at 47-32.
Two minutes later Jordan Roper

Jordan Roper
Jr. Guard
#20 6-0, 165
Columbia, SC
View Full Profile hit a 3-pointer from the left key that made it 50-34, and following a Syracuse bucket that made it 50-36 Orange head coach Jim Boeheim called a timeout. Nnoko followed the timeout with a left-handed hook that made it 52-36 with just over six minutes remaining.
A tip-in by Nnoko and another 3-pointer by Grantham opened the lead back to 19 – at 57-38 – with 4:46 left on the game clock to force a Syracuse timeout.
Trevor Cooney hit four free throws – over two possessions – to make it 57-41 with just under four to play. The points were the first of the game for Cooney, who came in averaging 14 points per contest. Sidy Djitte

Sidy Djitte
So. Center
#50 6-10, 240
Fayetteville, NC
View Full Profile was fouled on Clemson's next possession but missed both free throws, and a touch foul on the other end allowed Cooney to hit two more free throws that made it 57-43 with 3:18 to play.
Hall's defense on Cooney never allowed the talented shooter to get going.
"It's effort and discipline. Cooney is uncanny in his ability to search out the ball," Brownell said. "Guys penetrate, he's always moving to try and get a shot. It takes incredible discipline to not react to penetration. He creates his own offense as well as anyone that you'll see."
Things got really interesting at that point – Blossomgame hit just 1-of-2 free throws to make it 58-43, but a layup by Michael Gbinijie made it 58-45 and the Tigers turned it over on the inbounds pass to give Syracuse the ball under the basket.
However, B.J. Johnson missed a layup and Hall hit two free throws to make it 60-45 but the Orange took advantage of three missed free throws by Nnoko and a layup by Christmas and a free throw that made it 60-48 with just under two minutes remaining.
Hall was fouled and hit both free throws to make it 62-48, and after a missed 3-pointer by Cooney the Tigers got the chance to extend the lead after Nnoko was fouled on the rebound. He hit both to make it 64-48 with 1:20 play, but Gbinijie hit a 3-pointer from the wing that made it 64-51 with just 1:04 left on the clock.
Blossomgame hit two free throws after the inbounds pass, and after the Orange missed the next shot Boeheim called off the press and the Tigers were able to empty the bench.
Clemson returns to action Monday night at Littlejohn, hosting Florida St. at 9 p.m.
Team Notes
• Clemson won its fourth game over a top-100 RPI team Saturday, 66-53 over Syracuse. The Orange were 44th in Saturday's official RPI by the NCAA.
• The Tigers won their first game over a Naismith Memorial Hall of Fame coach (Jim Boeheim) since a 2010 win over North Carolina and coach Roy Williams.
• In the last two seasons, Clemson has defeated the two winningest coaches in NCAA Division I history in Littlejohn Coliseum, Jim Boeheim and Duke's Mike Krzyzewski.
• Clemson is now 2-0 all-time against Syracuse in Littlejohn Coliseum. The Tigers previously defeated Boeheim's squad in the 2007 NIT quarterfinals.
• The Tiger defense held Syracuse to 18 points in the opening half, Syracuse's low total for the season (previously 22 vs. California).
• Clemson matched its season-high with eight three-point goals.
• The Tigers had a 12-to-10 assist-to-turnover ratio Saturday, their third positive figure over the last four games.
• Clemson outrebounded Syracuse by a +10 margin, the Tigers' fourth straight game winning the battle of the boards.
• Saturday's win was Brad Brownell's 251st as a head coach and his 20th in the month of January at Clemson. He is the program's only coach with a winning record (20-16) in January.
Individual Notes
• Jaron Blossomgame collected his sixth double-double of the season, finishing with 15 points and 12 rebounds.
• Blossomgame has reached double figures in the rebound column a team-high eight times.
• Donte Grantham posted a career-high 16 points, his first time leading Clemson in scoring this season.
• Grantham made 4-of-8 from three. It was the most made threes by a Tiger freshman since Adonis Filer made four against The Citadel in 2012-13.
• Rod Hall scored 15 Saturday to surpass the 800-point mark in his career.
• Hall surpassed former teammate Andre Young for 11th in Clemson history for assists. With six in the game, Hall now has 347 for his career.
• Hall needs just eight to pass Chris Whitney for 10th in school history.
• Damarcus Harrison extended his streak to 13 games with at least one three-pointer.