| | |
| --- | --- |
| Leggett speaks out, talks about his tenure at Clemson and his future | |
---
| | | |
| --- | --- | --- |
| Friday, June 12, 2015, 12:55 PM | | |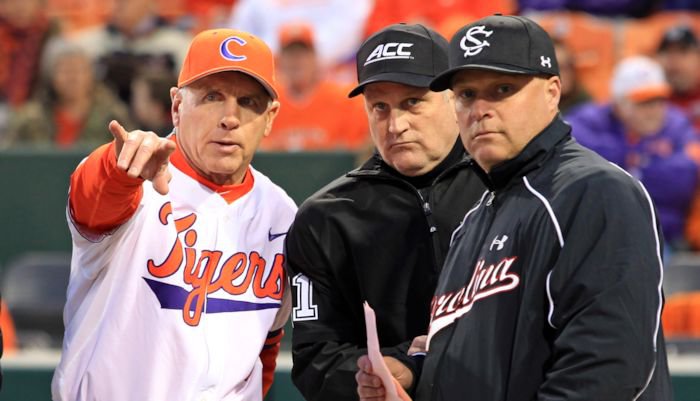 Early Friday morning, former Clemson baseball coach Jack Leggett

Jack Leggett
Baseball Head Coach
View Full Profile had his truck packed and his wife in the front seat, the couple heading out to places unknown for a few days to unwind and reflect and unplug from the phone and the media.
However, select members of the media caught up with Leggett to get a final statement on his time and career at Clemson and perhaps get a glimpse into what his future plans might hold, and Leggett was candid in his answers.
The 61-year old, who was Clemson's head coach for 22 years, said his initial statement after being let go last week didn't properly reflect all of the people he wanted to thank.
"There are some people that I want to thank. I know my statement was generic. I've been here for 25 years and I wrote the statement on the way out the door and it was what I thought was classy and what I thought was true and I wanted to thank the people. And, I want to do it one more time," Leggett said. "I want to thank the fans. There are so many people who have been amazingly supportive. I want to thank Bobby Robinson and Dwight Rainey for having the faith in me in the beginning with Coach (Bill) Wilhelm and for giving me opportunity to come to Clemson.
"Then, Terry Don Phillips for believing in me and helping my contract and showing new confidence. Billy D'Andrea was always in my corner and was an awesome guy. I appreciate all he helped me with. And then there is a multitude of assistant coaches and my players and Coach Wilhelm's players who always bought into what we were doing. I tried to show them the respect that they deserve. All of the coaches in our conference that we've battled against and all of the other coaches we've coached against, they all mean something to me and I've taken something from them as well."
Leggett said he has received an overwhelming number of calls and emails and text messages.
"My players and former players at other places I've been at - Western Carolina - the response has been unbelievable. The support staff, there has been an unbelievable amount of people around me and great coaches within our athletic department that I've built a lot of relationships with," he said. "The same thing with the staff and people in every supportive role around the baseball program - on the field, equipment, all of the people I've worked with in Jervey - they've been unbelievable. My family and my kids and wife and extended family, it's been an unbelievable and positive ride for all of them. Those are kind of the people that I want to thank who have been instrumental in making this whole thing work and making it a tremendous time in my life."
He then paused before adding, "A lot of people reached out to tell me what they thought about me and what they thought about our program and what they took away from the experience. That's probably the most gratifying part of what's come out of this whole thing. That's been good."
Leggett was asked what he was most proud of his during his tenure at Clemson, and he said he was proud of the fact that he won while doing things the right way.
"The thing I'm most proud of is that we more importantly than anything else did thing the right way and the kids were unbelievable academically - they graduate and our APR was off the charts - we did things by the rules, we did things the right way," Leggett said. "Those are things that I was charged with coming in - academically make sure everybody graduates so they can have a great future beyond baseball, do it by the rules and win ballgames. I think we've done all three of those things in really good, exceptional fashion. I'm proud about that. I'm proud that the kids did well in school.
"It's something we've been proud of and I think we've had a really good balance. We've done it right. We've done it by the rules and we've got a lot of respect from a lot of other people - every scout and every person out there feels good about what we've done. And, along the way we've won a lot of ballgames. There's been a lot of great, exciting moments for Clemson. A lot of exciting memories. It's difficult to get to Omaha. We got there a half dozen times. The best thing coming out of this is that I heard from so many people and going back and thanking people - especially the fans. There are so many good people who are all very supportive."
Leggett's eyes misted up when he was asked how he wants to be remembered, and he said he said he wants to be remembered for having teams that played hard. He then added that he wants the new coach to be successful as well.
"Over the last 22 years, I want people to remember that we played hard and we did things the right way and that kids had good balance and we won a lot of games and we had a lot of great moments that brought excitement to the program and the kids worked extremely hard and will take away lessons that will make a difference in their lives," he said. "I want the next coach to be successful. My players who are here, I want them to be successful. I want all of those things because I've poured my heart and soul into this place, as well. I want to be able to come back and walk around this campus and see things the way I've always seen them. I hope that's the way it always is."
We then asked Leggett if he would consider coaching again, and he said he would if the right opportunity came along.
"It would have to be the right opportunity. I love coaching," Leggett said. "I feel like there's more in the tank. I had a great relationship with my players. It would have to be the right situation. I'm an active guy, so we'll try to figure this thing out. I've been going to work for 38 years and I've never had any weekends. We'll see what happens. I just wants to decompress and take a deep breath. It will have to be something really, really special. Baseball jobs are tough to come by. There's nothing serious right now. I've got some other things on my mind."
Prior to Clemson leaving for California for the Regional at Cal Fullerton, Leggett met with the media and then took some time to himself down the left field line, sitting in the bullpen and reflecting on his career.
"I was just reflecting about how much I love this place and how proud I was of our guys," he said. "We battled this year and got ourselves in a position that most kids don't have and that's to go California and play in the NCAA Tournament and play against some of the best teams in the country. It was a long tough year to get to that point. I was reflecting on how fortunate I was to coach here and how fortunate I was to be able to coach in a NCAA Tournament. I was happy for my players."
Now, he has to figure out how to fill a void after working every weekend for years.
"It's a void. There's a little disappointment in how it ended but a lot pride in what we've done and a lot of positive feedback," he said. "You had those emotions running back and forth. It's been an emotional roller coaster. The last six days have been constantly on the phone and texting. I've gotten back to every single person - all 500-plus - because it's important for me to do that. It's a void - what do you do next? How do fill that energy and that gap? Where do you fill that passion? Where do you fill that everyday work ethic gap? I'm 61 but I feel like I'm 35 most of the time. Right now I just have to step back and reflect to figure out how to fill those gaps.
"Coaching is a passion field. I look at coaching like a doctor, teacher or nurse - if you are good at anything in life, you have tremendous passion for it. Coaching is something that I'm passionate about, so there's a void, and I have to find something that I'm passionate about whether its' continuing to spend time traveling or spending time with my family or doing another job or following in the baseball path."
Clemson's baseball program has faced scholarship limitations and competing with other schools regarding out of state tuition, and Leggett said it will continue to be a problem.
"It's something that everybody has to deal with. When the cost to go to school goes up, the scholarship is devalued a little bit," he said. "Then there's the parameters - 27 on scholarship is difficult if you don't have the right financial aid or need. It's difficult, there's no question. I'm hoping that something can happen for this program down the road or that the NCAA changes things. It's difficult with 11.7 scholarships. Those rules make it difficult for every coach. It's something that I hope changes. If you could give a guy book money and not have him count as that 27. It made your money go further and allowed you more flexibility [under the old rules]."
Prior to heading out to his truck and some time off, Leggett said he leaves Clemson with zero regrets.
"I can honestly tell you that I feel really good about how we went about our business and how we conducted ourselves and how we put the program forward and how the players hustled on the field, went about their business," he said. "I can feel I committed 100-percent to that. Thae part that not every person feels that way about is the result. The program isn't defined in my mind by if we won the last game 9-8 or lost it 10-8, I'm looking at the big picture and I'm invested in it. There's so much good. There's nothing left out on the table in terms of effort or trying to do what's best for Clemson."