---
Valentine's Day
Today is the worst holiday of the year. I am amazed that hallmark knows exactly how I feel about the people I love and knows exactly how to put it on a $4.95 piece of paper. I love one heart shaped box of chocolate can make up for 364 days of mistreatment.
I say if you treat your loved one well for most of the 365 days each year then this day is not need. St. Valentine's Day is a mulligan.
But since it is a holiday I decided to take a few minutes and write the things I love about Clemson. The bitching and complaining can come at a later date. Here are some mushy and some corny, some serious and some light-hearted, and actually only some of the things I love about this place:
Death Valley
The Hill
The Rock
The West End Zone
Our new video boards and ribbon boards
Our fight song
Our colors
Our mascot
The Tiger Paw
Beautiful Tiger Field
The Cajun Cafe
The Larry Penley Building
Our new indoor practice facility
Indoor track meets
Dabo's optimism
Tajh Boyd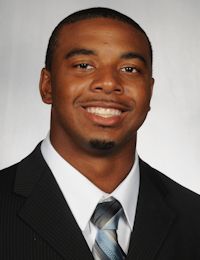 Tajh Boyd
RS Jr. Quarterback
#10 6-1, 225
Hampton, VA
View Full Profile 's toughness
Chandler Catanzaro
Chandler Catanzaro
RS Jr. Punter / Kicker
#39 6-2, 195
Greenville, SC
View Full Profile 's consistency
Our recruiting efforts
The way we honor our former players
Military Appreciation Day
The great Tigers who have left us like Dr. Edwards
Bob Bradley
Captain Jervey
Coach Howard
Coach Wilhelm
Coach Pollock
Gaines Adams

Gaines Adams
Defensive End
# 6-5, 260
Greenwood, SC
View Full Profile
Glen Brackin
Chester McGlockton
Our special student-athletes like Daniel Rodriguez
Daniel Rodriguez
RS Fr. Wide Receiver
#83 5-8, 175
Stafford, VA
View Full Profile
Cliff Hammonds
Bert Heffernan
Brian Barnes
Jason Dawsey
The kindest Tigers like Jason Embler
Tanner Smith
The way Clemson supports my son Ryan and his foundation
Our sunsets
The Esso
The greatest restaurants for a town of our size
Road tripping to Clemson games
The way our former golfers support our program
The way Larry Penley says there are no former Clemson golfers. They are always just Clemson golfers.
K.J. McDaniels' thunderous put backs
The first few notes of the Orange Bowl march
The Ban The Woo Hoo t-shirts
Sammy Watkins
Sammy Watkins
So. Wide Receiver
#2 6-1, 205
Fort Myers, FL
View Full Profile 's explosiveness
Brent Venables
Brent Venables
Defensive Coordinator / Linebackers
View Full Profile ' sideline energy
Keith Adams pulling Venables back on the sideline
The way Dabo sprints on the field
Dan Radakovich's aggresiveness
Dabo's Foundation
The throwback apparel at Tigertown Graphics
The Ring of Honor
Youtube highlights of old Clemson games
C.J. Spiller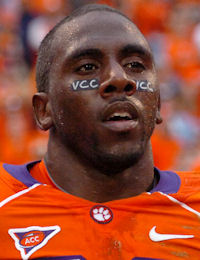 C.J. Spiller
Pro Running Back
#28 5-11, 195
Lake Butler, FL
View Full Profile 's desire to come back and give to Clemson
Brian Dawkins
Brian Dawkins
Safety
#20 6-0, 200
Jacksonville, FL
View Full Profile
Our rivalry with Georgia
Night games in Death Valley
Chad Morris
Chad Morris
Offensive Coordinator / QBs
View Full Profile ' energy
Tyler Shatley
Tyler Shatley
RS Jr. Offensive Guard
#62 6-3, 295
Icard, NC
View Full Profile 's toughness
Chad Kelly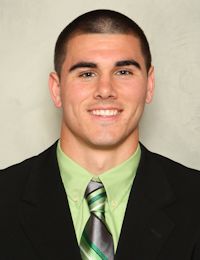 Chad Kelly
Fr. Quarterback
#11 6-2, 210
Buffalo, NY
View Full Profile 's confidence
DeShawn Watson's potential
Dalvin Cook's speed
Jae'lon Oglesby's cutbacks
Our production from our tight ends under Coach Pearman
Our Signing Day success
Our presence on ESPN on Signing Day
Doc Hoover's stories about Herm Magee
Sam Blackman's Clemson books
Watching Clemson guys win on the PGA Tour
Danny Ford
Anthony Waters

Anthony Waters
Linebacker
# 6-3, 238
Lakeview, SC
View Full Profile
The ACC Championship Flags and National Championship Flag above the West End Zone
Jim Davis
Trevor Adair
Sweet Tea at Mac's
The planned statue of Riggs
The blow up pics of head shots the band holds up at basketball games
The way we signal in plays from the sidelines with colored squares and famous pics
Some of our student-athletes tweets
Tajh's leadership
The best tailgating in America
Celebrating with the team after a road win
Dan Brook's backwards hat
Chad Morris's pullovers
The fatigues the coaches wear on Military Appreciation Day
Flyovers at Death Valley
Ryan Bartow's recruiting coverage
Jeff Scott
Jeff Scott
Assistant Coach / WRs / Recruiting Coordinator
View Full Profile 's recruiting energy
Our helmets
Isaiah Battle
Isaiah Battle
Fr. Offensive Tackle
#79 6-6, 280
St. George, VA
View Full Profile 's future
The First Lady of Clemson football
Our White on White road uniforms
The Red Panda at halftime
The Zooperstars
Our improvement on short yardage in 2012
Making 20 straight field goals
Speaking to Clemson Clubs
Living in a great village
The Brad Hughes All-State Insurance Agency
Prayer List
We have started a prayer list on the blog. Here are the guidelines:
If you are offended by prayer or prayer lists then I apologize in advance. The blog is free and the prayer list will be on the bottom of the page so you don't have to read it.
If you would like to add someone to the list please email me at mickeyplyler@hotmail.com
*Please let me know when it is appropriate to take the person off of the prayer list.
Those who need our prayers include:Finn Brookover, Jo Ann Bachman, Kenneth Bryant, Pruitt Martin, Got igers and his family, David Rowland, Leonard, Gillespie and his family, Jim S, Daniel Rosborough, The Huffman family, Nancy Winkler, John Reeve, Ethel Southard, Vinnie Brock, Kaitlyn L, Susan Miller, Joyce Harley, Steve Proveaux, Jeffrey Greene, the Hutto family, Sherl Drawdy, Caleb Kennedy, Teresa O'Connor, Matt Jacobs,Perrin Seigler, Candee Massee, Lindsey Jordan, Sam Catoe, Tyler Felch, the Nicolopulos family, "the Jacksonville, FL guys", Kim Sims, the Coyle family, Ryleigh Tedder, Steve Lee, Kelly Trakas, Jimmy Moore, the Thomas. V Family, Emary Claire Young, Kitty Bowers,Julie Locke, the Scheider family, Lauren Kittles' family, Frank Gentry, Joyce Bussey, Stacey McKeown, Dale Childs, Larry Lentz, Jr, Carl Sharperson, Scott Hannon, William Perry, Tyler Swaney, Lillian, Mark Feit, David Frame, Chad Berry, the family of Matthew M. Watson, the Dowis family, Shervin Messer, Alan Putnam, the Olivers, Lee Tate, Ronnie Abrams, Eddie Greene, the Jackson family, Bill Vader, Jim Taylor, Tina DeWitt, Rock Horne, Christopher Tuten, Bobby Wayne Thomas, Emma and Danielle Carothers, Robert Ditty, Mr. and Mrs. Murray Smith, Dot Cartee, Ayden Mills, Millie Heatley, Lynn Martin and family, Michael Pinson, Jake David family, Angie Crowley, Ira, Mike Tolson, Poly Wells, Dr. Muriel Bishop, Jack Cunningham, Emily Jefford Meister, Zachary Stoller, Aaron Clackum, Pat James, Cortney Moore, William Moore, Angelia and Savannah Anderson, William Ross, Meredith Legg, Scott Johns, Frank Carroll, Brandon Thompson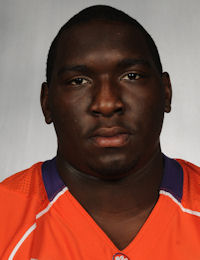 Brandon Thompson
Defensive Tackle
#98 6-2, 310
Thomasville, GA
View Full Profile , Alvin Sammons, Georgine McAlhaney, Glen Davis, Mike Price, Clay Childers, Aaron Knight, Danielle Johnston and family, Nicholas Abrams, Lana Kuykendall, Gary, Gary G., William Huggins, Jim Bennett, Chantz Fowler, Ethel McElveen, Michele Gurganus, William Gentry, Lewis Usher and Tanya Sanders, Shon Cooper, Nick Collins, Travis Patterson, Amanda Peake, Danny Hammond, Chip Turner, Nick Collins, Allen Steen, The Sturkey Family, the Lance family, Marcus Lattimore, Nick Chrisley's family, Allison Williams, Lt. Kyle Walker, Summer and Joel Johnson, Nicole O'Donnell, James O. Johnson, Joy Pruett and family, Patrick Heher, Bill Schmidt, Jack Bailey, Bill Early, Gardner Family, Charles Turner, Kathy Bartholomew, Ray Sanders, David and Robin Blocker, J.R. Ray, Kenneth Kowe, Lauren Sielicki, Doug Bailey and family, Johnnie Walker, Jenna Phipps, Mark Lawrence, Harlan Sullins, our great country and the men and women in uniform that protect and serve it every day plus their families.

Upgrade Your Account
Unlock premium boards and exclusive features (e.g. ad-free) by upgrading your account today.
Upgrade Now