---
Tuesday Tidbits
I am looking forward to visiting with the Charleston Clemson Club tonight in Mt. Pleasant. This is an exciting time of year every season but especially this one.
Before I leave for the coast, I just wanted to pass along a few thoughts.
*I really wanted to thank Lance King and the people at Prime Lending for signing on as our title sponsor. We have made several changes in the blog and hope you will continue to enjoy the new format. Readers will see three ways to go directly to the Prime Lending website with the links from our blog. The Prime Lending logo on the front page of tigernet or at the top of the blog page takes you there, as does the Prime Cares logo within our blog each day. I encourage our readers to take two minutes to complete their 2-minute app. Interest rates are extremely low right now and you may be able to save a ton of money on your mortgage. The main reason we loved the idea of Prime Lending coming on board for our sponsorship is their Prime Cares program where up to $500 of their profits from closing can go to your favorite charity. This includes your IPTAY donations. I know several Tigers who have already sent their donations through the program to Clemson.
*Camp is in its second week and I wanted to highlight a few standouts so far. Camp is always an interesting subject because fans want to know how the freshmen and red-shirt freshmen are performing. They want to know about the surprises and the depth chart battles as well.
Most of camp coverage is about uncovering new information on new players. However this is not what the season holds in store in many cases. This offense will revolve around Tajh Boyd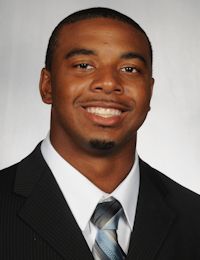 Tajh Boyd
RS Jr. Quarterback
#10 6-1, 225
Hampton, VA
View Full Profile . In covering camp there is little time spent on Boyd because we already know what he brings to the table. On the subject of quarterbacks, most of the talk has been about the reserves. How has Chad Kelly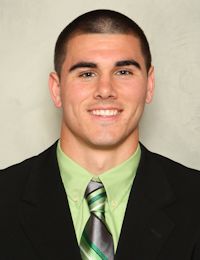 Chad Kelly
Fr. Quarterback
#11 6-3, 210
Buffalo, NY
View Full Profile looked? Who is ahead between Cole Stoudt
Cole Stoudt
So. Quarterback
#8 6-4, 200
Dublin, OH
View Full Profile and Morgan Roberts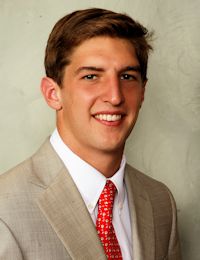 Morgan Roberts
RS So. Quarterback
#15 6-2, 200
Charlotte, NC
View Full Profile ? Camp coverage would be boring if we actually talked about the guy that we saw break school records last season.
The same is true for the other positions. Sammy Watkins
Sammy Watkins
So. Wide Receiver
#2 6-1, 200
Fort Myers, FL
View Full Profile is a superstar. He is fast, athletic, strong, physical and has great hands. I don't know how many ways you could describe Watkins to get a point across that fans already know.The story of last year's camp was Watkins. This year we are more inclined to follow the development of Charone Peake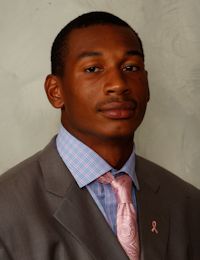 Charone Peake
So. Wide Receiver
#19 6-3, 205
Moore, SC
View Full Profile or Martavious Bryant.
Running back is a similar story. Andre Ellington
Andre Ellington
RS Sr. Running Back
#23 5-10, 190
Moncks Corner, SC
View Full Profile is the guy. Everyone already knows that. The camp story is about D.J. Howard
D.J. Howard
RS So. Running Back
#22 5-11, 195
Lincoln, AL
View Full Profile , Rod McDowell and Zac Brooks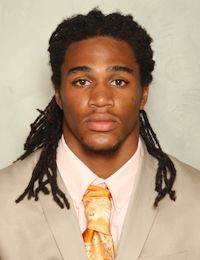 Zac Brooks
Fr. Running Back
#24 6-2, 180
Jonesboro, AR
View Full Profile .
So here are ten story lines from the first week of camp:
*Giff Timothy
The starting right tackle tore his meniscus and had surgery last week. The staff is hoping to get him back for a full week of preparation for the Auburn game. If he can't go then Joe Gore
Joe Gore
RS Fr. Offensive Line
#73 6-6, 260
Lake Waccamaw, NC
View Full Profile is getting the most reps at this point. This position is crucial to the offense early in the season.
*Chad Kelly
The true freshman has shown enough in the first week that the staff is now considering playing Kelly instead of red-shirting him. He has all of the physical tools but the staff is trying to decide if he will play enough to warrant playing him instead of red-shirting.
*Charone Peake
Dabo Swinney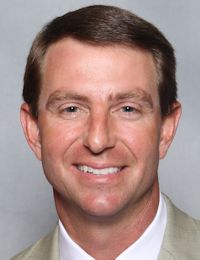 Dabo Swinney
Head Coach
View Full Profile claimed that Peake was the fastest player in terms of 40 yard dash speed this summer. Peake caught two touchdowns in Saturday's scrimmage and appears to be one of the weapons the staff plans to use to off-set the suspension of Sammy Watkins in the first two games.
* Shaq Anthony
Shaq Anthony
RS So. Offensive Line
#76 6-4, 275
Williamston, SC
View Full Profile
This is perhaps the biggest surprise in camp. Fans were expecting to hear big things from Isaiah Battle
Isaiah Battle
Fr. Offensive Line
#79 6-7, 265
St. George, VA
View Full Profile at left tackle but Anthony has drawn more praise from Swinney and Chad Morris
Chad Morris
Offensive Coordinator / QBs
View Full Profile in the first week.
* Ryan Norton
Ryan Norton
RS Fr. Offensive Line
#58 6-3, 265
Mauldin, SC
View Full Profile
We knew the staff was high on Norton but he has surprised so far. They wanted to limit Dalton Freeman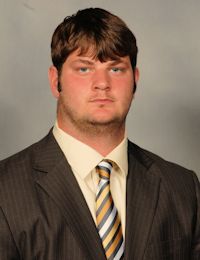 Dalton Freeman
RS Sr. Offensive Line
#55 6-5, 285
Pelion, SC
View Full Profile 's reps early in camp and Norton has given the staff every reason to be excited about the future at the position.
*Dalton Freeman
Norton's development and Timothy's injury forced Robbie Caldwell
Robbie Caldwell
Assistant Coach / Offensive Line
View Full Profile to take a look at Freeman at right tackle. He has gotten some reps there but I would be surprised if we saw Freeman play right tackle much, if at all this season.
* Jerome Maybank
Jerome Maybank
RS Fr. Defensive Tackle
#72 6-4, 345
Pawleys Island, SC
View Full Profile
The staff decided to move Maybank to his natural position of offensive line. At this point we don't know if he is a guard or a tackle but he fits in better for the future at his new position.
* Tavaris Barnes
Tavaris Barnes
RS So. Defensive End
#6 6-4, 270
Jacksonville, FL
View Full Profile
This move may see the most production of any position moves this season. Barnes looks more like a defensive end at this point. He is athletic enough to rush the passer and has a good chance at a bunch of snaps at his new position.
*The DTs
Clemson lost Brandon Thompson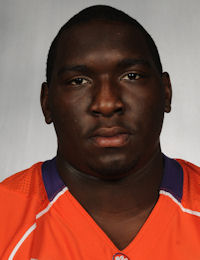 Brandon Thompson
Defensive Tackle
#98 6-2, 310
Thomasville, GA
View Full Profile and Rennie Moore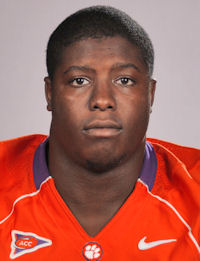 Rennie Moore
Defensive Tackle
#94 6-3, 265
Saint Marys, GA
View Full Profile as starters from a season ago. There is little experience left but we hear good things about DeShawn Williams
DeShawn Williams
So. Defensive Tackle
#99 6-1, 290
Central, SC
View Full Profile , Grady Jarrett
Grady Jarrett
So. Defensive Tackle
#50 6-1, 295
Conyers, GA
View Full Profile and Josh Watson
Josh Watson
RS So. Defensive Tackle
#91 6-4, 290
Wilmington, DE
View Full Profile . All three are not as athletic as last year's starters but they are strong and are sound in their fundamentals and assignments.
* Tony Steward
Tony Steward
So. Linebacker
#7 6-1, 245
Hastings, FL
View Full Profile
At this point we still don't know how productive Steward can be as he comes back from surgery last October. Swinney says he will play this season but Brent Venables
Brent Venables
Defensive Coordinator / Linebackers
View Full Profile did not sound convinced yet. This is a five-star talent that has a bright future. The question is when will he be full strength?
The Brad Hughes All-State Insurance Agency
Prayer List
We have started a prayer list on the blog. Here are the guidelines:
If you are offended by prayer or prayer lists then I apologize in advance. The blog is free and the prayer list will be on the bottom of the page so you don't have to read it.
If you would like to add someone to the list please email me at mickeyplyler@hotmail.com
*Please let me know when it is appropriate to take the person off of the prayer list.
Those who need our prayers include:Finn Brookover, Mary-Louise Pawlowski (John's daughter), Jo Ann Bachman, Kenneth Bryant, Pruitt Martin, Got igers and his family, David Rowland, Leonard, Gillespie and his family, Jim S, Daniel Rosborough, The Huffman family, Nancy Winkler, John Reeve, Ethel Southard, Vinnie Brock, Kaitlyn L, Susan Miller, Joyce Harley, Steve Proveaux, Jeffrey Greene, the Hutto family, Sherl Drawdy, Caleb Kennedy, Teresa O'Connor, Matt Jacobs,Perrin Seigler, Candee Massee, Lindsey Jordan, Sam Catoe, Tyler Felch, the Nicolopulos family, "the Jacksonville, FL guys", Kim Sims, the Coyle family, Ryleigh Tedder, Steve Lee, Kelly Trakas, Jimmy Moore, the Thomas. V Family, Emary Claire Young, Kitty Bowers,Julie Locke, the Scheider family, Lauren Kittles' family, Frank Gentry, Joyce Bussey, Stacey McKeown, Dale Childs, Larry Lentz, Jr, Carl Sharperson, Scott Hannon, William Perry, Tyler Swaney, Lillian, Mark Feit, David Frame, Chad Berry, the family of Matthew M. Watson, the Dowis family, Shervin Messer, Alan Putnam, the Olivers, Lee Tate, Ronnie Abrams, Eddie Greene, the Jackson family, Bill Vader, Jim Taylor, Tina DeWitt, Rock Horne, Christopher Tuten, Bobby Wayne Thomas, Emma and Danielle Carothers, Robert Ditty, Mr. and Mrs. Murray Smith, Dot Cartee, Ayden Mills, Millie Heatley, Lynn Martin and family, Michael Pinson, Jake David family, Angie Crowley, Ira, Mike Tolson, Poly Wells, Dr. Muriel Bishop, Jack Cunningham, Emily Jefford Meister, Zachary Stoller, Aaron Clackum, Pat James, Cortney Moore, William Moore, Angelia and Savannah Anderson, William Ross, Meredith Legg, Scott Johns, Frank Carroll, Brandon Thompson, Alvin Sammons, Georgine McAlhaney, Glen Davis, Mike Price, Clay Childers, Aaron Knight, Danielle Johnston and family, Nicholas Abrams, Lana Kuykendall, Gary, Billy McLeroy, Gary G., William Huggins, Jim Bennett, Chantz Fowler, Ethel McElveen, Michele Gurganus, William Gentry, Lewis Usher and Tanya Sanders, Shon Cooper.

Upgrade Your Account
Unlock premium boards and exclusive features (e.g. ad-free) by upgrading your account today.
Upgrade Now