---
Three Opponents
Clemson has three opponents this weekend.  The Tigers are competing against NC State, themselves and the rest of the top 10.
First, Clemson is a 13-point favorite this weekend.  Anytime you are a double digit favorite the biggest opponent is overconfidence.  
Second, we know so little about NC State, its personnel and its staff.  The unknown is a slight concern entering Thursday night's game.
Third, we're competing against another opponent this weekend in rest of the top 10.
After watching the first three weeks of college football I find myself thinking of what this season could hold for Clemson.
The realist in me realizes that football seasons are long.  Each week we see upsets.  When November rolls around we usually have a handful of undefeated teams, and team each has fans that make their arguments as to why they belong in the BCS title game.  
Most of those teams can't handle success and that's when big upsets usually occur.  Last season it looked like Oregon would play Kansas State in the BCS title game.  Oregon was a 20-point favorite but lost at home to Stanford in overtime.  That same weekend Kansas State was a 12-point favorite at Baylor but lost 52-24.  On the same weekend, number one and number two went down.
In 2011 Oklahoma State looked like it was in line for a shot at the national title.  The second ranked Cowboys entered a game at Iowa State as a 27-point favorite in November but lost 37-31 in overtime.
Boise State was ranked third in the country in late November of 2010 and was a 14-point favorite at Nevada.  The Broncos lost 34-31 in overtime and lost a chance at the national title.
Every time I think about Clemson's chances at a big-time run I remind myself that each week represents an opportunity to get eliminated from the discussion.
The other part of me enjoys watching Clemson's status in the polls.  The Tigers started eighth in the polls.  The win against Georgia moved them up fourth in the Associated Press Poll and fifth in the Coaches' Poll.  
Ohio State struggled in its second game so Clemson jumped to third in the AP Poll last week and stayed there this week.  
Stanford struggled against Army, so the Tigers jumped Stanford in this week's Coaches' Poll.
So in a way, Clemson is not only competing against NC State this Thursday night.  The Tigers are also competing against Alabama, Oregon, Stanford, Ohio State, LSU, Louisville and Florida State.
It's not important to be ranked number one or two at this point of the season.  Those two spots will take care of themselves.  The reason rankings are important at this time in the year is for positioning in case of a loss.
Georgia started at number five and lost its opener.  The Bulldogs are already back in the top 10 and are still a national title contender.
Texas A&M was sixth going into their loss against Alabama.  The Aggies lost but are still in the top 10.
South Carolina was sixth in the country but lost at Georgia.  The Gamecocks are already back in the top 13 and still have a shot at climbing back into the national picture.
On the PGA Tour there is an idea that you can't win a tournament on a Saturday, but for every birdie you make on Saturday that is one less you have to make on Sunday.  For every position teams in the top 10 climb, that is one less spot they will drop if they lose.
The good news through all of this is that Dabo Swinney
Dabo Swinney
Head Coach
View Full Profile and his staff have done a good job of keeping the team focused.  His goal is for the team to play to a standard regardless of the opponent.  Clemson's standards are there no matter what the rankings say.  The standards are set no matter what other outside distractions come up, and they do come up.
This staff has done a good job of keeping focus.  Swinney's teams are 20-1 in games where the Tigers are double-digit favorites.  The only time his team was favored by at least 10 and lost was in 2009 when the Tigers were a 12-point favorite at Maryland. They lost 24-21.  Clemson has won 18 straight games where it was a double-digit favorite.  In games which Clemson has been a favorite under Swinney, the Tigers are 35-10.
The Brad Hughes All-State Insurance Agency
Prayer List
We have started a prayer list on the blog.  Here are the guidelines:
If you are offended by prayer or prayer lists then I apologize in advance.  The blog is free and the prayer list will be on the bottom of the page so you don't have to read it.
If you would like to add someone to the list please email me at mickeyplyler@hotmail.com
*Please let me know when it is appropriate to take the person off of the prayer list.
Those who need our prayers include: Finn Brookover, Jo Ann Bachman, Kenneth Bryant, Pruitt Martin, Got Igers and his family, David Rowland, Leonard, Gillespie and his family, Jim S., Daniel Rosborough, the Huffman family, Nancy Winkler, John Reeve, Vinnie Brock, Kaitlyn L., Susan Miller, Joyce Harley, Steve Proveaux, Jeffrey Greene, the Hutto family, Sherl Drawdy, Caleb Kennedy, Teresa O'Connor, Matt Jacobs,Perrin Seigler, Candee Massee, Lindsey Jordan, Sam Catoe, Tyler Felch, the Nicolopulos family, "the Jacksonville, FL guys," Kim Sims, the Coyle family, Ryleigh Tedder, Steve Lee, Kelly Trakas, Jimmy Moore, the Thomas V. family, Emary Claire Young, Kitty Bowers, Julie Locke, the Scheider family, Lauren Kittles' family, Frank Gentry, Joyce Bussey, Stacey McKeown, Dale Childs, Larry Lentz, Jr., Carl Sharperson, Scott Hannon, William Perry, Tyler Swaney, Lillian, Mark Feit, David Frame, Chad Berry, the family of Matthew M. Watson, the Dowis family, Shervin Messer, Alan Putnam, the Olivers, Lee Tate, Ronnie Abrams, Eddie Greene, the Jackson family, Bill Vader, Jim Taylor, Tina DeWitt, Rock Horne, Christopher Tuten, Bobby Wayne Thomas, Emma and Danielle Carothers, Robert Ditty, Mr. and Mrs. Murray Smith, Dot Cartee, Ayden Mills, Millie Heatley, Lynn Martin and family, Michael Pinson, Jake David family, Angie Crowley, Ira, Mike Tolson, Poly Wells, Dr. Muriel Bishop, Jack Cunningham, Emily Jefford Meister, Zachary Stoller, Aaron Clackum, Pat James, Cortney Moore, William Moore, Angelia and Savannah Anderson, William Ross, Meredith Legg, Scott Johns, Frank Carroll, Brandon Thompson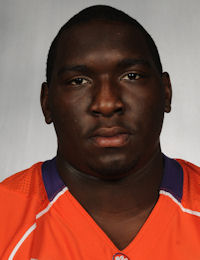 Brandon Thompson
Defensive Tackle
#98 6-2, 310
Thomasville, GA
View Full Profile , Alvin Sammons, Georgine McAlhaney, Glen Davis, Mike Price, Clay Childers, Aaron Knight, Danielle Johnston and family, Nicholas Abrams, Lana Kuykendall, Gary, Gary G., William Huggins, Jim Bennett, Chantz Fowler, Ethel McElveen, Michele Gurganus, William Gentry, Lewis Usher and Tanya Sanders,  Shon Cooper, Nick Collins, Amanda Peake, Danny Hammond, Chip Turner, Nick Collins, Allen Steen, the Sturkey family, the Lance family, Nick Chrisley's family, Allison Williams, Lt. Kyle Walker, Summer and Joel Johnson, Nicole O'Donnell, James O. Johnson, Joy Pruett and family, Bill Schmidt, Jack Bailey, the Gardner family, Charles Turner, Kathy Bartholomew, Ray Sanders, David and Robin Blocker, J.R. Ray, Kenneth Kowe, Lauren Sielicki, Doug Bailey and family, Jenna Phipps, Mark Lawrence, Harlan Sullins, Peter Laboy, Kat and Carlisle Jones, Elizabeth Galloway and family, Anita McDonald, Willard Harryman, Liz Surratt, Molly Senn, Jackie Shearer, Richard Sellers, Tim Drisdelle, Edward Easterling, Dawson Bourne, Susan and Mike Brown, Julie Goodman Marshall, Willard and Dorothy Harryman, Justin Jernigan, Jack  Cunningham,  Mia Daughtery, Tee Senn, Jim Lanier, and our great country and the men and women in uniform that protect and serve it every day, plus their families.

Upgrade Your Account
Unlock premium boards and exclusive features (e.g. ad-free) by upgrading your account today.
Upgrade Now