---
N. C. State
I turned to my son Ryan several times Saturday and said, "What a crazy football game?"
I knew we were seeing history but I had no idea just how much history. Then I got the following emails from the Clemson and NC State sports information staffs on all of the records set Saturday: 
* Clemson's 754 yards of total offense is second most in school record. That is two yards shy of the Clemson single-game record for yards of total offense. The record is 756 in 1981 against Wake Forest.
* Clemson has now tallied at least 700 yards of total offense in two games in the same season for the first time in school history and it is just the third 700-yard game in school history.
* Clemson's 62 points are the second-most points in school history against an ACC team. The record is 82 against Wake Forest in 1981. This was the most points Clemson has scored since scoring 70 in a 70-14 win over Central Michigan in 2007.
* Clemson and NC State combined for 110 points. That is the most ever by both teams in an ACC game and a game at Memorial Stadium in Clemson history. The previous record for both was 106 when Clemson beat Wake Forest 82-24 to combine for 106 points in 1981. It was the second most combined points in an ACC game in history.  Georgia Tech (68) and North Carolina (50) combined for 118 earlier this year.
* Clemson and NC State combined for 1351 yards of total offense, which is a Clemson school record for yards of total offense by both teams. The previous record was 1106 by Clemson and Wake Forest in 1981.
* Clemson and NC State also tallied a combined 919 passing yards. That is the most passing yards by both teams in a game in Clemson history. The previous record was 783 passing yards by Clemson and Texas Tech in the 2002 Tangerine Bowl.
* Clemson's Tajh Boyd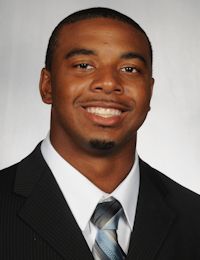 Tajh Boyd
RS Jr. Quarterback
#10 6-1, 225
Hampton, VA
View Full Profile and NC State's Mike Glennon each threw for over 400 yards in today's game. It is the first time in Clemson history that both quarterbacks threw for 400 yards in the same game.  Glennon's 493 yards passing were the second most ever against Clemson.  Chris Weinke of Florida State had 521 in 2000 at FSU.
* Clemson recorded 441 yards of total offense in the first half. That is the second most yards of total offense in a half in Clemson history. Clemson had 487 at Duke earlier this year.
* NC State's 48 points are the most ever by an ACC opponent at Memorial Stadium. In fact, NC State now has three of the top four point totals by an ACC opponent at Memorial Stadium in Clemson history.
* Clemson now has 63 touchdowns as a team this season. That is the most for a single season in Clemson history. The previous record was 58 touchdowns last season.
* Clemson also set the single-season record for points with 491 points. The previous record came last season when Clemson tallied 470 points. 
* Clemson ran 102 plays. That is the most plays in a single game in Clemson history.  Previous record was 98 against Maryland in 1992.
* Clemson recorded 34 first downs. That is one shy of the Clemson record of 35 first downs in a game which came against Wake Forest in 1981.
* Tajh Boyd set the Clemson and ACC single-game record for touchdown responsibility with eight touchdowns, three rushing and five passing. The previous Clemson record was six by Boyd and Woody Dantlzer.  Many ACC players had had six previously.
* With his eight touchdowns, Boyd is now responsible for a ACC single-season record 41 touchdowns this season.  He broke his own record of 38 set last year.  Obviously his 79 touchdowns over the last two years are the most in consecutive years in ACC history.
* Boyd also set the single-game record for yards of total offense with 529 yards with 426 yards passing and a career-high 103 yards rushing. Ironically, the previous record came at NC State in 2001 when Woodrow Dantzler recorded 517 yards of total offense.  Boyd's 103 rushing yards were the first 100-yard rushing game by a Clemson quarterback since Dantzler had 135 in his final home game against Duke in 2001.
*Boyd now has 33 touchdown passes for the year to tie his own Clemson single season record.
* Boyd completed 30 passes. That is tied for the fourth most completions in a single game in school history. It is the most since 2007 when Cullen Harper completed a school-record 38 passes against Virginia Tech.  Boyd had 30 against Auburn last year.
* Brandon Ford
Brandon Ford
Gr. Tight End
#80 6-4, 240
Wando, SC
View Full Profile caught his seventh and eight career touchdown passes. With eight, he is tied with Dwayne Allen
Dwayne Allen
Tight End
#83 6-3, 255
Fayetteville, NC
View Full Profile for most career touchdown receptions by a tight end in Clemson history. He did that last year.  Ford was Clemson's second leading receiver in today's game with five receptions for a career-high 101 receiving yards.
* Dalton Freeman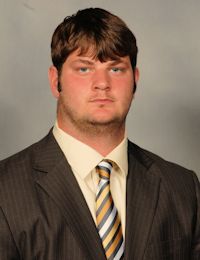 Dalton Freeman
Gr. Center
#55 6-5, 265
Pelion, SC
View Full Profile broke the Clemson career record for scrimmage plays in the first quarter.  He played all 102 snaps today, giving him 3208 career snaps heading into his final home game next year. The previous record was 3131 by Landon Walker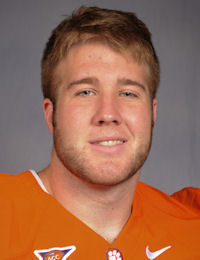 Landon Walker
Offensive Tackle
#72 6-6, 305
North Wilkesboro, NC
View Full Profile from 2009-12. Today was his 47th consecutive start at center and his 51st game.
* DeAndre Hopkins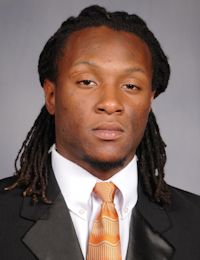 DeAndre Hopkins
Jr. Wide Receiver
#6 6-2, 205
Central, SC
View Full Profile passed Aaron Kelly to become career receiving yards when he hauled in a 62-yard touchdown pass from Boyd in the second quarter of today's game. He finished the game with two receptions for 75 yards to give him 2786 receiving yards for his career.
* Hopkins has also caught a touchdown pass in eight straight games now. The ACC record for consecutive games with a touchdown reception is nine by Virginia's Herman Moore in 1998. He will have a chance tie the ACC record next week against South Carolina.
* Sammy Watkins
Sammy Watkins
So. Wide Receiver
#2 6-1, 205
Fort Myers, FL
View Full Profile recorded a career-high 11 receptions for 110 receiving yards and one touchdown. It is his second career game with at least 10 catches and his 11 receptions is tied for third in a single game in school history. Watkins also now has 15 career touchdown receptions, which is tied for eighth most with Terry Smith in career touchdown receptions.
*Senior Tobais Palmer set an ACC and NC State record with 496 all-purpose yards on the day. The previous high mark for NC State was T.J. Graham with 336 last season at Cincinnati, and the previous ACC high was 411 yards by John Leach of Wake Forest in 1993.
Palmer also set a school record for most kickoff return yards in a single game with 277 on the day, just 6 shy of the ACC record. The previous NC State record was 202 by T.J. Graham against Duke in 2009.
Palmer also finished with a career-best 219 yards receiving and 3 touchdown catches. The 219 yards receiving is the third-most in a game in NC State history, only Torry Holt (twice in 1998) had more receiving yards in a single game.
Senior QB Mike Glennon threw for a career-best 493 yards in the game, the second-most passing yards in a game in NC State history (Shane Montgomery had 535 in 1989 against Duke).
• Glennon also tied the school record with 5 TD passes, a mark he has now reached three times in his career. Glennon also moves into third place in school history with 59 career passing TDs.
Yes, Saturday was a wild ride. Boyd, Ellington, McDowell, Watkins, Ford, Hopkins and Bryant set a bunch of offensive records but the offensive line was the big story. After the game Tom O'Brien said he knew Clemson had great skill on offense but he was not prepared for the Tigers being physically dominant up front.
Clemson could do nothing with Georgia Tech and NC State last season because they were beaten up front. This season the Tigers dominated the Yellow Jackets and Wolfpack up front and set the scoreboard on fire.
Last season South Carolina dominated Clemson's offensive line. Can the Tigers reverse that outcome also?
Hello rivalry week.
The Brad Hughes All-State Insurance Agency
Prayer List
We have started a prayer list on the blog. Here are the guidelines:
If you are offended by prayer or prayer lists then I apologize in advance. The blog is free and the prayer list will be on the bottom of the page so you don't have to read it.
If you would like to add someone to the list please email me at mickeyplyler@hotmail.com
*Please let me know when it is appropriate to take the person off of the prayer list.
Those who need our prayers include:Finn Brookover, Jo Ann Bachman, Kenneth Bryant, Pruitt Martin, Got igers and his family, David Rowland, Leonard, Gillespie and his family, Jim S, Daniel Rosborough, The Huffman family, Nancy Winkler, John Reeve, Ethel Southard, Vinnie Brock, Kaitlyn L, Susan Miller, Joyce Harley, Steve Proveaux, Jeffrey Greene, the Hutto family, Sherl Drawdy, Caleb Kennedy, Teresa O'Connor, Matt Jacobs,Perrin Seigler, Candee Massee, Lindsey Jordan, Sam Catoe, Tyler Felch, the Nicolopulos family, "the Jacksonville, FL guys", Kim Sims, the Coyle family, Ryleigh Tedder, Steve Lee, Kelly Trakas, Jimmy Moore, the Thomas. V Family, Emary Claire Young, Kitty Bowers,Julie Locke, the Scheider family, Lauren Kittles' family, Frank Gentry, Joyce Bussey, Stacey McKeown, Dale Childs, Larry Lentz, Jr, Carl Sharperson, Scott Hannon, William Perry, Tyler Swaney, Lillian, Mark Feit, David Frame, Chad Berry, the family of Matthew M. Watson, the Dowis family, Shervin Messer, Alan Putnam, the Olivers, Lee Tate, Ronnie Abrams, Eddie Greene, the Jackson family, Bill Vader, Jim Taylor, Tina DeWitt, Rock Horne, Christopher Tuten, Bobby Wayne Thomas, Emma and Danielle Carothers, Robert Ditty, Mr. and Mrs. Murray Smith, Dot Cartee, Ayden Mills, Millie Heatley, Lynn Martin and family, Michael Pinson, Jake David family, Angie Crowley, Ira, Mike Tolson, Poly Wells, Dr. Muriel Bishop, Jack Cunningham, Emily Jefford Meister, Zachary Stoller, Aaron Clackum, Pat James, Cortney Moore, William Moore, Angelia and Savannah Anderson, William Ross, Meredith Legg, Scott Johns, Frank Carroll, Brandon Thompson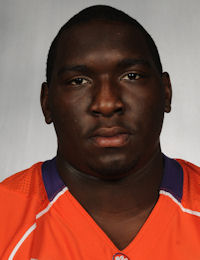 Brandon Thompson
Defensive Tackle
#98 6-2, 310
Thomasville, GA
View Full Profile , Alvin Sammons, Georgine McAlhaney, Glen Davis, Mike Price, Clay Childers, Aaron Knight, Danielle Johnston and family, Nicholas Abrams, Lana Kuykendall, Gary, Billy McLeroy, Gary G., William Huggins, Jim Bennett, Chantz Fowler, Ethel McElveen, Michele Gurganus, William Gentry, Lewis Usher and Tanya Sanders, Shon Cooper, Nick Collins, Travis Patterson, Jennifer Chancy, Amanda Peake, Danny Hammond, Chip Turner, Nick Collins, Allen Steen, The Sturkey Family, James Caylor, Ron Johnson, John Ellis Haddad, the Lance family, Marcus Lattimore, Nick Chrisley's family, Allison Williams, Lt. Kyle Walker, Summer and Joel Johnson, Nicole O'Donnell, Jennifer McManus, James O. Johnson, Joy Pruett and family, Patick Heher, our great country and the men and women in uniform that protect and serve it every day plus their families.

Upgrade Your Account
Unlock premium boards and exclusive features (e.g. ad-free) by upgrading your account today.
Upgrade Now