---
Louisville
This morning the Atlantic Coast Conference presidents and chancellors voted to add Louisville to replace Maryland, who is leaving for the Big Ten.
I am not sure Louisville's addition will save the league. I am not sure what it will mean to the future of Notre Dame entering the league on a full time basis and finally, I don't know what this will mean to the television package for the ACC.
But I do know that Louisville was the best choice. Louisville is a better choice than UConn, Cincinnati or Navy. I would say they are on par with West Virginia and add more than Pittsburgh and Syracuse.
West Virginia would have brought a lot to the conference in football and basketball but was not allowed into the ACC because of academics. Louisville is not highly regarded in the overrated, meaningless and corrupt U.S. News and World Report rankings. So in my mind, I see inviting Louisville as an admission of the mistake made by the ACC when they blackballed West Virginia. I see this as the Presidents knowing they messed up with West Virginia and they needed Louisville to try to show the football schools they were serious.
Most at Clemson wanted nothing to do with UConn. Most did not want Pittsburgh or Syracuse and saw UConn as another northern-based basketball school.
I do know that Louisville is a better fit than Maryland. The Cardinals are better than Maryland in football. In the last ten years Louisville is 79-44 while Maryland is 60-63.
Louisville is better than Maryland in basketball. Last year was their ninth Final Four and they have two national championships. The Cardinals are currently ranked fifth in the country in basketball. They are the nation's most profitable basketball program (last year they made $18.5 million). The KFC Yum! Center is among the nation's best arenas. Rick Pitino is among the nation's best basketball coaches.
In football, the Cardinals were the only current Big East team to have a BCS bowl win. Charlie Strong will have his club in a bowl game again this year for the third straight season. Thursday night's game against Rutgers could also be called the ACC/Big Ten Challenge in football with the winner gaining a BCS bowl bid.
In baseball, Louisville has built a nice program and went to the College World Series in 2007.
I have never been to Louisville but I get a sense that they care about athletics. Their athletic budget is $68.8 million a year which is second to North Carolina's $72.2 million. Papa John's Stadium holds 55,000. They would have been sixth in the ACC in attendance last season. The KFC Yum! center holds 22,000. Again, it appears they care about athletics in Louisville.
Another disadvantage the ACC has had is that they have too many small private schools. Louisville helps here also as this is a public school with an enrollment of over 22,000.
This may not be the saving grace of the conference but at least is a step in the right direction. The presidents and chancellors of the ACC put aside the academic criteria and went with a better football program.
Maybe Clemson and Florida State flexed its muscle for the first time.
The Brad Hughes All-State Insurance Agency
Prayer List
We have started a prayer list on the blog. Here are the guidelines:
If you are offended by prayer or prayer lists then I apologize in advance. The blog is free and the prayer list will be on the bottom of the page so you don't have to read it.
If you would like to add someone to the list please email me at mickeyplyler@hotmail.com
*Please let me know when it is appropriate to take the person off of the prayer list.
Those who need our prayers include:Finn Brookover, Jo Ann Bachman, Kenneth Bryant, Pruitt Martin, Got igers and his family, David Rowland, Leonard, Gillespie and his family, Jim S, Daniel Rosborough, The Huffman family, Nancy Winkler, John Reeve, Ethel Southard, Vinnie Brock, Kaitlyn L, Susan Miller, Joyce Harley, Steve Proveaux, Jeffrey Greene, the Hutto family, Sherl Drawdy, Caleb Kennedy, Teresa O'Connor, Matt Jacobs,Perrin Seigler, Candee Massee, Lindsey Jordan, Sam Catoe, Tyler Felch, the Nicolopulos family, "the Jacksonville, FL guys", Kim Sims, the Coyle family, Ryleigh Tedder, Steve Lee, Kelly Trakas, Jimmy Moore, the Thomas. V Family, Emary Claire Young, Kitty Bowers,Julie Locke, the Scheider family, Lauren Kittles' family, Frank Gentry, Joyce Bussey, Stacey McKeown, Dale Childs, Larry Lentz, Jr, Carl Sharperson, Scott Hannon, William Perry, Tyler Swaney, Lillian, Mark Feit, David Frame, Chad Berry, the family of Matthew M. Watson, the Dowis family, Shervin Messer, Alan Putnam, the Olivers, Lee Tate, Ronnie Abrams, Eddie Greene, the Jackson family, Bill Vader, Jim Taylor, Tina DeWitt, Rock Horne, Christopher Tuten, Bobby Wayne Thomas, Emma and Danielle Carothers, Robert Ditty, Mr. and Mrs. Murray Smith, Dot Cartee, Ayden Mills, Millie Heatley, Lynn Martin and family, Michael Pinson, Jake David family, Angie Crowley, Ira, Mike Tolson, Poly Wells, Dr. Muriel Bishop, Jack Cunningham, Emily Jefford Meister, Zachary Stoller, Aaron Clackum, Pat James, Cortney Moore, William Moore, Angelia and Savannah Anderson, William Ross, Meredith Legg, Scott Johns, Frank Carroll, Brandon Thompson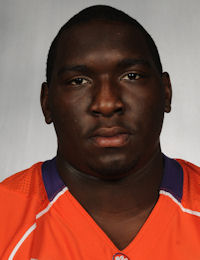 Brandon Thompson
Defensive Tackle
#98 6-2, 310
Thomasville, GA
View Full Profile , Alvin Sammons, Georgine McAlhaney, Glen Davis, Mike Price, Clay Childers, Aaron Knight, Danielle Johnston and family, Nicholas Abrams, Lana Kuykendall, Gary, Gary G., William Huggins, Jim Bennett, Chantz Fowler, Ethel McElveen, Michele Gurganus, William Gentry, Lewis Usher and Tanya Sanders, Shon Cooper, Nick Collins, Travis Patterson, Jennifer Chancy, Amanda Peake, Danny Hammond, Chip Turner, Nick Collins, Allen Steen, The Sturkey Family, James Caylor, Ron Johnson, John Ellis Haddad, the Lance family, Marcus Lattimore, Nick Chrisley's family, Allison Williams, Lt. Kyle Walker, Summer and Joel Johnson, Nicole O'Donnell, Jennifer McManus, James O. Johnson, Joy Pruett and family, Patrick Heher, Bill Schmidt, Jack Bailey, Bill Early, our great country and the men and women in uniform that protect and serve it every day plus their families.

Upgrade Your Account
Unlock premium boards and exclusive features (e.g. ad-free) by upgrading your account today.
Upgrade Now