---
Lost Hope
Monday was a bad day for me. It was one where I lost some hope.
I knew it was a long shot, but I had hope that we could one day get into a better league. I knew the Big 12 was a geographical nightmare but I loved the idea. I knew the SEC had no plans at the time to expand but I still had a little hope.
My hope went away this week when the ACC announced its grant of rights for media money had been agreed to by all of the schools in the league.
This announcement was huge for the ACC. The Atlantic Coast Conference will not suffer any defections before 2027. This was a win for solidarity. The ACC was smart in pushing this through. John Swofford looks like a genius. This was great news for Duke and Wake Forest. It was a good day for Boston College. The possibility of those schools leaving did not exist.
But for the football fans at Clemson and Florida State I think it was a bad day.
Clemson and FSU will now have to face the fact that their arch rivals, South Carolina and Florida, will make millions and millions more money than they will over the next 13 years. The gap in money will widen and the Gamecocks and Gators will end up making over $100,000,000 more million dollars over the next 13 years. Over $100 million! That should be hard to swallow if you are a Tiger or Seminole.
Some may ask how this is the case but the numbers from their TV contracts indicate this gap. Also my guess is that the SEC will make more in the playoffs than the ACC, so the gap could be even wider. Two years ago South Carolina made and spent $20 million more than Clemson. That is a pill to swallow.
But my hope was for more than just money. I wanted to expand our identity and build on our strengths.
Clemson and Florida State are football schools located in the south. Now they will be tied for the next 13 years to a basketball conference with a bunch of schools in the North.
As a Clemson fan I can identify with football. This is our identity. This past weekend Syracuse had 3,000 fans for their spring game. How big of a priority is college football in the state of New York?
Football fans in Pittsburgh, PA can't tell you the starting defensive line for the Pitt Panthers but they can name every member of the Steelers' Steel Curtain defense because it is a pro town.
My hearts went out to the city of Boston last week, but I still have little in common with the small fan base for Boston College football.
I don't look like them. I don't dress like them. I don't eat like them. I certainly don't talk like them.
I am from the South and I love college football. Even in the South I have little in common with the Crazies that pack Cameron or the wine and cheese crowd at the Dean Dome.
When I get together with friends, we talk about college football. We can't get enough of it. I know that is the case in the SEC. My guess is that is the case in Austin, TX, Norman, OK, Stillwater, OK and Morgantown, WV. My guess is this is not the case in most of the markets of the ACC.
This summer Clemson fans will call my radio show and have it out with Georgia fans in anticipation of the season opener. I wonder how many will call about the first trip to Syracuse coming later this season?
Not all news is bad. We still get to play a non-conference game with Notre Dame. I guess that is not a bad deal. Also Louisville acts like they want to be a big player in football now, so that doesn't stink.
I know I am probably in the minority but I never liked this conference and the new additions like Boston College, Syracuse and Pittsburgh drive me away even more.
I also knew that it was a long shot but at least I had hope when it came to getting in a new conference. Now that hope is gone. More trips to Winston-Salem and Durham are in my future. Plane trips for football isn't natural but plane flights to Austin, TX are better than ones to Boston, Pittsburgh and Syracuse.
Last summer I thought the league's dynamics had changed when we found out that 80% of the television deals were based upon football. For the first time in my lifetime Clemson was not at the back of the ACC bus. The Tobacco Road schools knew that Clemson and Florida State had control of the league and they were scared to death that the league could crumble if the Tigers or Seminoles left. Clemson and FSU had all of the power and all of the leverage. That power and leverage went away this week.
Coach K sounded like he won a national title this week. He was a happy man. Why shouldn't he be? He is a basketball coach and his basketball league was saved. He now has even more chances to recruit urban areas in the Northeast.
However, we are a southern football school stuck in a basketball conference for at least another 13 years. Over the next 13 years I will look at the departure boards at the airport and wish my plane was headed somewhere other than my northern destination for the weekend. Maybe Jimmy Buffett could write a song about that one.
The Brad Hughes All-State Insurance Agency
Prayer List
We have started a prayer list on the blog. Here are the guidelines:
If you are offended by prayer or prayer lists then I apologize in advance. The blog is free and the prayer list will be on the bottom of the page so you don't have to read it.
If you would like to add someone to the list please email me at mickeyplyler@hotmail.com
*Please let me know when it is appropriate to take the person off of the prayer list.
Those who need our prayers include: Finn Brookover, Jo Ann Bachman, Kenneth Bryant, Pruitt Martin, Got igers and his family, David Rowland, Leonard, Gillespie and his family, Jim S, Daniel Rosborough, The Huffman family, Nancy Winkler, John Reeve, Ethel Southard, Vinnie Brock, Kaitlyn L, Susan Miller, Joyce Harley, Steve Proveaux, Jeffrey Greene, the Hutto family, Sherl Drawdy, Caleb Kennedy, Teresa O'Connor, Matt Jacobs,Perrin Seigler, Candee Massee, Lindsey Jordan, Sam Catoe, Tyler Felch, the Nicolopulos family, "the Jacksonville, FL guys", Kim Sims, the Coyle family, Ryleigh Tedder, Steve Lee, Kelly Trakas, Jimmy Moore, the Thomas. V Family, Emary Claire Young, Kitty Bowers,Julie Locke, the Scheider family, Lauren Kittles' family, Frank Gentry, Joyce Bussey, Stacey McKeown, Dale Childs, Larry Lentz, Jr, Carl Sharperson, Scott Hannon, William Perry, Tyler Swaney, Lillian, Mark Feit, David Frame, Chad Berry, the family of Matthew M. Watson, the Dowis family, Shervin Messer, Alan Putnam, the Olivers, Lee Tate, Ronnie Abrams, Eddie Greene, the Jackson family, Bill Vader, Jim Taylor, Tina DeWitt, Rock Horne, Christopher Tuten, Bobby Wayne Thomas, Emma and Danielle Carothers, Robert Ditty, Mr. and Mrs. Murray Smith, Dot Cartee, Ayden Mills, Millie Heatley, Lynn Martin and family, Michael Pinson, Jake David family, Angie Crowley, Ira, Mike Tolson, Poly Wells, Dr. Muriel Bishop, Jack Cunningham, Emily Jefford Meister, Zachary Stoller, Aaron Clackum, Pat James, Cortney Moore, William Moore, Angelia and Savannah Anderson, William Ross, Meredith Legg, Scott Johns, Frank Carroll, Brandon Thompson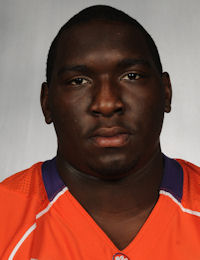 Brandon Thompson
Defensive Tackle
#98 6-2, 310
Thomasville, GA
View Full Profile , Alvin Sammons, Georgine McAlhaney, Glen Davis, Mike Price, Clay Childers, Aaron Knight, Danielle Johnston and family, Nicholas Abrams, Lana Kuykendall, Gary, Gary G., William Huggins, Jim Bennett, Chantz Fowler, Ethel McElveen, Michele Gurganus, William Gentry, Lewis Usher and Tanya Sanders, Shon Cooper, Nick Collins, Travis Patterson, Amanda Peake, Danny Hammond, Chip Turner, Nick Collins, Allen Steen, The Sturkey Family, the Lance family, Marcus Lattimore, Nick Chrisley's family, Allison Williams, Lt. Kyle Walker, Summer and Joel Johnson, Nicole O'Donnell, James O. Johnson, Joy Pruett and family, Patrick Heher, Bill Schmidt, Jack Bailey, Bill Early, Gardner Family, Charles Turner, Kathy Bartholomew, Ray Sanders, David and Robin Blocker, J.R. Ray, Kenneth Kowe, Lauren Sielicki, Doug Bailey and family, Johnnie Walker, Jenna Phipps, Mark Lawrence, Harlan Sullins, Peter Laboy, Kat and Carlisle Jones, Elizabeth Galloway and family, Anita McDonald, Willard Harryman, Liz Surratt, Molly Senn, Jackie Shearer, Richard Sellers, our great country and the men and women in uniform that protect and serve it every day plus their families.

Upgrade Your Account
Unlock premium boards and exclusive features (e.g. ad-free) by upgrading your account today.
Upgrade Now