---
Is He Done?
I watched Sports Center yesterday and found out that the New York Jets were benching Mark Sanchez. That was not a shock. What was a surprise is that they are going with Greg McElroy, not Tim Tebow.
So on my radio show this morning, we started wondering if Tebow was done? Was Tebow-mania finished?
We then turned the debate on several current coaches and athletes and wondered the same thing. Were they done? Is Frank Beamer's day of ten wins over at Virginia Tech? Is Jim Grobe's days of winning at Wake Forest over? Is Mack Brown done at Texas?
We asked if player who are injured are done. Is Alex Rodriquez finished? Is Derek Jeter done? Can Marcus Lattimore come back from his knee injury?
I think often times we give up too soon on players and athletes.
This time last year some speculated that Peyton Manning's career was finished. He would never be the same according to some. Did anyone really think he had another MVP-type season in him?
How many of us wrote off Adrian Peterson after his knee injury?
Three years ago I watched the Boston media write off David Ortiz. They said his bat speed was too slow. The had written his retirement speech.
This morning I brought up former Clemson basketball coach Oliver Purnell. He is stuck in basketball badlands with his current situation ay DePaul.
Speaking of badlands, how many of us wrote off Larry Shyatt? Anyone seen his team's record this season at Wyoming?
Many fans of our arch rival wrote off Connor Shaw after his freshman season. I wrote off Dylan Thompson again this year. Anyone watch Thompson in the second half in Death Valley?
We do it at Clemson too. Will Proctor was never supposed to be the starting quarterback here. Howard Bartley had his career go down the drain after a couple of knee surgeries, yet both won big games after we had them dead and gone.
Next season the starting running back at Clemson could be Roderick McDowell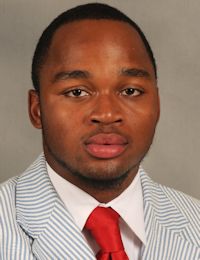 Roderick McDowell
RS Jr. Running Back
#25 5-9, 195
Sumter, SC
View Full Profile . How many of us thought he would ever be a starter at Clemson?
Two stars on defense were never supposed to be a factor according to some. Vic Beasley
Vic Beasley
RS So. Defensive End
#3 6-3, 225
Adairsville, GA
View Full Profile was a tight end that moved to linebacker and eventually defensive end. Many of us gave up on him. We thought he was a good athlete but he could not find a position. We were wrong.
I know I personally gave up on Josh Watson
Josh Watson
RS So. Defensive Tackle
#91 6-4, 285
Wilmington, DE
View Full Profile after last season. I was totally wrong as Watson enjoyed a very good season in 2012.
Gifford Timothy
Gifford Timothy
RS So. Offensive Tackle
#70 6-6, 310
Middletown, DE
View Full Profile is another example of dead weight turned starter. Many thought Timothy was a wasted scholarship until he became a starter.
Who among us had Spencer Shuey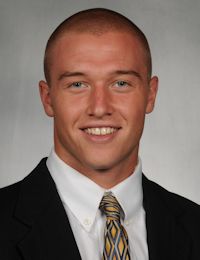 Spencer Shuey
RS Jr. Linebacker
#33 6-3, 230
Charlotte, NC
View Full Profile as the defensive MVP in the second half of the season? How many of us ever saw him beating out former five star prospect Stephone Anthony
Stephone Anthony
So. Linebacker
#12 6-3, 235
Polkton, NC
View Full Profile ?
After his red-shirt season many of us thought Eric MacLain was a bust at tight end. Now, an equal number of us think he has big time potential at tackle.
This time last year some of the message board heroes told us Patrick DeStefano
Patrick DeStefano
Fr. Offensive Line
#71 6-5, 275
Roebuck, SC
View Full Profile would never play at Clemson. One year later the defensive staff thought he had a great year in his red-shirt season on the scout team.
A good friend of mine the head of an academic department at Clemson. He told me a few years ago that he has never given up on a student. He said people mature at different rates. We never know when the light may come on.
The point is that while many of us want to write guys like Jerome Maybank
Jerome Maybank
RS Fr. Offensive Guard
#72 6-4, 320
Pawleys Island, SC
View Full Profile , Spencer Region
Spencer Region
RS Fr. Offensive Guard
#74 6-5, 360
Cullman, AL
View Full Profile or Rod Byers off, I still think it is too soon. At some point, almost everyone still on scholarship will have an opportunity to help the Tigers win a game. It may take a position change, it may take an injury to someone ahead of them in the depth chart or it may simply be a case of the light coming on. Many will never turn out to contribute but often times many others do contribute even after a lot of us think they never will.
Thank goodness Brandon Ford
Brandon Ford
Gr. Tight End
#80 6-4, 240
Wando, SC
View Full Profile didn't read the message boards three years ago when he was written off.
The Brad Hughes All-State Insurance Agency
Prayer List
We have started a prayer list on the blog. Here are the guidelines:
If you are offended by prayer or prayer lists then I apologize in advance. The blog is free and the prayer list will be on the bottom of the page so you don't have to read it.
If you would like to add someone to the list please email me at mickeyplyler@hotmail.com
*Please let me know when it is appropriate to take the person off of the prayer list.
Those who need our prayers include:Finn Brookover, Jo Ann Bachman, Kenneth Bryant, Pruitt Martin, Got igers and his family, David Rowland, Leonard, Gillespie and his family, Jim S, Daniel Rosborough, The Huffman family, Nancy Winkler, John Reeve, Ethel Southard, Vinnie Brock, Kaitlyn L, Susan Miller, Joyce Harley, Steve Proveaux, Jeffrey Greene, the Hutto family, Sherl Drawdy, Caleb Kennedy, Teresa O'Connor, Matt Jacobs,Perrin Seigler, Candee Massee, Lindsey Jordan, Sam Catoe, Tyler Felch, the Nicolopulos family, "the Jacksonville, FL guys", Kim Sims, the Coyle family, Ryleigh Tedder, Steve Lee, Kelly Trakas, Jimmy Moore, the Thomas. V Family, Emary Claire Young, Kitty Bowers,Julie Locke, the Scheider family, Lauren Kittles' family, Frank Gentry, Joyce Bussey, Stacey McKeown, Dale Childs, Larry Lentz, Jr, Carl Sharperson, Scott Hannon, William Perry, Tyler Swaney, Lillian, Mark Feit, David Frame, Chad Berry, the family of Matthew M. Watson, the Dowis family, Shervin Messer, Alan Putnam, the Olivers, Lee Tate, Ronnie Abrams, Eddie Greene, the Jackson family, Bill Vader, Jim Taylor, Tina DeWitt, Rock Horne, Christopher Tuten, Bobby Wayne Thomas, Emma and Danielle Carothers, Robert Ditty, Mr. and Mrs. Murray Smith, Dot Cartee, Ayden Mills, Millie Heatley, Lynn Martin and family, Michael Pinson, Jake David family, Angie Crowley, Ira, Mike Tolson, Poly Wells, Dr. Muriel Bishop, Jack Cunningham, Emily Jefford Meister, Zachary Stoller, Aaron Clackum, Pat James, Cortney Moore, William Moore, Angelia and Savannah Anderson, William Ross, Meredith Legg, Scott Johns, Frank Carroll, Brandon Thompson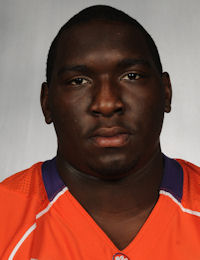 Brandon Thompson
Defensive Tackle
#98 6-2, 310
Thomasville, GA
View Full Profile , Alvin Sammons, Georgine McAlhaney, Glen Davis, Mike Price, Clay Childers, Aaron Knight, Danielle Johnston and family, Nicholas Abrams, Lana Kuykendall, Gary, Gary G., William Huggins, Jim Bennett, Chantz Fowler, Ethel McElveen, Michele Gurganus, William Gentry, Lewis Usher and Tanya Sanders, Shon Cooper, Nick Collins, Travis Patterson, Jennifer Chancy, Amanda Peake, Danny Hammond, Chip Turner, Nick Collins, Allen Steen, The Sturkey Family, James Caylor, the Lance family, Marcus Lattimore, Nick Chrisley's family, Allison Williams, Lt. Kyle Walker, Summer and Joel Johnson, Nicole O'Donnell, Jennifer McManus, James O. Johnson, Joy Pruett and family, Patrick Heher, Bill Schmidt, Jack Bailey, Bill Early, Gardner Family, Charles Turner, Kathy Bartholomew, Ray Sanders, our great country and the men and women in uniform that protect and serve it every day plus their families.

Upgrade Your Account
Unlock premium boards and exclusive features (e.g. ad-free) by upgrading your account today.
Upgrade Now