---
Homecoming
The spring football game is this weekend and many of you will join us back in Clemson. I know a ton of people that look for a reason to come back to the place they love. They look for any excuse to just get back here one more time.
This weekend those reasons include football and baseball but it could be any reason for many of us.
We are lucky that we found a place we love this much and we can look no further than our former student-athletes to make that point.
This week on my radio show we are spending several segments talking to former Tigers who love this place and can't wait to get back.
On Monday we visited with former Clemson All-American cornerback Donnell Woolford. The 11th pick in the NFL draft in 1989 said his love for Clemson is still very deep.
Woolford said his college choices came down to Clemson and South Carolina and says, "I thank God all of the time that he made me a Tiger and not a Chicken."
The Clemson athletic Hall of Famer told a story that I had never heard before. He said when he got to the Bears as a rookie William Perry was still on the team. Woolford said many of the players would gather for a meal the night before a road game and the TV was on college football. Woolford says Perry controlled the remote and told all of the Bears that this TV was going on the Clemson game and anyone that wanted to watch any other game would have to go to their hotel rooms to watch.
Woolford is in Clemson Thursday night launching a sports drink and says its always great to come back home.
Today on the show we spoke with former Clemson linebacker Brandon Maye
Brandon Maye
RS Sr. Linebacker
#20 6-2, 235
Mobile, AL
View Full Profile who will have a book signing this weekend for his new book. Like Woolford, Maye had a product to sell but was genuine in professing his love for Clemson. Maye credits Clemson for a lot of what he has in this world and says he will always be a Tiger.
On Wednesday's show we will have two more Clemson athletic Hall of Famers. Charlie Bussey and Terrell McIntyre will join the show. Bussey came home to work back here in Clemson many years ago and now that McIntyre has retired from professional basketball in Europe, he too wants to give back to Clemson. "Boogie" will announce a major gift to the basketball program in the near future.
Thursday we will visit with former Clemson and NFL star Patrick Sapp who like Bussey has come home to work at Clemson. Few love Clemson more than Sapp, who does a great job of promoting his alma mater.
C.J. Spiller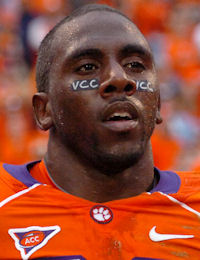 C.J. Spiller
Pro Running Back
#28 5-11, 195
Lake Butler, FL
View Full Profile rarely misses an opportunity to come back to Clemson and this weekend he will be back in town again.
I read a story on the internet about a feud between our arch rival's head coach and his former players this week and it made me realize once again the differences between us and them.
This week also has me thinking about Joe Sherman's masterpiece, "There's Something in These Hills." Several lines came to my mind this week in thinking about my radio guests.
Sherman says, "There's something in these hills that has touched every one of them, something that has rubbed off on them in varying degrees, something that has built within the breasts of all Clemson men and women an enduring spark akin to an eternal pride." That certainly is the case with Woolford, Maye, Bussey, McIntyre, Sapp and Spiller.
Sherman adds, "There's something in these hills that has bound together a man of over ninety and a boy under twenty, something that has given them a common ground on which to stand and a start toward bridging, and eliminating, and gap or any stress or any strain that might try to make unglued whatever they seek for themselves as they move out of these hills into the mountains, the plains, the oceans, the forests, the skies and the storms of life.
There is something in these hills that brings together and binds together and holds together men and women of all persuasions, of all heights, sizes, weights, and cultural backgrounds - something that cuts across every difference, spans every gap, penetrates every wall - something that makes a man or a woman stand taller, feel better and say with a high pride to all within earshot, "I went to Clemson."
There is something in these hills that you and I can't define and others can't understand. A wave of warmth always surges through me when "outsiders" say, "I don't know what it is about you Clemson people, but your undying love for Clemson is admired by everyone I know."
Sherman captured it better than anyone could and this week I have and will thoroughly enjoy hearing some of our Hall of Famers and future Hall of Famers light up when talking about their love for this place. From Charlie Bussey who played football here in the 1950s to Terrell McIntyre who starred in basketball just a few short years ago, I love hearing them talk about this place like you and I do every day.
I hope many of you will do like these guys this week and come back home.
The Brad Hughes All-State Insurance Agency
Prayer List
We have started a prayer list on the blog. Here are the guidelines:
If you are offended by prayer or prayer lists then I apologize in advance. The blog is free and the prayer list will be on the bottom of the page so you don't have to read it.
If you would like to add someone to the list please email me at mickeyplyler@hotmail.com
*Please let me know when it is appropriate to take the person off of the prayer list.
Those who need our prayers include: Finn Brookover, Jo Ann Bachman, Kenneth Bryant, Pruitt Martin, Got igers and his family, David Rowland, Leonard, Gillespie and his family, Jim S, Daniel Rosborough, The Huffman family, Nancy Winkler, John Reeve, Ethel Southard, Vinnie Brock, Kaitlyn L, Susan Miller, Joyce Harley, Steve Proveaux, Jeffrey Greene, the Hutto family, Sherl Drawdy, Caleb Kennedy, Teresa O'Connor, Matt Jacobs,Perrin Seigler, Candee Massee, Lindsey Jordan, Sam Catoe, Tyler Felch, the Nicolopulos family, "the Jacksonville, FL guys", Kim Sims, the Coyle family, Ryleigh Tedder, Steve Lee, Kelly Trakas, Jimmy Moore, the Thomas. V Family, Emary Claire Young, Kitty Bowers,Julie Locke, the Scheider family, Lauren Kittles' family, Frank Gentry, Joyce Bussey, Stacey McKeown, Dale Childs, Larry Lentz, Jr, Carl Sharperson, Scott Hannon, William Perry, Tyler Swaney, Lillian, Mark Feit, David Frame, Chad Berry, the family of Matthew M. Watson, the Dowis family, Shervin Messer, Alan Putnam, the Olivers, Lee Tate, Ronnie Abrams, Eddie Greene, the Jackson family, Bill Vader, Jim Taylor, Tina DeWitt, Rock Horne, Christopher Tuten, Bobby Wayne Thomas, Emma and Danielle Carothers, Robert Ditty, Mr. and Mrs. Murray Smith, Dot Cartee, Ayden Mills, Millie Heatley, Lynn Martin and family, Michael Pinson, Jake David family, Angie Crowley, Ira, Mike Tolson, Poly Wells, Dr. Muriel Bishop, Jack Cunningham, Emily Jefford Meister, Zachary Stoller, Aaron Clackum, Pat James, Cortney Moore, William Moore, Angelia and Savannah Anderson, William Ross, Meredith Legg, Scott Johns, Frank Carroll, Brandon Thompson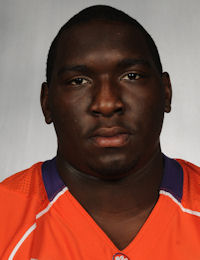 Brandon Thompson
Defensive Tackle
#98 6-2, 310
Thomasville, GA
View Full Profile , Alvin Sammons, Georgine McAlhaney, Glen Davis, Mike Price, Clay Childers, Aaron Knight, Danielle Johnston and family, Nicholas Abrams, Lana Kuykendall, Gary, Gary G., William Huggins, Jim Bennett, Chantz Fowler, Ethel McElveen, Michele Gurganus, William Gentry, Lewis Usher and Tanya Sanders, Shon Cooper, Nick Collins, Travis Patterson, Amanda Peake, Danny Hammond, Chip Turner, Nick Collins, Allen Steen, The Sturkey Family, the Lance family, Marcus Lattimore, Nick Chrisley's family, Allison Williams, Lt. Kyle Walker, Summer and Joel Johnson, Nicole O'Donnell, James O. Johnson, Joy Pruett and family, Patrick Heher, Bill Schmidt, Jack Bailey, Bill Early, Gardner Family, Charles Turner, Kathy Bartholomew, Ray Sanders, David and Robin Blocker, J.R. Ray, Kenneth Kowe, Lauren Sielicki, Doug Bailey and family, Johnnie Walker, Jenna Phipps, Mark Lawrence, Harlan Sullins, Peter Laboy, Kat and Carlisle Jones, Elizabeth Galloway and family, Anita McDonald, Willard Harryman, Liz Surratt, Molly Senn, our great country and the men and women in uniform that protect and serve it every day plus their families.

Upgrade Your Account
Unlock premium boards and exclusive features (e.g. ad-free) by upgrading your account today.
Upgrade Now