---
Happy 21st!
Thanks for allowing me to take a day off from Clemson coverage and wish my son Ryan a Happy 21st Birthday!
Many of you have been so gracious and have prayed for Ryan and I wanted to update you on his miraculous progress. I do this a couple of times a year and hopefully updating his story will inspire and lift up your spirits today.
For those that didn't know, Ryan is actually my stepson. Actually because his mom and I divorced, I am not really kin to Ryan anymore. He is no longer my son. Now he is only my hero.
Ryan was the passenger in a horrific automobile accident on June 2, 2008. He was badly burned but the most severe issues came with the shearing of his brain stem and brain damage to his cerebellum which controls speech, balance and fine motor skills.
Ryan was in a coma for about three weeks. He was in the hospital in Greenville and Charlotte for a total of 76 days.
First responders prayed over Ryan's body at the scene because they thought he was not going to make it to the hospital. The trauma team told us he was 50-50 to live in the first 72 hours. Neurosurgeons told us that they had no idea if Ryan would have any quality of life. Therapists told us Ryan would never walk.
Through God's grace, your prayers and Ryan's hard work, his case has been nothing short of a miracle. Doctors that see Ryan now say he is one of the top five recoveries they have ever seen. Therapists tell us that these types of cases don't turn out this way. The medical community have been amazed.
Four years later he is still making huge strides. I wanted to update you on my hero that many believed would never celebrate his 21st birthday.
Today we celebrate! We celebrate God's grace. We celebrate Ryan's determination. We celebrate with the many friends that we have met along this journey. We celebrate with the powerful lessons learned from in the past four years. But mostly we celebrate every second we get to spend with our hero.
Ryan was not supposed to graduate from one of the best high schools in North Carolina but he persevered and walked across the stage to a standing ovation in May of 2012.
He was not supposed to go to college but completed his first year of college at Tri-County Tech with close to a 3.0 GPA.
They said he may never drive again but Ryan just completed a driving course where he earned an "A" from the instructor.
His accomplishments and attitude have been amazing but the other day he made me as proud of him as I have ever been.
One of the downsides of the last year is that Ryan spent more time studying and being a college freshman and less time in therapy. His walking digressed.
A few weeks ago his mother suggested he stay at home for a semester and concentrate on therapy. I agreed and tried to convince him. However, Ryan was looking forward to returning to school and being with his friends. Who would not want to spend the fall of their 21st year at Clemson with his friends?
After a week or so, Ryan called me and told me he had decided to take a semester off from school and concentrate on his intensive walking therapy. He understands that the brain stops developing between the ages of 23 and 25. He realizes he has a limited time to make major strides in his recovery.
I may be the only father in America that was proud of his son telling him he was taking a semester off (Ha).
Ryan is rehabbing at a facility in Mooresville, NC that specializes in his types of injuries. He made the choice to give up partying in Clemson in the fall and instead has chosen to go through a grueling rehab process. Ryan once again made me so proud!
The deal I made with him is that he still will go to all of the Clemson football games, so many of you will still see him around on football weekends. He is also taking a couple of online classes to continue to progress academically.
When he comes back in January Ryan will welcomed by his friends and one proud father.
Thanks again for all of your help with Ryan and thanks for all of your prayers!
A gentleman called after my radio show and wanted Ryan's email address to wish him happy birthday. If you wanted to drop him a quick note his email address is rch1073@yahoo.com. Thanks.
Happy Birthday Big Man!
The Brad Hughes All-State Insurance Agency
Prayer List
We have started a prayer list on the blog. Here are the guidelines:
If you are offended by prayer or prayer lists then I apologize in advance. The blog is free and the prayer list will be on the bottom of the page so you don't have to read it.
If you would like to add someone to the list please email me at mickeyplyler@hotmail.com
*Please let me know when it is appropriate to take the person off of the prayer list.
Those who need our prayers include:Finn Brookover, Mary-Louise Pawlowski (John's daughter), Jo Ann Bachman, Kenneth Bryant, Pruitt Martin, Got igers and his family, David Rowland, Leonard, Gillespie and his family, Jim S, Daniel Rosborough, The Huffman family, Nancy Winkler, John Reeve, Ethel Southard, Vinnie Brock, Kaitlyn L, Susan Miller, Joyce Harley, Steve Proveaux, Jeffrey Greene, the Hutto family, Sherl Drawdy, Caleb Kennedy, Teresa O'Connor, Matt Jacobs,Perrin Seigler, Candee Massee, Lindsey Jordan, Sam Catoe, Tyler Felch, the Nicolopulos family, "the Jacksonville, FL guys", Kim Sims, the Coyle family, Ryleigh Tedder, Steve Lee, Kelly Trakas, Jimmy Moore, the Thomas. V Family, Emary Claire Young, Kitty Bowers,Julie Locke, the Scheider family, Lauren Kittles' family, Frank Gentry, Joyce Bussey, Stacey McKeown, Dale Childs, Larry Lentz, Jr, Carl Sharperson, Scott Hannon, William Perry, Tyler Swaney, Lillian, Mark Feit, David Frame, Chad Berry, the family of Matthew M. Watson, the Dowis family, Shervin Messer, Alan Putnam, the Olivers, Lee Tate, Ronnie Abrams, Eddie Greene, the Jackson family, Bill Vader, Jim Taylor, Tina DeWitt, Rock Horne, Christopher Tuten, Bobby Wayne Thomas, Emma and Danielle Carothers, Robert Ditty, Mr. and Mrs. Murray Smith, Dot Cartee, Ayden Mills, Millie Heatley, Lynn Martin and family, Michael Pinson, Jake David family, Angie Crowley, Ira, Mike Tolson, Poly Wells, Dr. Muriel Bishop, Jack Cunningham, Emily Jefford Meister, Zachary Stoller, Aaron Clackum, Pat James, Cortney Moore, William Moore, Angelia and Savannah Anderson, William Ross, Meredith Legg, Scott Johns, Frank Carroll, Brandon Thompson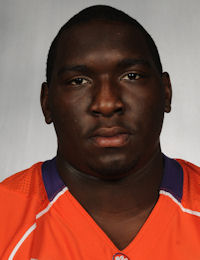 Brandon Thompson
Defensive Tackle
#98 6-2, 310
Thomasville, GA
View Full Profile , Alvin Sammons, Georgine McAlhaney, Glen Davis, Mike Price, Clay Childers, Aaron Knight, Danielle Johnston and family, Nicholas Abrams, Lana Kuykendall, Gary, Billy McLeroy, Gary G., William Huggins, Jim Bennett, Chantz Fowler, Ethel McElveen, Michele Gurganus, William Gentry, Lewis Usher and Tanya Sanders, Shon Cooper, Nick Collins.

Upgrade Your Account
Unlock premium boards and exclusive features (e.g. ad-free) by upgrading your account today.
Upgrade Now