---
Friday Email Bag
Each Friday I publish your comments and answer your questions.  To submit a comment or questions please email me at mickeyplyler@hotmail.com.
Mickey,
Your article on contingency plans reminded me of the fall of 1963. We had a big storm during one of the games (I think it was the infamous UGA hail game, but not sure). The parking lot just west of Cemetery Hill was completely torn up with vehicle tracks. The next Friday we had a cross country meet and had to modify the course, which called for a loop of that lot before running up and around Cemetery Hill and a loop of it afterwards, because the ground was so torn up and uneven. Since that was the part of the course I hated, I didn't mind the change, but if the rugby field is used for parking when wet, it will be unplayable for the rest of the year.
Your blog about facilities reminded me that one of the most important facilities in Clemson's history opened 50 years ago this September. The first women's dormitory. The female in enrollment tripled that year. All of us guys thought we had died and gone to heaven.
Keep up the good work and hope Ryan continues to improve.
Ed
Ed,
I appreciate the history lesson. I had no idea the first female dorms are 50 years old. It's hard to imagine all of the changes around here through the years. Also, I sure hope the rain holds off and people can enjoy a great tailgating weekend.
Mickey,
Is UNC Basketball "off-limits" to NCAA enforcement?  Was UNC football a sacrificial lamb for basketball's sake?
Some media sources are trying to keep the P.J. Hairston story in the forefront, but the NCAA refuses to move on it.  They seem to be hoping the story just fades away.
To me, the situation at UNC is no different than the Miami / Shapiro fiasco.
Listen, we (other ACC schools) know this kind of stuff has been happening at UNC forever … the Wayne Ellington house, Henson's Escalade … I personally saw J.R. Reid (1988) in Chapel Hill behind the wheel of a brand new 300ZX.
They are actually pretty blatant about it … you know people see these athletes driving around in expensive cars all the time.  All the NCAA would have to do is park an agent outside the Dean Dome for 5 minutes and they could have a case.
The other outrageous part of this is that the other ACC schools seem indifferent to it.  If Championships = $$$, then UNC is robbing the other schools.  Maybe Maryland finally had enough of the baby blue empire?
I don't get it.
Jerry
Jerry,
Jerry Tarkanian said it best when he said the NCAA was so mad about Kentucky cheating that they put Cleveland State on probation. It does appear that some rules are different for some institutions. I would hope that that is not the case but the evidence does not support that.
Mickey,
I have been hearing a lot of talk about Dabo is going to be the next coach at Alabama.  What do you think about this? I wish we could keep Dabo at Clemson for a long time he is a good guy also he is the type of Sunday School teacher you would wont to teach your children because he practices what he preaches. I can recall the Auburn game is Clemson a year are so ago and Dabo quoted a Scripture on National Television that's what type of coach I love. I hope Dabo stay at Clemson for a long time this program will be in better shape than he found it he told us that he was all in and he has lived up too his word. People talking about not winning against USC look how long it took Steve Spurrier to beat us when he got there lol 
Gervonte
Go Tigers!
Gervonte,
I think Nick Saban will be at Alabama for a while but if Dabo wins at Clemson I think he will be a natural candidate in Tuscaloosa. However, I think it is way too early to think about the other candidates. In my opinion the best thing that can happen to Clemson is for the Tigers to win enough games and titles that Dao would be a candidate at Alabama.
Hey Mickey I'm wondering your thoughts on the running backs during the scrimmage? Sounds like they didn't really have a good day? Especially Gallman and Dye? I'm really excited about these guys tho! Thanks Mickey hope everything's good
Ryan
Ryan,
I wouldn't look at the stats and make that assumption. These stats can be misleading. They were limited in the carries. Maybe the line had issues. Maybe it's hard to run against a defense that knows what is coming. I would not lower my expectations based upon scrimmage stats.
Mickey,
I hope God continues to shower his grace upon Ryan and your family, Mickey.  God bless.
Kevin
Kevin,
Thanks Kevin. I will tell him you said Happy Birthday. We are so blessed to have him with us to celebrate his 22nd birthday. Thanks again.
The Brad Hughes All-State Insurance Agency
Prayer List
We have started a prayer list on the blog. Here are the guidelines:
If you are offended by prayer or prayer lists then I apologize in advance. The blog is free and the prayer list will be on the bottom of the page so you don't have to read it.
If you would like to add someone to the list please email me at mickeyplyler@hotmail.com
*Please let me know when it is appropriate to take the person off of the prayer list.
Those who need our prayers include:Finn Brookover, Jo Ann Bachman, Kenneth Bryant, Pruitt Martin, Got igers and his family, David Rowland, Leonard, Gillespie and his family, Jim S, Daniel Rosborough, The Huffman family, Nancy Winkler, John Reeve, Vinnie Brock, Kaitlyn L, Susan Miller, Joyce Harley, Steve Proveaux, Jeffrey Greene, the Hutto family, Sherl Drawdy, Caleb Kennedy, Teresa O'Connor, Matt Jacobs,Perrin Seigler, Candee Massee, Lindsey Jordan, Sam Catoe, Tyler Felch, the Nicolopulos family, "the Jacksonville, FL guys", Kim Sims, the Coyle family, Ryleigh Tedder, Steve Lee, Kelly Trakas, Jimmy Moore, the Thomas. V Family, Emary Claire Young, Kitty Bowers,Julie Locke, the Scheider family, Lauren Kittles' family, Frank Gentry, Joyce Bussey, Stacey McKeown, Dale Childs, Larry Lentz, Jr, Carl Sharperson, Scott Hannon, William Perry, Tyler Swaney, Lillian, Mark Feit, David Frame, Chad Berry, the family of Matthew M. Watson, the Dowis family, Shervin Messer, Alan Putnam, the Olivers, Lee Tate, Ronnie Abrams, Eddie Greene, the Jackson family, Bill Vader, Jim Taylor, Tina DeWitt, Rock Horne, Christopher Tuten, Bobby Wayne Thomas, Emma and Danielle Carothers, Robert Ditty, Mr. and Mrs. Murray Smith, Dot Cartee, Ayden Mills, Millie Heatley, Lynn Martin and family, Michael Pinson, Jake David family, Angie Crowley, Ira, Mike Tolson, Poly Wells, Dr. Muriel Bishop, Jack Cunningham, Emily Jefford Meister, Zachary Stoller, Aaron Clackum, Pat James, Cortney Moore, William Moore, Angelia and Savannah Anderson, William Ross, Meredith Legg, Scott Johns, Frank Carroll, Brandon Thompson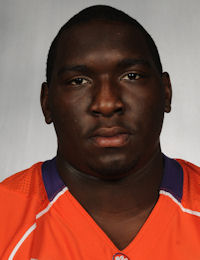 Brandon Thompson
Defensive Tackle
#98 6-2, 310
Thomasville, GA
View Full Profile , Alvin Sammons, Georgine McAlhaney, Glen Davis, Mike Price, Clay Childers, Aaron Knight, Danielle Johnston and family, Nicholas Abrams, Lana Kuykendall, Gary, Gary G, William Huggins, Jim Bennett, Chantz Fowler, Ethel McElveen, Michele Gurganus, William Gentry, Lewis Usher and Tanya Sanders, Shon Cooper, Nick Collins, Travis Patterson, Amanda Peake, Danny Hammond, Chip Turner, Nick Collins, Allen Steen, The Sturkey Family, Lance family, Marcus Lattimore, Nick Chrisley's family, Allison Williams, Lt. Kyle Walker, Summer and Joel Johnson, Nicole O'Donnell, James O. Johnson, Joy Pruett and family, Patrick Heher, Bill Schmidt, Jack Bailey, Gardner Family, Charles Turner, Kathy Bartholomew, Ray Sanders, David and Robin Blocker, J.R. Ray, Kenneth Kowe, Lauren Sielicki, Doug bailey and family, Johnnie Walker, Jenna, Mark Lawrence, Harlan Sullins, Peter Laboy, Kat and Carlisle Jones, Elizabeth oGalloway and family, Anita McDonald, Willard Harryman, Liz Surratt, Molly Senn, Jackie Shearer, Richard Sellers, Tim Drisdelle, Edward Easterling, Dawson Bourne, Susan and Mike Brown, Julie Goodman Marshall, Willard and Dorothy Harryman, Justin Jernigan, Robert Summerville, our great country and the men and women in uniform that protect and serve it every day plus their families.

Upgrade Your Account
Unlock premium boards and exclusive features (e.g. ad-free) by upgrading your account today.
Upgrade Now