---
Friday Email Bag
Each Friday I publish your comments and answer your questions.  To submit a comment or questions please email me at mickeyplyler@hotmail.com.
Mickey,
Good Evening Mickey - I continue to enjoy your articles on Tigernet , your Blogs, and the Friday Mail bag.  I know it's time for football, but wanted to comment on Tiger baseball. I still think that Coach Leggett is the right guy for CU, and Bradley LeCroy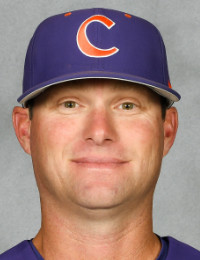 Bradley LeCroy
Assistant Head
View Full Profile seems to be an excellent talent evaluator .  I still don't understand the need to move home plate 8 feet closer to the wall. This may help us, but it will also help the opposing team. I also think it will hurt playing small ball with the outfielders several feet closer, but I am just a fan and I'm sure smarter people than me have discussed the pros and cons . I would like to see the baseball team update the uniforms. A white vest with orange or purple pinstripes with a orange or purple t shirt underneath would look great. How about a gray road uniform with orange or purple pinstripes. Keep the same caps and shoes. I know our uniforms are "traditional" but they do look old and outdated. A new look could possibly refresh the players, the ball park, and give everyone a renewed interest in baseball.  Hoping for a great football season by the Tigers .
Thank You
Jody
Jody,
I am with you on everything you mentioned. I don't like moving the plate out. I say build your team around your ballpark. I especially like the idea on uniforms. Give us some pinstripes or some gray road uniforms. Orange pinstripes or purple pinstripes would be cool. Some of our old baseball uniforms in the 50s were very cool looking. I love your ideas.
Mickey,
I've seen plenty of information regarding what the new lineup of bowl games are, and I know most are disappointed that we no longer have the Chikfila bowl.  I'm not as interested in which bowl games we have as much as how the ACCs revenue projection will change with this new line up.  Any chance you could compare the revenue distribution for the conference from our previous bowl game line up to this latest one?  I have a feeling the ACC will be missing out on a lot of funds after losing the $5M Chikfila bowl.
Thanks,
Daniel
Daniel,
I have not seen any of those numbers. I think they are still trying to workout the numbers in terms of money and the playoffs. That is where the huge money will come from. The $5 million from one bowl is not really $5 million. The team that goes gets to take out expenses and then the rest goes in a pool. That money is not a lot after it is split among 14 schools. The real money will come from the hundreds of millions in the playoffs. But like you, I will miss the ACC in the Chick-fil-a Bowl.
Mickey,
Hope the foundation event was a success. I wanna get your take on the secondary. Can we look at this group as we are with the running backs an call this bunch a "by committee" kinda in a way? We should have a idea about the safety spot with what blanks can do an from what the talk about mackensie is doing these 2 should be fine but look at the CB. We have guys that have played an if u look at Jenkins in this group, he's a vet, he's played, he's completely rested is this group gonna be as big of a ? Mark as it seems or is this gonna be the same with the RB as in we have talent kinda, experience, but can we name a starter yet? I think the big play here is can we be more physical an can we stop these late hit penalties that these guys have been very guilty of in the past.
Thanks Mickey.
bjcPARKERdsc
BicPARKERdsc,
Usually you have a pretty good idea of your positions after spring practice but Coach Reed is a new coach and the eight freshmen will change things this fall. He did have Jadar Johnson but he has not had any practice time with the other newcomers. Because of the quality and quantity of the freshmen and the lack of talent from the returning guys, I have no idea what to expect from the secondary. I do think getting back Jenkins, Breeland and Robinson will also help. At running back I think McDowell has a big lead for the starting position.
Mickey:
My first Clemson game was in 1977.  As long as I have been a Tiger fan, I don't think there has ever been a more highly anticipated game than the one we have with Georgia on August 31st.  Clemson fans are foaming at the mouth.  I haven't heard much from the Georgia crowd.  They seem to be quietly going about their business.  I can't wait for this game, but I'm also really nervous about it.  We are going to have our hands full.  I really hope we play up to our potential.  Your thoughts please.
--
Walt
Walt,
The only games I can think of that compare are the 1977 Notre Dame game, the National Championship Orange Bowl game and the first Bowden Bowl. But there are more fans and more ways to get excited with social media today. It is only July but I am about to jump out of my skin thinking about it.
Mickey, I have to laugh at all of the predictions, expectations, odds, etc. about the upcoming season. The usual suspects are in place and yes, expectations are always high at Clemson, as they should be. As a fan I am very excited for the coming season and the first game; however, I would rather do it quietly. The national talking heads love to talk about the SEC, BIG 10, and PAC 12. Understandably, the ACC takes a back seat, so we fly under the radar. No one expects Clemson to win the big belt and we still carry the "pull a Clemson" stigma. Let the field of play determine our fate for those who choose to ignore, as I a perfect happy with it being that way.
All I want to tell Clemson faithful. ---- Walk Softly and Carry a Big Stick
Yabba Dabo Doo
Stuart
Stuart,
Clemson often has disappointing seasons when there are high expectations and better seasons when they surprise people. However, in today's world of promotion and social media, I like the attention. Companies spend millions of dollars each year trying to get people's attention. I like the attention that comes with the expectations.
Mickey,
Hey, I have been seeing the PAW videos that have post on tigernet lately and have enjoyed them. I was wondering do you know who else maybe doing them? ( People like Woody D, the Perry brothers Jeff Davis, James Davis, Tye Hill, Justin Miller, Clark , C.J. Spiller , Rod G. Ricky Sapp, D. McDaniel or D. Bowers. I mean how are they picking the people for the PAW videos ?
GT
GT,
I have enjoyed them as well but I have no idea where they go from here and what former Tigers will take part in them. Your lists looks good to me.
Hey Mickey,
Just finished reading your always wonderful Friday email. I understand the Citadel game is military appreciation day and that we are supposed to wear purple to "purple out" the stadium. Reason is due to the meaning of purple to our military. That may be the day they wear the purple uniforms. I think it would be a good time to do it.
Go Tigers!
David
David,
Purple Hearts! Purple Out! Makes sense to wear purple uniforms.
Howdy Mickey. I know the scholarship availability for 2014 is more limited than most years and not very many scholarships are left. Who are the recruits we would like to sign for those slots and how likely are those guys to commit to us? R
Roger
Roger,
WR Trey Quinn will chose LSU or Clemson. OL Nolan Kelleher will have Clemson, South Carolina, NC State, Tennessee and a few others to chose from. LB Raekwon McMillon is a long shot because OSU and Alabama will be tough to beat. Florida will be tough to beat for LB Richard Yeargin III. DE Rick Leonard is down to FSU and Clemson. Lorenzo Featherston and Andrew Williams are national DE that Clemson is still recruiting. DJ Smith is nationally recruited DB that is still on the board.
The Brad Hughes All-State Insurance Agency
Prayer List
We have started a prayer list on the blog. Here are the guidelines:
If you are offended by prayer or prayer lists then I apologize in advance. The blog is free and the prayer list will be on the bottom of the page so you don't have to read it.
If you would like to add someone to the list please email me at mickeyplyler@hotmail.com
*Please let me know when it is appropriate to take the person off of the prayer list.
Those who need our prayers include:Finn Brookover, Jo Ann Bachman, Kenneth Bryant, Pruitt Martin, Got igers and his family, David Rowland, Leonard, Gillespie and his family, Jim S, Daniel Rosborough, The Huffman family, Nancy Winkler, John Reeve, Vinnie Brock, Kaitlyn L, Susan Miller, Joyce Harley, Steve Proveaux, Jeffrey Greene, the Hutto family, Sherl Drawdy, Caleb Kennedy, Teresa O'Connor, Matt Jacobs,Perrin Seigler, Candee Massee, Lindsey Jordan, Sam Catoe, Tyler Felch, the Nicolopulos family, "the Jacksonville, FL guys", Kim Sims, the Coyle family, Ryleigh Tedder, Steve Lee, Kelly Trakas, Jimmy Moore, the Thomas. V Family, Emary Claire Young, Kitty Bowers,Julie Locke, the Scheider family, Lauren Kittles' family, Frank Gentry, Joyce Bussey, Stacey McKeown, Dale Childs, Larry Lentz, Jr, Carl Sharperson, Scott Hannon, William Perry, Tyler Swaney, Lillian, Mark Feit, David Frame, Chad Berry, the family of Matthew M. Watson, the Dowis family, Shervin Messer, Alan Putnam, the Olivers, Lee Tate, Ronnie Abrams, Eddie Greene, the Jackson family, Bill Vader, Jim Taylor, Tina DeWitt, Rock Horne, Christopher Tuten, Bobby Wayne Thomas, Emma and Danielle Carothers, Robert Ditty, Mr. and Mrs. Murray Smith, Dot Cartee, Ayden Mills, Millie Heatley, Lynn Martin and family, Michael Pinson, Jake David family, Angie Crowley, Ira, Mike Tolson, Poly Wells, Dr. Muriel Bishop, Jack Cunningham, Emily Jefford Meister, Zachary Stoller, Aaron Clackum, Pat James, Cortney Moore, William Moore, Angelia and Savannah Anderson, William Ross, Meredith Legg, Scott Johns, Frank Carroll, Brandon Thompson, Alvin Sammons, Georgine McAlhaney, Glen Davis, Mike Price, Clay Childers, Aaron Knight, Danielle Johnston and family, Nicholas Abrams, Lana Kuykendall, Gary, Gary G, William Huggins, Jim Bennett, Chantz Fowler, Ethel McElveen, Michele Gurganus, William Gentry, Lewis Usher and Tanya Sanders, Shon Cooper, Nick Collins, Travis Patterson, Amanda Peake, Danny Hammond, Chip Turner, Nick Collins, Allen Steen, The Sturkey Family, Lance family, Marcus Lattimore, Nick Chrisley's family, Allison Williams, Lt. Kyle Walker, Summer and Joel Johnson, Nicole O'Donnell, James O. Johnson, Joy Pruett and family, Patrick Heher, Bill Schmidt, Jack Bailey, Gardner Family, Charles Turner, Kathy Bartholomew, Ray Sanders, David and Robin Blocker, J.R. Ray, Kenneth Kowe, Lauren Sielicki, Doug bailey and family, Johnnie Walker, Jenna Phipps, Mark Lawrence, Harlan Sullins, Peter Laboy, Kat and Carlisle Jones, Elizabeth Galloway and family, Anita McDonald, Willard Harryman, Liz Surratt, Molly Senn, Jackie Shearer, Richard Sellers, Tim Drisdelle, Edward Easterling, Dawson Bourne, Susan and Mike Brown, Julie Goodman Marshall, Willard and Dorothy Harryman, our great country and the men and women in uniform that protect and serve it every day plus their families.

Upgrade Your Account
Unlock premium boards and exclusive features (e.g. ad-free) by upgrading your account today.
Upgrade Now