---
Friday Email Bag
Each Friday I publish your comments and answer your questions.  To submit a comment or questions please email me at mickeyplyler@hotmail.com.
Mickey,
The Pitt Panthers hold their spring game at Bethel Park High School's stadium, not Heinz Field.  Guess they figure a few thousand fans look better at a high school field than an empty stadium.
Joe
Joe,
Syracuse was hoping for 20,000 for its spring game. The new staff was excited and wanted to get the fan base excited about entering the ACC. In stead of 20,000 they only had 3,822. Is there any doubt Pittsburgh and Syracuse are basketball schools?
Mickey,
When do you think we will get someone covering this major recruiting area that is at least average? While Pearman is a fantastic position coach, he is an awful, lazy recruiter. I am tired of seeing kids who should sign with Clemson go to other schools. Be aware that Fedora at UNC and Jones at UT are focusing on this area more and more, plus VT is ramping up their efforts with some good recruiters. Who do we put in this key market – our WORST recruiter!! It is beyond me how someone as good at recruiting as Dabo is just let Pearman under-perform year after year.  Reed needs to be covering this area along with a lot of help from Dabo, The Chad and BV.
The crap with Hood, coupled with Jeb, are prime examples of how terrible he is at recruiting. We all have limitations and it is nothing personal but can't he put Pearman over say…. Western South Dakota, eastern Utah and northern Washington state and call it a day?????
Scott
Scott,
Danny Pearman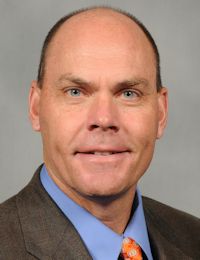 Danny Pearman
Assistant Head Coach / Tight Ends
View Full Profile is noted as a good recruiter. The people at Alabama will tell you that. The folks at Virginia Tech will tell you that. He is a terrific evaluator as well. Go back and look at the guys that some say he missed on and tell me how good they were. Also Clemson's numbers are down this year and the staff has chosen to not push some recruits. The Blazevich kid chose Georgia. A lot of coaches at Clemson have lost kids to Georgia. Marquez North was scared of competition and the dad there was shady. Elijah Hood will end up at Notre Dame. Its not like Pearman has been getting beat by scrubs. If he is guilty of one thing it is that he recruits old school. Pearman is honest and doesn't promise kids starting positions when they are sophomores in high school. Is there a better on the field coach? How have his tight ends played?
Mickey,
I am sure you have received more e-mails about your ideas and your reader's ideas last week on football game security and after today you will surely will get many e-mails about your dislike for the ACC and I have comments on both.
The issue with security has nothing to do with halftime of a football game but has everything do with safety.   As I stated last week, I never see any bags looked at when fans are entering the game so who cares if people come and go at halftime.   Would a nut just bring in a bomb after halftime?   If a plan were put in place to search bags before the game, the plan would work after halftime as well.   Pretty simple, if a fan doesn't mind waiting in line before the game for security checks then he or she would not mind missing part of the 3rd quarter for the same check coming back in after halftime if they cannot wait on a beverage.  Simple idea but expensive to have security and I hope the cost will be paid because I enjoy being safe.
You are absolutely right that the ACC is not looked at as a football conference but the perception could change dramatically if ACC teams would do what Bobby Bowden might say and win some dadgum games.   The new playoff rules open the door for a really good ACC football team to make the new Final 4 and then hopefully win the National Championship and once that happens, ESPN and the other networks will stand up and take notice and the share of the money pie will be bigger.   Easy to say but hard to do because winning football programs are not built overnight.   I am hoping that Clemson and other ACC schools start winning more big games on the football field and then the joy of having a championship might help you become an ACC fan.   The path is there, an ACC team just has to be big and bad enough to take it and survive the trip and whether it is through Winston Salem, Columbus, Austin, Tuscaloosa or any other campus is totally irrelevant because being the last man standing is what counts.        
Andy
Andy,
I see bags checked. Plus there is a big police presence before the game and little at halftime. But I guess that issue has been covered enough in recent weeks.
If Notre Dame would join in football that would help. If Miami and FSU return to glory that would help. If Virginia Tech could get it going again that would help. Louisville needs to keep its momentum. I agree that the ACC has a chance but you are right in that the only thing that matters is wins a losses. Clemson beating LSU and Louisville beating Florida helps.
Okay … First thing Hello Mickey  it always fun to talk Clemson with you….. I was reading  your Lost hope article and you have some good point but I have a few questions for you... Did you forget about Miami and GT when you were talking about football in the south? I mean GT fans do not travel well but they do show up for home and Miami, I believe finally has a coach that may turn the corner...then there is VT, they will get back to winning games.  
But back to the whole money thing SC has not always made more money than Clemson, most of their money comes from Baseball winning NC's and the Conference (split money to all teams) that they are in… It just like Dabo says the fun is in the winning but so is the money !!! If Clemson and VT had won their BCS games in 2011 that's more money.. if the ACC had more teams in the BCS games or in the new playoffs system that's more money .. My thinking on the whole thing is keep winning and knocking the SEC teams off their high horse, Like Clemson did by beating Auburn, LSU then add that to what Clemson and FSU need to get back to doing ( beating their Rivals ) then the money will come in , Am I right ??  Let's  not forget that Louisville made a name for themselves by beat up on Florida, I not they are not in the ACC yet but if they keep things up that great for the ACC…
Also I have a question about baseball and basketball recruiting?  ACC is of the Top three  baseball Conferences out there if not top two and Clemson is one of the top baseball programs out there, so why is it that Leggett has a hard time recruiting some top ( Blue Chip ) players in baseball. I know we have a lot of good player but I mean the top player in country.. ACC is one of the top basketball Conferences, with the three teams we are adding this year and the one coming in next year, but Clemson has a hard time getting top player to come there  for basketball.. What I'm questioning about both sports is this if the SEC can sale that they are the top Football Conference to get a lot of the top player to come to their Conference why doesn't that work for the ACC & Clemson in Baseball  or Basketball ???
Thank you.
TG
TG,
Big city schools are more pro towns than college towns. That is the case in Miami and Atlanta.
Baseball loses money at South Carolina and Clemson. I know that is hard to believe but neither make money in baseball.
Winning BCS does not mean more money than losing them. Both teams in BCS games get the same amount of money.
Clemson and FSU beating South Carolina and Florida will help but the SEC TV money will still be more for a while.
Clemson's baseball class last year was incredible and the staff thinks next year's will be just as good. The problem was the previous recruiting coordinator. Bradley LeCroy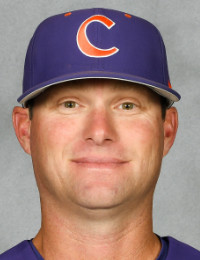 Bradley LeCroy
Assistant Head
View Full Profile has straightened that issue out. Clemson baseball is recruiting well again.
Clemson basketball struggles because of history, tradition, facilities and support. Clemson has always been in the top basketball league but that has meant little to help recruiting.
Clemson baseball recruiting is fine. Basketball is another story.
Mickey,
I read your blog today, "The Chase for 40."  In order to reach 40, it would appear the best chance to do so is for the Tigers to figure out a way to win all of our out-of-conference games, sweep Maryland, win the Tech series and lose only two games against FSU.  That is a tall order, but I am keeping my fingers crossed that the Tigers pull it off.
Best,
Kirk
Kirk,
I think your scenario is perfect. In fact, that is the way I figured it as well. Let's hope it works out that way.
OK Mickey, a real important topic…baseball uniforms.
What are the chances that the Tigers update their baseball uniforms to join the most recent decade?  
Leggett has made his mark by bringing in the purple (remember Wilhelm was a navy blue and orange guy) and he has also introduced as many cap color combinations as possible.  
But save a short lived sleeveless jersey and some of the recent piping on the home whites, the jersey/pant combo has been untouched since '95.  
I'm  sure that Jack has kept the orange/purple piped white pants to the ankle with white cleats look as a tribute to Wilhelm and they should keep that uniform in the rotation - Texas does the same thing with a throwback uniform from the days of Roger Clemens that they wear weekly.  
But it'd be cool to see Clemson throw in some road greys or even some pinstripes to mix it up.  For my money, I don't think there is a better uniform that Cal State Fullerton's…
Best regards,
Tod
Tod,
Few people love Bill Wilhelm as much as me. I am a huge fan. However, I agree with you. I would love to see some pinstripes, some grey and some traditional looking unis. I think it is time to move forward.
Mickey,
In regards to halftime passouts, I don't understand the big deal.  As many have mentioned, it is possible to purchase 10 tickets and go in and out 10 times.  I doubt the cost of added tickets would hinder anyone's sick plans.  The reason other places don't do it is so they can collect vendor money at halftime – no big secret there.  Just read your blog and someone mentioned parking under the North Deck.  Just after 9/11, my friends and I were somewhat laughing at how absent the security is at Clemson games.  It is somewhat sickening to even talk about – but how difficult would it be to get a U Haul type truck under the north stands, by either deceptive methods or just by force?  We all know the answer.  For that matter, it is possible to walk around under these stands anytime 24/7, leading up to game time.  I don't think the average Joe has any problem with basic TSA style security. I am amazed at how some folks complain with removing shoes going through airport security – only so they can rush to the gate only to sit down and wait another 30 minutes.  Like another person mentioned, I find it incredible that all bags aren't checked every time – that is security 101.  Walk through metal detectors would also make sense.  Heck, paint this new equipment Orange and White, and make the best of it.  Anyone entering the stadium should be subject to the same procedures if it is before the game, 2nd quarter, 4th quarter – time of entry and type of ticket, new or passout, is 100%  irrelevant.  Under the North stands should have reasonable protection from unwanted vehicle access – maybe with painted up Tiger Orange barricades, and make the best of it.  Of all security issues, passouts almost seem irrelevant.  I can only hope the University has already contracted with a top-notch security company to correctly measure all risks and take safety measures that make logical sense for the current environment we find ourselves living in.
Mike
Mike,
I like your ideas. It will be interesting to see what changes, if any, will take place this fall.
Mickey,
As you well know, the discussion about ending pass-outs has a range of opinions for two reasons:
-          Everyone has a different subjective value for the pass out (what it is worth to them personally to leave at halftime)
-          Everyone has a different opinion on the risk mitigated by eliminating this policy
For what it's worth, I'd hate to see this tradition end.  I love getting out with friends and running over the Esso, walking campus, or making a quick run to the tailgate at halftime.  It is a unique tradition that harkens back to simpler times.  I also hate the idea of some terrorist dictating how I enjoy one of my seven special Saturdays a year. 
On the risk side, it's hard for me to see how much we improve safety by ending pass-outs.  There are numerous times across a gameday when large, dense crowds are exposed:  Tiger Walk, the band marching down the hill, and getting into the stadium.  All of those have no checkpoints, so in the grand scheme of things, I don't think eliminating halftime passouts will eliminate that much risk, especially vs other traditions we have.
So yes, we could get rid of that tradition, and yes it may make Clemson ever so slightly safer on the margin, but I don't think that is worth trading in a long-time tradition for this policy change.   
Erik
PS, on a related note, the unintended consequences of these changes is always something to watch out for.  Walking into the Final Four two weeks ago, I asked myself how much safer did we make the Georgia Dome by adding stringent security check points.  Sure we kept someone with a weapon/bomb out of the Dome, but we exposed ~5,000 people at each entrance outside of the check points to a threat.  It would have been no problem for someone with a bomb to walk into the masses and detonate it.    Yes, inside the stadium is safer, but did we just make it a whole lot easier to hit ~20,000 people across the four entrances?  There's no good answer to any of this, and this doesn't pertain to pass-outs, but I think it is important in life we don't overcompensate to address one problem and expose ourselves to a greater risk...
Erik,
I just don't see how anyone has time to go to the Esso at halftime. I also don't see how anyone has time to run around campus at halftime. Halftime lasts 20 minutes. Who hass time to run all over the place. I guess I am different but I can go around campus and the Esso before the game and after the game. I guess I am different because the game is my focus during the game. The social aspect can wait until the game is over.
Mickey,
I whole heartedly agree with you on this security issue. Sure it's a huge change and a majority of fans will not like it. However, aren't we the only school that still does this? There is a reason for that. I too, have been out at half and returned to NO security. Sure, some were around, but all that was checked was my stamp, nothing else. Some things are worth sacrificing four safety and this is one of those things. If you choose not to attend because of this reason alone, either you aren't that big a fan to start with or likely have a major problem with alcohol! Lol
Jason
Jason,
Thanks for the email. The good thing about Clemson is that you can tailgate from eight in the morning until after midnight. But I guess some folks just need that extra time (drink).
The Brad Hughes All-State Insurance Agency
Prayer List
We have started a prayer list on the blog. Here are the guidelines:
If you are offended by prayer or prayer lists then I apologize in advance. The blog is free and the prayer list will be on the bottom of the page so you don't have to read it.
If you would like to add someone to the list please email me at mickeyplyler@hotmail.com
*Please let me know when it is appropriate to take the person off of the prayer list.
Those who need our prayers include:Finn Brookover, Jo Ann Bachman, Kenneth Bryant, Pruitt Martin, Got igers and his family, David Rowland, Leonard, Gillespie and his family, Jim S, Daniel Rosborough, The Huffman family, Nancy Winkler, John Reeve, Ethel Southard, Vinnie Brock, Kaitlyn L, Susan Miller, Joyce Harley, Steve Proveaux, Jeffrey Greene, the Hutto family, Sherl Drawdy, Caleb Kennedy, Teresa O'Connor, Matt Jacobs,Perrin Seigler, Candee Massee, Lindsey Jordan, Sam Catoe, Tyler Felch, the Nicolopulos family, "the Jacksonville, FL guys", Kim Sims, the Coyle family, Ryleigh Tedder, Steve Lee, Kelly Trakas, Jimmy Moore, the Thomas. V Family, Emary Claire Young, Kitty Bowers,Julie Locke, the Scheider family, Lauren Kittles' family, Frank Gentry, Joyce Bussey, Stacey McKeown, Dale Childs, Larry Lentz, Jr, Carl Sharperson, Scott Hannon, William Perry, Tyler Swaney, Lillian, Mark Feit, David Frame, Chad Berry, the family of Matthew M. Watson, the Dowis family, Shervin Messer, Alan Putnam, the Olivers, Lee Tate, Ronnie Abrams, Eddie Greene, the Jackson family, Bill Vader, Jim Taylor, Tina DeWitt, Rock Horne, Christopher Tuten, Bobby Wayne Thomas, Emma and Danielle Carothers, Robert Ditty, Mr. and Mrs. Murray Smith, Dot Cartee, Ayden Mills, Millie Heatley, Lynn Martin and family, Michael Pinson, Jake David family, Angie Crowley, Ira, Mike Tolson, Poly Wells, Dr. Muriel Bishop, Jack Cunningham, Emily Jefford Meister, Zachary Stoller, Aaron Clackum, Pat James, Cortney Moore, William Moore, Angelia and Savannah Anderson, William Ross, Meredith Legg, Scott Johns, Frank Carroll, Brandon Thompson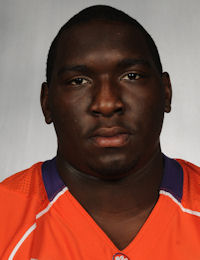 Brandon Thompson
Defensive Tackle
#98 6-2, 310
Thomasville, GA
View Full Profile , Alvin Sammons, Georgine McAlhaney, Glen Davis, Mike Price, Clay Childers, Aaron Knight, Danielle Johnston and family, Nicholas Abrams, Lana Kuykendall, Gary, Gary G, William Huggins, Jim Bennett, Chantz Fowler, Ethel McElveen, Michele Gurganus, William Gentry, Lewis Usher and Tanya Sanders, Shon Cooper, Nick Collins, Travis Patterson, Amanda Peake, Danny Hammond, Chip Turner, Nick Collins, Allen Steen, The Sturkey Family, Lance family, Marcus Lattimore, Nick Chrisley's family, Allison Williams, Lt. Kyle Walker, Summer and Joel Johnson, Nicole O'Donnell, James O. Johnson, Joy Pruett and family, Patrick Heher, Bill Schmidt, Jack Bailey, Bill Early, Gardner Family, Charles Turner, Kathy Bartholomew, Ray Sanders, David and Robin Blocker, J.R. Ray, Kenneth Kowe, Lauren Sielicki, Doug bailey and family, Johnnie Walker, Jenna Phipps, Mark Lawrence, Harlan Sullins, Peter Laboy, Kat and Carlisle Jones, Elizabeth Galloway and family, Anita McDonald, Willard Harryman, Liz Surratt, Molly Senn, Jackie Shearer, Richard Sellers, our great country and the men and women in uniform that protect and serve it every day plus their families.

Upgrade Your Account
Unlock premium boards and exclusive features (e.g. ad-free) by upgrading your account today.
Upgrade Now