---
Friday Email Bag
Each Friday I publish your comments and answer your questions.  To submit a comment or questions please email me at mickeyplyler@hotmail.com.
Mickey,
I saw that the spring game is going to be on ESPN3. Does that mean that no local stations will be able to show it. I really don't feel like sitting in front of my computer watching the game. For the last few years I've been able to catch it on FOXSS or CSS. Please don't tell me that that's over because ESPN calls all the shots now.
Brad
Brad,
Clemson's spring game will be on tape delay in South Carolina on CSS at 7:00 PM that Saturday. Hope this helps.
Mickey,
I read your blog "Catalyst" today.  With one-half of the season remaining and a 17-11 record.  I think we need to get to 40 wins, although I know fewer wins can get us to the college post season. So, we need to go 23-5 in the last 28 games to get to 40 wins.
Best,
Kirk
Kirk,
In the past 40 wins has been the key number. I think Clemson has a chance to get to 40 wins but the key will be to not drop any games against the lower competition. It starts this week with Boston College. The Tigers need a sweep this weekend. They need to sweep Maryland and Wake Forest as well. It would be beneficial to win the mid-week games against mid-majors as well. Clemson needs to take care of business against Georgia Southern, Furman, Western Carolina, Presbyterian and USC-Upstate. They have nine games remaining in the out of conference schedule so a 9-0 mark will help. They have already beaten Gardner Webb so that would be a tenth win in the second half. If the Tigers can sweep Boston College, Wake Forest and Maryland then that would be nine more wins to give them 19 in the second half. They could then go just 4-5 in the nine games against Georgia Tech, Miami and FSU and still get 40 wins.
Also a big factor is that Clemson is second in the country in strength of schedule so the RPI will be pretty good.
Mickey,
I haven't heard a lot about the backup quarterback spot. Who has the inside track? Will the number two guy be ahead with the starting job after Tajh leaves of will DeShawn Watson be the guy? Thanks. Tell Ryan we love him!
Cindy
Cindy,
Thanks for the kind words on Ryan. He is doing well.
Chad Kelly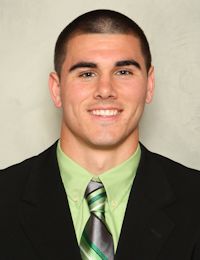 Chad Kelly
Fr. Quarterback
#11 6-2, 210
Buffalo, NY
View Full Profile has more physical tools than Cole Stoudt
Cole Stoudt
So. Quarterback
#8 6-5, 205
Dublin, OH
View Full Profile , but Stoudt is more experienced and has held on to the number two spot so far through the spring. I think this battle will go into the fall camp though. The backup this season will get more snaps than the number three guy, so he would have an inside track going into next spring but all bets are off when Watson arrives on campus. I would ranked the quarterbacks in order of ability as Watson then Kelly then Stoudt. However, the exact opposite order is the case when it comes to experience, so it will be an interesting spring next year.
Mick,
How did Jaron Blossomgame's leg injury compare to the Ware kid from Louisville? I have heard that Blossomgame is not fully recovered and it has been almost a year. Will he ever be 100%?
Ford
Ford,
I don't think Blossomgame's injury was a compound fracture but you are right in that he is not 100% yet. I think there is some concern over his recovery and will continue to be until he gets back close to 100%. I am a little surprised he has not progressed more than we are told.
Mickey,
Why does Jack Leggett
Jack Leggett
Baseball Head Coach
View Full Profile feel like he has to put on a show over at third base? It drives me crazy to watch him prance around like a ballet dancer over there at third base? His pre-game antics of diving into the pile looks childish. Has his ego gotten out of control? Its time for a change!
Tommy
Tommy,
I know Leggett has his detractors. Some don't like his actions but the same has been said about Dabo's sideline energy. Its funny how Clemson fans don't bring up Dabo's sideline actions as much now that he has won 21 games in two years. I never heard anyone complain about Leggett's actions when he was going to the College World Series. If he wins big again then I doubt many will complain.
Mickey,
Any word on the women's basketball job? Thanks in advance.
AJ
AJ,
Everyone I talk to about the job thinks that Audra Smith of UAB will be the next coach. I know they have to do the background checks and go through the process but I am told Smith will be the next coach unless something changes soon.
The Brad Hughes All-State Insurance Agency
Prayer List
We have started a prayer list on the blog. Here are the guidelines:
If you are offended by prayer or prayer lists then I apologize in advance. The blog is free and the prayer list will be on the bottom of the page so you don't have to read it.
If you would like to add someone to the list please email me at mickeyplyler@hotmail.com
*Please let me know when it is appropriate to take the person off of the prayer list.
Those who need our prayers include:Finn Brookover, Jo Ann Bachman, Kenneth Bryant, Pruitt Martin, Got igers and his family, David Rowland, Leonard, Gillespie and his family, Jim S, Daniel Rosborough, The Huffman family, Nancy Winkler, John Reeve, Ethel Southard, Vinnie Brock, Kaitlyn L, Susan Miller, Joyce Harley, Steve Proveaux, Jeffrey Greene, the Hutto family, Sherl Drawdy, Caleb Kennedy, Teresa O'Connor, Matt Jacobs,Perrin Seigler, Candee Massee, Lindsey Jordan, Sam Catoe, Tyler Felch, the Nicolopulos family, "the Jacksonville, FL guys", Kim Sims, the Coyle family, Ryleigh Tedder, Steve Lee, Kelly Trakas, Jimmy Moore, the Thomas. V Family, Emary Claire Young, Kitty Bowers,Julie Locke, the Scheider family, Lauren Kittles' family, Frank Gentry, Joyce Bussey, Stacey McKeown, Dale Childs, Larry Lentz, Jr, Carl Sharperson, Scott Hannon, William Perry, Tyler Swaney, Lillian, Mark Feit, David Frame, Chad Berry, the family of Matthew M. Watson, the Dowis family, Shervin Messer, Alan Putnam, the Olivers, Lee Tate, Ronnie Abrams, Eddie Greene, the Jackson family, Bill Vader, Jim Taylor, Tina DeWitt, Rock Horne, Christopher Tuten, Bobby Wayne Thomas, Emma and Danielle Carothers, Robert Ditty, Mr. and Mrs. Murray Smith, Dot Cartee, Ayden Mills, Millie Heatley, Lynn Martin and family, Michael Pinson, Jake David family, Angie Crowley, Ira, Mike Tolson, Poly Wells, Dr. Muriel Bishop, Jack Cunningham, Emily Jefford Meister, Zachary Stoller, Aaron Clackum, Pat James, Cortney Moore, William Moore, Angelia and Savannah Anderson, William Ross, Meredith Legg, Scott Johns, Frank Carroll, Brandon Thompson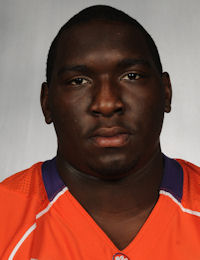 Brandon Thompson
Defensive Tackle
#98 6-2, 310
Thomasville, GA
View Full Profile , Alvin Sammons, Georgine McAlhaney, Glen Davis, Mike Price, Clay Childers, Aaron Knight, Danielle Johnston and family, Nicholas Abrams, Lana Kuykendall, Gary, Gary G, William Huggins, Jim Bennett, Chantz Fowler, Ethel McElveen, Michele Gurganus, William Gentry, Lewis Usher and Tanya Sanders, Shon Cooper, Nick Collins, Travis Patterson, Amanda Peake, Danny Hammond, Chip Turner, Nick Collins, Allen Steen, The Sturkey Family, Lance family, Marcus Lattimore, Nick Chrisley's family, Allison Williams, Lt. Kyle Walker, Summer and Joel Johnson, Nicole O'Donnell, James O. Johnson, Joy Pruett and family, Patrick Heher, Bill Schmidt, Jack Bailey, Bill Early, Gardner Family, Charles Turner, Kathy Bartholomew, Ray Sanders, David and Robin Blocker, J.R. Ray, Kenneth Kowe, Lauren Sielicki, Doug bailey and family, Johnnie Walker, Jenna Phipps, Mark Lawrence, Harlan Sullins, Peter Laboy, Kat and Carlisle Jones, Elizabeth Galloway and family, Anita McDonald, Willard Harryman, Liz Surratt, Molly Senn, our great country and the men and women in uniform that protect and serve it every day plus their families.

Upgrade Your Account
Unlock premium boards and exclusive features (e.g. ad-free) by upgrading your account today.
Upgrade Now