---
Friday Email Bag
Each Friday I publish your comments and answer your questions.  To submit a comment or questions please email me at mickeyplyler@hotmail.com.
Mickey,
Lifelong Tiger fan here, first game was '77 ND game in DV with my Pop. I'm also a career Marine Corps infantryman and I just wanted to let you know that your blog entitled "Perspective" was not only spot on, it inspired me to email you. I am a combat veteran of Desert Storm, Somalia, Iraq (twice) and Afghanistan. We lost Marines on each one of those deployments but my most recent one to Sangin, Afghanistan was the bloodiest with 26 killed and 181 wounded, most of them amputees of some sort. I was in 3d Battalion 5th Marines (3/5) out of Camp Pendleton, CA, so the "perspective" that you wrote about hit square between the eyes with me. There isn't a more die hard Tiger fan out there than me. I'm the 44 year old guy who still gets a lump in my throat when they run down the Hill and screams my guts out when one goes to the house. My blood is Orange and Purple 'til the day I leave this earth and that's coming from a kid who grew up in Columbia seeing WB's stadium lights from his back yard. Following the Tigers has gotten me through 4 of those deployments since 4 of the 5 were through football season. It ranges from my Mom sending me Clemson newspaper clippings in Desert Storm and Somalia, then to Iraq and Afghanistan and waiting in line to get on a computer so I can go on Tigernet and ESPN.Com. If some fans really understood what life and death really means, they'd realize what sport really means to us: a diversion. Does that mean that you don't root for your team like a madman? NO, because let me tell you, I haven't mellowed with time. I'm not one of these guys who softened as I've matured or mellowed in my passion for the Tigers. It burns just as hot as it ever has....my favorite players as a kid were Jeff Bryant and THE JUDGE, the best football player I've ever seen with a Paw on his helmet. I do know that there are a lot bigger things in life other than the fortunes of your team and I'm glad that I have gotten that perspective in life, though it was paid for in blood. This fall I'll be screaming for the Tigers just as I do in any sport that Clemson is involved it but reading your "Perspective" piece reminded me that some of us truly "get it", and you obviously do. Daniel Rodriguez
Daniel Rodriguez
RS Fr. Wide Receiver
#83 5-8, 175
Stafford, VA
View Full Profile does, and I hope that kid sets a special teams tackles record this year. I bet if you ask him about perspective he could teach a class on it but it doesn't make him any less passionate about football. In fact, the perspective that those of us have learned who have survived combat know that it actually makes us MORE passionate about the game, whether playing it or watching it because we are happy that we're still here to see it in person, unlike so many of our fallen brothers. May those grunts from 1st Battalion 9th Marines (1/9) at Camp Lejeune, NC, who were killed in Hawthorne, NV Rest in Peace because they will always be our brother Marines.
Thank you,
GySgt Terence A. D'Alesandro USMC
Chief Drill Instructor
Hotel Company
2d Recruit Training Battalion
Marine Corps Recruit Depot San Diego, California
Semper Fidelis
GO TIGERS!
GySgt,
I can't thank you enough for your special email and more importantly what you do for our country every day. Words cannot express my gratitude for your dedication and sacrifice. The Marines hold a special place in my heart as do all of our brave men and women who protect us every day. I can't imagine the pain of losing brothers you have in combat but I hope they know their ultimate sacrifice will be remembered forever! We are lucky to have Clemson athletics as a diversion but without our brave military we would not have the opportunities we enjoy daily. Again, my words fall short of expressing how grateful we are for your bravery! Thanks! God Bless you guys! Go Tigers!
Mick,
I just wanted to touch base and thank you for the great blog today. Life has a way of slapping us in the face and asking, "Who do you think you are?". Tragedy and concern for loved ones in danger are God's way of reminding us that he is in control and we had better keep our Perspective about what really matters. I also believe that God provides us with distractions that help us escape the pressures of life and I have no doubt He created a blessing for me when he made Clemson University. I have enjoyed the distractions of Clemson sports my entire life, and it has been a source of relationship building and bonding with my greatest friends and family. Everything and everyone I care most about has been touched and influenced by Clemson sports in some way. If that's not the work of God I don't what is. Your blog surely caused many people, including me to stop and pray for our men and women in uniform and put things in perspective. Thanks!
Your friend,
David
David,
Thanks for the wonderful email. I wish it didn't take harsh reality to remind us of this so often. I am also reminded that there is no way I could ever repay Clemson for everything it has given me. Thanks for sharing.
Mickey,
What's the latest in the search for new coach???
Wayne
Wayne,
I spoke with a former head coach this week and he said the search has been quiet in the coaching industry. He said the officials at Clemson have not leaked any information in their field. I wish I could have been more helpful.
Hey Mickey,
I know people talk about the defense being improved this year and the steady improvement made last year. But, I believe that is based only on the LSU game.  The game before that, our defense was walked all over by  Carolina.  The difference is that we were able to stop LSU because they had somewhat of a predictable offense with a one dimensional quarterback.  Any team with a dual threat at quarterback or a strong running and passing attack will still give us fits I believe.  I'm just not as cocky as some people seem to be about beating Georgia.  Since we have them at home, I'm somewhat optimistic but I can still see that nightmare last November when a backup coot quarterback baffled our defense.  Give me hope!
Thanks,   
Cooper
Cooper,
The run defense against South Carolina was fine. It was third and long that was the difference in the game. The defense could not get any pressure on the quarterback and the secondary was lost. I think Brent Venables
Brent Venables
Defensive Coordinator / Linebackers
View Full Profile feels better about the pass rush but won't know more about his secondary until some of the freshmen arrive this summer. The hope against Georgia is that it is at home and the Dawgs are having to replace eight or nine starters on their defense. This one may be 45-42.
Mickey,
Here's a blog post for you and you can use your analysis as opposed to mine:
ACC-caliber players?
Here's a look at the top 25 scorers in the ACC (plus Ryan Kelly) by their recruitment level:
First level: Elite prospects - those receiving multiple elite offers
Mason Plumlee, SR 17.0 - Duke, IN, Louisville, UCLA, Stan, Ill, Mich, Vandy, GT, Tenn, WF, Xav
CJ Leslie, JR 15.2 - NCSU, UConn, FLA, KY, UCLA, MD, Tenn, Seton Hall, Oregon
Ryan Kelly, SR 15.0 - Duke, UNC, Notre Dame, Vandy, GT, WF
James Michael McAdoo, SO 14.6 - UNC, FLA, KY, Syracuse, UCLA, GT, TX, UVa
Michael Snaer, SR 14.4 - FSU, Kansas, UCLA, Mizzou, Marq
Reggie Bullock, JR 14.4 - UNC, IN, OSU, MD, WF
Durand Scott, SR 13.2 - Miami, UConn, Louisville, Memphis, Pitt, UCLA, Rutgers, Seton Hall, Tenn, UVa, Xav
Quin Cook, SO 12.6 - Duke, UCLA, Nova
Ty Warren, FR 12.3 - NCSU, FLA, IN, Kansas, KY, UNC, OSU, AZ State, GT, Miami, SC, Tenn, VT, WF, TX, Xav
There are nine players in this category. Six have gone to UNC or Duke.
Second Level: "ACC-Caliber" players - those receiving at least five "Big 6" offers
Ryan Anderson, SO 15.1 - BC, Col, Northwestern, WA State, Miami, San Diego State
Travis McKie, JR 13.9 - WF, ALA, Clemson, GT, MD, UVa, VT, VCU
Kenny Kadji, SR 13.3 - FLA, UConn, Memphis, FSU, GT, KState, Rutgers
Devin Booker, SR 13.2 - Clemson was the only listed offer, but had a high enough rating that other probably would have offered
Richard Howell, SR 12.8 - NCSU, UGa, Marq, TX, VT, Ore, Auburn
Lorenzo Brown, JR 12.4 - NCSU, FLA, GT, Memphis
Okaro White, JR 12.4 - FSU, FLA, IN, Clemson, GT, Memphis, Miami
Dez Wells, SO 12.2 - Xav, Baylor, NCSU, SC, Tenn, VT
Jerrell Eddie, JR 12.0 - VT, KY, Clemson, UGa, Miami, WF, UNCC, Richmond
Third Level: Marginal "ACC-Caliber" players - those with fewer than five noted "Big 6" offers
Joe Harris, JR 17.1 - UVa, Wash, WA State, Portland, San Diego (not San Diego State)
CJ Harris, SR 14.8 - WF, Clemson, OK, VT, UNCC, ECU, George Mason, USF, Tulane, Davidson, UNCW, Winthrop
Olivier Hanlan, FR 14.6 - BC, TCU, VT, Dayton, Rice
Shane Larkin, SO 13.8 - Depaul, Clemson, Col, George Mason, USF, UCF, VCU
Fourth Level: Not "ACC-Caliber" players - those with one/zero "Big 6" offer
Erick Green, SR 25.0 - VT, George Mason, St Joseph's, James Madison
Seth Curry, SR 17.0 - Liberty
Akil Mitchell, JR 13.0 - UVa, George Washington, SMU, Mercer, Navy, Wright State
For the record, Clemson offered zero elite prospects, though Milton Jennings falls into this category, four "ACC-caliber" players, getting one, and two marginal "ACC-caliber" players.
The bigger issue is the breakdown by class:
Of the 26 players,
10 seniors,
8 juniors,
6 sophomores,
and 2 freshmen.
Of the eight freshmen and sophomores, two are transfers (Larkin and Wells) meaning they would be juniors at their previous school, two are at Boston College (Anderson and Hanlan) which has only two little-used upperclassmen.
As of now, Duke, North Carolina, and, now, NC State are recruiting at an elite level. Florida State and Georgia Tech are recruiting above-average talent. Everybody else is recruiting, at best, average "ACC" talent. Miami's talent was acquired under Haith. This is why the ACC is down compared to the Big Ten and the Big East, which is losing three basketball schools to the ACC.
Face it. College sports are oligopolies. A handful of teams run the show, be it football or basketball. Clemson is pushing the edge of the list in football but nowhere near the elites in basketball.
Over the past three years, approximately 70% of the top scorers in the conference have been upperclassmen, including Demontez Stitt (offered by UGa, Memphis, OK, VT, UNCC, ECU, and George Mason), Jerai Grant (offered by Notre Dame, Marq, NCSU, UVa, and American), Andre Young (offered by FSU, MD, Purdue, Auburn, USF, Butler, Coll of Charleston, and Wichita State) and Devin Booker. These players would have been considered "ACC-caliber" players, but they needed a lot of time to develop.
Of the current players/recruits:
"ACC-caliber": Sullivan, Harrison, Filer, Nnoko (even offers from Florida, Georgetown, and Louisville)
Marginal "ACC-caliber": McDaniels, Coleman, Ajukwa, Rooks
Not "ACC-caliber": Hall, Blossomgame, Roper, Smith
Also, to those who complain about the style of play, neither Syracuse nor Georgetown run an offensive or defensive system that can be considered "exciting," yet they consistently recruit elite prospects. The difference is that the schools and the fans care about basketball. Virginia runs a similar defense-first system and is fifth in attendance. Miami is 11th in attendance at 5434 per game. Complain all you want about the program, but when your attendance ranks among the bottom half of an overrated conference, the players won't show up either. Case in point: in 2007-08, when Clemson finished third in the conference, Clemson finished ninth in attendance.
Kevin
Kevin,
I have to admit that I had to look up the meaning of "oligopolies." But it is clear to me that Brownell and his staff have to develop players instead of just signing superstars. I have confidence his staff can develop players but he admitted this week that they need to look at recruiting strategies. It is also clear to me that Clemson needs to get a break in either recruiting or on the court. The margin for error is so small here in this sport. A little luck wouldn't hurt.
Mickey,
I have copied you on the email below that I sent President Barker:
Sir,
Let's create a statement that we care about basketball but with a smaller facility with a classy façade and classic design in a prominent location. I suggest on SC 93 on the intramural field/football parking lot that fronts old Fike. Put in underground parking, save the oaks too, build only about 9000 seats with corporate boxes, use some classic design to remind of Fike and Sikes Hall with columns. Go up instead of down with the seating and floor so that the top of the building fits the skyline and states to all who arrive on SC 93 (including fans and recruits) that we do place basketball in some line of importance.
Move the intramural/football parking as per the attached, closing Ravenel Drive as needed. Littlejohn can become an event center or a spot for girls softball and/or open space/intramural fields. This allows construction of new facility with LJ still open with little disruption except for football parking for one season.
The new arena site will be a little tight but also intimate (e.g. Cameron Indoor) and would likely become a favorite spot for meetings, photos, campus events, etc. An easier trek for students to the games and may spur some improvements across SC 93.
Thanks,
Roger
Roger,
I love the idea, especially the one about creating a building that looks like Fike or Sikes. I agree it should be an intimate building with fewer seats. I would love Clemson basketball to play in a "pit". Hopefully your ideas will get consideration from the decision makers at Clemson.
The Brad Hughes All-State Insurance Agency
Prayer List
We have started a prayer list on the blog. Here are the guidelines:
If you are offended by prayer or prayer lists then I apologize in advance. The blog is free and the prayer list will be on the bottom of the page so you don't have to read it.
If you would like to add someone to the list please email me at mickeyplyler@hotmail.com
*Please let me know when it is appropriate to take the person off of the prayer list.
Those who need our prayers include:Finn Brookover, Jo Ann Bachman, Kenneth Bryant, Pruitt Martin, Got igers and his family, David Rowland, Leonard, Gillespie and his family, Jim S, Daniel Rosborough, The Huffman family, Nancy Winkler, John Reeve, Ethel Southard, Vinnie Brock, Kaitlyn L, Susan Miller, Joyce Harley, Steve Proveaux, Jeffrey Greene, the Hutto family, Sherl Drawdy, Caleb Kennedy, Teresa O'Connor, Matt Jacobs,Perrin Seigler, Candee Massee, Lindsey Jordan, Sam Catoe, Tyler Felch, the Nicolopulos family, "the Jacksonville, FL guys", Kim Sims, the Coyle family, Ryleigh Tedder, Steve Lee, Kelly Trakas, Jimmy Moore, the Thomas. V Family, Emary Claire Young, Kitty Bowers,Julie Locke, the Scheider family, Lauren Kittles' family, Frank Gentry, Joyce Bussey, Stacey McKeown, Dale Childs, Larry Lentz, Jr, Carl Sharperson, Scott Hannon, William Perry, Tyler Swaney, Lillian, Mark Feit, David Frame, Chad Berry, the family of Matthew M. Watson, the Dowis family, Shervin Messer, Alan Putnam, the Olivers, Lee Tate, Ronnie Abrams, Eddie Greene, the Jackson family, Bill Vader, Jim Taylor, Tina DeWitt, Rock Horne, Christopher Tuten, Bobby Wayne Thomas, Emma and Danielle Carothers, Robert Ditty, Mr. and Mrs. Murray Smith, Dot Cartee, Ayden Mills, Millie Heatley, Lynn Martin and family, Michael Pinson, Jake David family, Angie Crowley, Ira, Mike Tolson, Poly Wells, Dr. Muriel Bishop, Jack Cunningham, Emily Jefford Meister, Zachary Stoller, Aaron Clackum, Pat James, Cortney Moore, William Moore, Angelia and Savannah Anderson, William Ross, Meredith Legg, Scott Johns, Frank Carroll, Brandon Thompson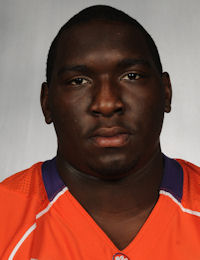 Brandon Thompson
Defensive Tackle
#98 6-2, 310
Thomasville, GA
View Full Profile , Alvin Sammons, Georgine McAlhaney, Glen Davis, Mike Price, Clay Childers, Aaron Knight, Danielle Johnston and family, Nicholas Abrams, Lana Kuykendall, Gary, Gary G, William Huggins, Jim Bennett, Chantz Fowler, Ethel McElveen, Michele Gurganus, William Gentry, Lewis Usher and Tanya Sanders, Shon Cooper, Nick Collins, Travis Patterson, Amanda Peake, Danny Hammond, Chip Turner, Nick Collins, Allen Steen, The Sturkey Family, Lance family, Marcus Lattimore, Nick Chrisley's family, Allison Williams, Lt. Kyle Walker, Summer and Joel Johnson, Nicole O'Donnell, James O. Johnson, Joy Pruett and family, Patrick Heher, Bill Schmidt, Jack Bailey, Bill Early, Gardner Family, Charles Turner, Kathy Bartholomew, Ray Sanders, David and Robin Blocker, J.R. Ray, Kenneth Kowe, Lauren Sielicki, Doug bailey and family, Johnnie Walker, Jenna Phipps, Mark Lawrence, Harlan Sullins, Peter Laboy, Kat and Carlisle Jones, our great country and the men and women in uniform that protect and serve it every day plus their families.

Upgrade Your Account
Unlock premium boards and exclusive features (e.g. ad-free) by upgrading your account today.
Upgrade Now