---
Friday Email Bag
Each Friday I publish your comments and answer your questions.  To submit a comment or questions please email me at mickeyplyler@hotmail.com.
Mickey:
I read that Ebenezer will wear Jersey #1 next season.  Does that mean that Martavis Bryant is no longer on the team?  What is his status?  We need him next year, since Nuk will be playing on Sundays. 
Walt
Walt
Like most college teams, Clemson has double numbers. Tavaris Barnes and Nuk Hopkins wore number six last season. The rule is that players with the same number can't be on e field at the same time. Since Bryant and Ogundeko play on different sides of the ball the only issues would be on special teams. I think staff expects Bryant to be ready in the fall. I agree, he is a big part of this offense next season.
Good Morning Tiger Fans !
Hey Mickey now that NSD is over what do you of the class that the tigers are bring in for 2013 ? Is M. Bryant going to be eligible for next season "Grade wise" ? Saw on tigernet that Ebo is going to wear #1.... I have always wonder where do you get the Clemson trading cards the players going into the draft ?
As always bleed orange & purple
TG
TG,
See above for info on Bryant. I am not sure on the trading card stuff. Maybe one of our readers can help.
I like this class. The full class of defensive backs who are the strength of the class. Alexander, Baker and Kearse are extremely athletic. Like the defensive ends as well. This looks like another solid, top 15-type of class.
Mickey,
UGA have 31 commitments and A&M have 32 when the SEC has a hard cap of 25 as does the NCAA.  Will the grey shirt 6 or 7 kids??  Place them in Jr  colleges?
George
George,
Georgia had 13 guys came in January as mid-term enrollees. The rule says that you can only sign 25 on signing day but obviously this is a way to circumvent the rules. Last year South Carolina had a player just not sign on signing day but he knew he could still enroll in August. Bring in some in January, grey shirt some and same won't qualify.
Mickey,
Was Dabo the first to coin the phrase, "All In"? I know that several are using it now. Have you heard anything about how Sammy's ankle is healing? Do you think that Sammy will be back to his 2011 form this year? Also, how much do you think that Stephone Anthony's wrist injury affected his play this season? And finally, do you think that Tony Steward will begin to live up to his 5 star billing on the field this year? Thanks  
Isaac 
Isaac,
I think the All In phrase came from poker. I have heard Sammy is right on time with his recovery. I look for Sammy to have a monster year in 2013. I did not notice Anthony missing tackles. I just wonder if he was forced to play out of position and I worry about his instincts. I am not sure Steward is a five star talent but I look for him to have a better season this year.
Mickey,
First, let me say I'm very happy with the guys Dabo is bringing in. The others would've been icing on the cake.
With that being said let's inform our feathered friends and the like as to why CU would be a little peeved at the guys that are apparently spurning us in the 11th hour:
Nkemdiche - Supposedly loved CU was all about Dabo etc. Mom comes in and says NO, wants her son at Ole Miss BUT she would talk with Bama and LSU.
Adams - wasn't even recognized by UGA at a camp and felt disrespected. Vowed to go out of state and make a name for himself. All of a sudden UGA and Bama show up. I'll give Auburn a little credit, he wants to play with Carl Lawson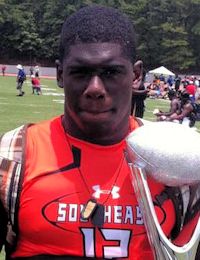 Carl Lawson
Defensive End
6-3, 251
Alpharetta, GA
View Full Profile .
Carl Lawson - bolted from Auburn because they were a dumpster fire. All things pointed to CU until his buddy Jenkins jumped to UT. GaTech made a very late push but he at least stuck to his original commitment to Auburn.
Alexander - Unfortunately I think we lose him to Auburn as well. I think he wants to come to CU but it's just not going to work out.
The rich keep getting richer. I think CU has been very lucky to hit on the big time players we've had recently because they're all good kids to begin with. When you get a few of them then others will come. We don't have a "brand" to sell our the world's #1 sports marketing department to promote us.
As for cheating, oh trust me CU has been mentioned for years in Tally and Jacksonville as having a bag man in the upstate. Remember CJ's alleged lake house? Remember Coach Swinney was let go from his duties at Bama along with Mike Dubose. They were also rumored to be cheaters.  It happens everywhere so you better be careful when you start slinging mud. There's pics out there of CU players with cash, riding in convertibles, etc. Can any of it be proven? Who knows.
The only trend that is bothersome now is the past 2-3 years Cu has been shunned by big time players at the last minute and they happen to go to SEC teams....Gurley, Marshall, Clowney, etc.
Let's just be thankful for what we have. The Roman Empire wasn't built in a day.
Kevin
Kevin,
Thank goodness you were not right about Alexander but the other stuff looks close. I will contest the Dabo and DuBose stuff. Dab was never mentioned in any of that at Alabama. Bama was cheating and got caught but Dab was never in question as far as I know.
Mickey,
I believe missing on several of the top recruits could very well prevent Clemson from becoming an elite team (top 5). However looking at rankings from Dabo's prior classes, Clemson is right on track.
Last 3 classes according to Rivals: 14,8,19
Last 3 according to Scout:
23,14,17
I left out 2009 (not a full year to recruit)
Josh
Josh,
I agree. This class fits in line to what the staff wants to do. It continues building and turning weaknesses into strengths.
Mickey,
I didn't ask the 17 blonde I dated in high school to commit to marriage with the prom still 8 months away. Kids are crazy and we don't do a good job at all at using their ever changing whims and emotions in our favor. We expect them to be level headed and honest, when in fact, they aren't, and neither are the creeps we recruit against.
Greg
Greg,
I understand Dabo's policy but I understand those that are against it as well. It will be interesting to see how that will change as we move forward. I think this is one of the most important aspects of the program moving forward.
Mickey,
I've got one word for CU basketball....BORING.
Sorry man but when I go over there I find myself being bored. Certain players seem as if they are ready to bust loose and run but it's like they're being held back. I love basketball but for whatever reason CU basketball is boring. I'm tired of hearing CU doesn't care about basketball, and the resources aren't there, etc.
So, I ask you and Qualk, please explain to a dummy like myself what exactly those statements mean. What are players at CU not benefitting from that other players at other schools getting? They are on scholarship, they have a wonderful arena, in my opinion. They are getting a top notch education, great historical conference, so what's
missing? I just don't get it.
Thanks buddy you guys are the best!
Kevin
Kevin,
The biggest thing is in recruiting. Other programs have better practice facilities and are able to show more bells and whistles. In the end it comes down to recruiting and getting better players in the program.
Mickey,
Is it fair to assume that on paper Clemson will be average at defensive end next year and once again struggle with getting pressure on the quarterback? Also, why would RN not even visit Clemson on one of our recruiting weekends? We all know about the mother and brother at Miss, but did our coaches and RN get on bad terms?
David
David,
I think Crawford got better as the season progressed. Beasley had a good season as a pass rusher as well. I think Lawson and Ogundeko are upgrades as well. If Clemson can rush the passer like it did in the bowl game then everything will be OK.
Nkemdiche's mom was not going to allow him to come here. She was dead set against it and that was not going to happen. Our coaches had no issues with the player. If it was up to him then he would have signed with Clemson. The issues came from the mother.
The Brad Hughes All-State Insurance Agency
Prayer List
We have started a prayer list on the blog. Here are the guidelines:
If you are offended by prayer or prayer lists then I apologize in advance. The blog is free and the prayer list will be on the bottom of the page so you don't have to read it.
If you would like to add someone to the list please email me at mickeyplyler@hotmail.com
*Please let me know when it is appropriate to take the person off of the prayer list.
Those who need our prayers include:Finn Brookover, Jo Ann Bachman, Kenneth Bryant, Pruitt Martin, Got igers and his family, David Rowland, Leonard, Gillespie and his family, Jim S, Daniel Rosborough, The Huffman family, Nancy Winkler, John Reeve, Ethel Southard, Vinnie Brock, Kaitlyn L, Susan Miller, Joyce Harley, Steve Proveaux, Jeffrey Greene, the Hutto family, Sherl Drawdy, Caleb Kennedy, Teresa O'Connor, Matt Jacobs,Perrin Seigler, Candee Massee, Lindsey Jordan, Sam Catoe, Tyler Felch, the Nicolopulos family, "the Jacksonville, FL guys", Kim Sims, the Coyle family, Ryleigh Tedder, Steve Lee, Kelly Trakas, Jimmy Moore, the Thomas. V Family, Emary Claire Young, Kitty Bowers,Julie Locke, the Scheider family, Lauren Kittles' family, Frank Gentry, Joyce Bussey, Stacey McKeown, Dale Childs, Larry Lentz, Jr, Carl Sharperson, Scott Hannon, William Perry, Tyler Swaney, Lillian, Mark Feit, David Frame, Chad Berry, the family of Matthew M. Watson, the Dowis family, Shervin Messer, Alan Putnam, the Olivers, Lee Tate, Ronnie Abrams, Eddie Greene, the Jackson family, Bill Vader, Jim Taylor, Tina DeWitt, Rock Horne, Christopher Tuten, Bobby Wayne Thomas, Emma and Danielle Carothers, Robert Ditty, Mr. and Mrs. Murray Smith, Dot Cartee, Ayden Mills, Millie Heatley, Lynn Martin and family, Michael Pinson, Jake David family, Angie Crowley, Ira, Mike Tolson, Poly Wells, Dr. Muriel Bishop, Jack Cunningham, Emily Jefford Meister, Zachary Stoller, Aaron Clackum, Pat James, Cortney Moore, William Moore, Angelia and Savannah Anderson, William Ross, Meredith Legg, Scott Johns, Frank Carroll, Brandon Thompson, Alvin Sammons, Georgine McAlhaney, Glen Davis, Mike Price, Clay Childers, Aaron Knight, Danielle Johnston and family, Nicholas Abrams, Lana Kuykendall, Gary, Gary G, William Huggins, Jim Bennett, Chantz Fowler, Ethel McElveen, Michele Gurganus, William Gentry, Lewis Usher and Tanya Sanders, Shon Cooper, Nick Collins, Travis Patterson, Amanda Peake, Danny Hammond, Chip Turner, Nick Collins, Allen Steen, The Sturkey Family, Lance family, Marcus Lattimore, Nick Chrisley's family, Allison Williams, Lt. Kyle Walker, Summer and Joel Johnson, Nicole O'Donnell, Jennifer McManus, James O. Johnson, Joy Pruett and family, Patrick Heher, Bill Schmidt, Jack Bailey, Bill Early, Gardner Family, Charles Turner, Kathy Bartholomew, Ray Sanders, David and Robin Blocker, J.R. Ray, Kenneth Kowe, Lauren Sielicki, Doug bailey and family, Johnnie Walker, Jenna Phipps, our great country and the men and women in uniform that protect and serve it every day plus their families.

Upgrade Your Account
Unlock premium boards and exclusive features (e.g. ad-free) by upgrading your account today.
Upgrade Now