---
Friday Email Bag
Each Friday I publish your comments and answer your questions.  To submit a comment or questions please email me at mickeyplyler@hotmail.com.
MP
Did Clemson apply for a medical redshirt last season for Tony Steward
Tony Steward
So. Linebacker
#7 6-1, 245
Hastings, FL
View Full Profile ? And if so, what was the outcome? I was not even aware that Clemson was considering a redshirt for this year until I read the recent reports this week.
Thx
Upstate Tiger
Upstate Tiger,
Clemson did file a request for a medical hardship but it was denied by the NCAA. He is still eligible to red-shirt or have a medical hardship year. Steward is now a true sophomore that has four years to play three.
Mickey,
What's up with Reid Webster
Reid Webster
RS So. Offensive Tackle
#77 6-4, 295
Woodstock, GA
View Full Profile ?
Kevin
Kevin,
Webster has improved to the point where he is competing for significant playing time this season. He has been working at guard and tackle in his career but this fall camp he has also seen a few snaps at center. He has gotten less time at tackle this fall. At this point he looks like is slightly behind the starters at guard.
Mickey,
How can Harrison play this year? what is the hardship? how good is this guy?
Roger
Roger,
I remember Harrison from his days in Greenwood and only saw him in the NCAA tournament this last season. He had a career high for a terrific BYU team in the tournament. He may be eligible this season because of a technicality. BYU is a Morgan school and they require their students to do a year of mission work. BYU would not have a scholarship available for one of the seasons when he returns and Harrison would be forced to pay his own way. It sounds like he has a pretty good case.
Mickey,
I keep hearing loads of critics about how TD didn't get involved  etc. I also recall lots of critics when he was on the sidelines during a couple of football games. The announcers said he was micro-managing etc. I personally think he has put the department on a very good path and some of the sour notes about him are off base.
Thanks
David
David,
I think it was unfair to criticize him for micromanaging because that never happened. He was on the field but never interfered. TDP now just stays in the radio booth. The reason is he wanted to not have to interact with boosters during the game and he was looking for places where he was not accessible. Micro-managing was not his agenda.
Mickey,
Comments: Mickey, please follow through on your promise to eliminate the "Woo Hoo!" God...I hate that!!!!!!!!!!!
Mikey
Mikey,
I am trying, man. I am trying. Elizabeth Bruner has the Ban the Woo Hoo t-shirts available. Here number is 864-654-2088. Her email address is brunerhne@aol.com. Help us spread the word!
Mickey,
Read your blog "Clemson's Next AD' and couldn't agree more with what you said. With TDP stepping down is there anyone already in the Clemson family that has a shot at filling this role? Either someone at Clemson now or someone from Clemson who is currently somewhere else? I think everyone has been up and down on TDP over the years and I think it largely has to do with him not being part of the Clemson family and never really "marrying" into it.
Thanks,
Richard
Richard,
There are a bunch of good candidates with Clemson ties. Bill D'Andrea has basically been the AD for the last few years in many people's eyes. Jamey Rootes is the President of the Houston Texans. Mike Hamilton is the former AD at Tennessee. Bobby Johnson is a candidate I hear at times also. There are a bunch of guys out there with Clemson ties that would make great candidates.
Hey Mickey'
Hope Ryan an yourself are doing good. I just got a few questions to get your take one.
With regards to the o-line people talk about needing toughness. We all thought Spencer Region
Spencer Region
RS Fr. Offensive Guard
#74 6-4, 370
Cullman, AL
View Full Profile was gonna provide that edge why haven't we heard much from him?
Do you think having Coach Venables on the staff and what he did against fla st at Oklahoma. Do you think that give tiger nation a little bit of peace at mind against them. I really don't see fla st being a real threat.
I'm a big Clinton red devil fan an just wondering if you'll be giving us some high school previews this year an some insight on some teams. I know you usually speak on the big 4a teams but show some 3a some love lol.
Thanks Mickey.
bjc
BJC,
Region is in the process of changing his body which will give him a better chance to compete for playing time. Region is a talented guy but he came in overweight and is working towards making himself a more complete player. As that happens, my guess is we will see more of him on the field. Remember he is just a red-shirt freshman.
Venables has played FSU the past two seasons and the Sooners handled the Seminoles with ease. That familiarity will help. However, I disagree with you because I think FSU is ready to compete on the national level. That will be a tough one in Tallahassee.
I have not seen Clinton this year. My guess is that the Red Devils will have a strong running game and play hard on defense again this season. I would be surprised if that ever changes in Clinton.
The Brad Hughes All-State Insurance Agency
Prayer List
We have started a prayer list on the blog. Here are the guidelines:
If you are offended by prayer or prayer lists then I apologize in advance. The blog is free and the prayer list will be on the bottom of the page so you don't have to read it.
If you would like to add someone to the list please email me at mickeyplyler@hotmail.com
*Please let me know when it is appropriate to take the person off of the prayer list.
Those who need our prayers include:Finn Brookover, Mary-Louise Pawlowski (John's daughter), Jo Ann Bachman, Kenneth Bryant, Pruitt Martin, Got igers and his family, David Rowland, Leonard, Gillespie and his family, Jim S, Daniel Rosborough, The Huffman family, Nancy Winkler, John Reeve, Ethel Southard, Vinnie Brock, Kaitlyn L, Susan Miller, Joyce Harley, Steve Proveaux, Jeffrey Greene, the Hutto family, Sherl Drawdy, Caleb Kennedy, Teresa O'Connor, Matt Jacobs,Perrin Seigler, Candee Massee, Lindsey Jordan, Sam Catoe, Tyler Felch, the Nicolopulos family, "the Jacksonville, FL guys", Kim Sims, the Coyle family, Ryleigh Tedder, Steve Lee, Kelly Trakas, Jimmy Moore, the Thomas. V Family, Emary Claire Young, Kitty Bowers,Julie Locke, the Scheider family, Lauren Kittles' family, Frank Gentry, Joyce Bussey, Stacey McKeown, Dale Childs, Larry Lentz, Jr, Carl Sharperson, Scott Hannon, William Perry, Tyler Swaney, Lillian, Mark Feit, David Frame, Chad Berry, the family of Matthew M. Watson, the Dowis family, Shervin Messer, Alan Putnam, the Olivers, Lee Tate, Ronnie Abrams, Eddie Greene, the Jackson family, Bill Vader, Jim Taylor, Tina DeWitt, Rock Horne, Christopher Tuten, Bobby Wayne Thomas, Emma and Danielle Carothers, Robert Ditty, Mr. and Mrs. Murray Smith, Dot Cartee, Ayden Mills, Millie Heatley, Lynn Martin and family, Michael Pinson, Jake David family, Angie Crowley, Ira, Mike Tolson, Poly Wells, Dr. Muriel Bishop, Jack Cunningham, Emily Jefford Meister, Zachary Stoller, Aaron Clackum, Pat James, Cortney Moore, William Moore, Angelia and Savannah Anderson, William Ross, Meredith Legg, Scott Johns, Frank Carroll, Brandon Thompson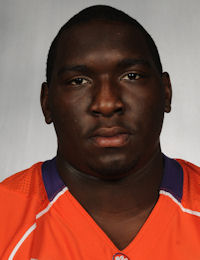 Brandon Thompson
Defensive Tackle
#98 6-2, 310
Thomasville, GA
View Full Profile , Alvin Sammons, Georgine McAlhaney, Glen Davis, Mike Price, Clay Childers, Aaron Knight, Danielle Johnston and family, Nicholas Abrams, Lana Kuykendall, Gary, Billy McLeroy, Gary G, William Huggins, Jim Bennett, Chantz Fowler, Ethel McElveen, Michele Gurganus, William Gentry, Lewis Usher and Tanya Sanders, Shon Cooper, Nick Collins, Travis Patterson.

Upgrade Your Account
Unlock premium boards and exclusive features (e.g. ad-free) by upgrading your account today.
Upgrade Now