---
Friday Email Bag
Each Friday I publish your comments and answer your questions.  To submit a comment or questions please email me at mickeyplyler@hotmail.com.
Mickey,
I heard a rumor about Tyshone Dye's grades being in question. Do you have any info on that? Also, how much time do you predict Sammy Watkins
Sammy Watkins
So. Wide Receiver
#2 6-1, 200
Fort Myers, FL
View Full Profile missing? Also, what is the latest on DT prospect Adams? Are we still in the running? Thanks
Isaac
Isaac,
It is way too early to get overtly worried about the grade stuff. He has plenty of time make it. I doubt Clemson would have cut it off with other running backs if Dye did not have a chance to make it.
I have no idea on Watkins. I doubt anyone outside of Dabo knows that. I think he will miss some time but have no idea how much time he will miss.
Clemson and Auburn are the top two for Adams. I doubt he will make a choice until after his senior season. I would say he is 50-50 with Clemson and Auburn a this point.
Hi Mickey,
Loved your blog today on Changing The Culture here at Clemson.  I agree with you wholeheartedly!  Get kids and parents on the CU campus and we have a   legitimate shot at anyone.  This staff gets that and I think they're doing an awesome job!
Keep up the good work...I appreciate you and all you do for Clemson!
Ed
Ed,
Thanks for the kind words. This staff is great at getting kids on campus especially during camps. Unofficial visits have become much bigger now because these kids make up their minds so early.
Mick:
All I could think about when they took Joe Pa's statue down was, "why does Danny not have one?" Thoughts?
DK
DK,
I am with you DK. We should have already had that taken care of that years ago. The reason he does not have one is there are still a few of his enemies still around. I think that is a shame. Put him in the ring of honor and build a statue.
Hey Mick,
I don't necessarily agree with the NCAA punishment of Penn St. but they had to do something because all this happened under their "watch".  it's egg on their face and they are making Penn St. pay for it.  I wonder if shutting down football for a year wouldn't been better.  Shut it down, wipe it clean and start over fresh.  I do hope they crush their conference opponents one day for the piling on.
Finally, do you think Penn St. will play more away games to try and chip away at the $73 million?  Let's say instead of teams scheduling Troy, PC, Buffalo and the likes now you see Penn St. showing up on schedules like UGA, Clemson, Tennessee, etc?  They may not be the Penn St. we're accustomed to but I'd be pretty pumped to go to Death Valley to watch CU and Penn St. instead of CU and Coastal or Wofford.
Kevin
Kevin,
I think a one year Death Penalty would have been easier to overcome than what they received. I would love to play Penn State but I doubt they will have more road games. They need money and there is more money in home games than road games. They need that home game revenue. I would think Penn State would want as many home games as possible in the next ten years.
Mickey,
Responding to the "tiger" question...I attended a game long ago when a caged tiger was on the sidelines the entire game. I am pretty sure it's permanent residence was at Riverbanks Zoo for I remember a donation plaque at the zoo reading that the tiger exhibit existed due to a Clemson donation. It was the same tiger. I always have wondered why we never had it back for another game....maybe too dangerous?
Laurens
Laurens,
I have seen the Tiger at Riverbank zoo but never knew he was on the sidelines at Clemson. Thanks for the information.
Mickey,
The live tiger in the 70's came from a gas station and car wash in Columbia, and was transported to the games.I saw the tiger here plenty of times as a kid.
Mark
Mark,
I remember going to see Happy the Tiger at a gas station as a kid. I never knew he was at games though. Thanks.
Mickey,
The Dude is at again claiming the Big 12 has overcome internal resistance to expansion and will be notifying universities about the league expansion by 2014. You can read the rest of his blog and come to your own conclusions. I will say that I have trouble accepting what an obscure blogger posts claiming "unidentified sources" and it is not picked up by any established media ( Tigernet included ). I am believing, if there was any substance, reporters with established friendships would have the story before an anonymous blogger. What do you know about the "dude" and have you spoken to him?
Maestro
Maestro,
My sources tell me that The Dude is close to the AD at West Virginia. I think he has great sources and trust what those sources tell him. Unfortunately his sources are from only one side. The expansion issue covers so many people at so many institutions. It is hard to get this many people to agree and get the thing done. I have no doubt that WVU thought it was happening but others were not sold, therefore it didn't happen. I don't know him and have never spoken to him but think he does a good job.
The Brad Hughes All-State Insurance Agency
Prayer List
We have started a prayer list on the blog. Here are the guidelines:
If you are offended by prayer or prayer lists then I apologize in advance. The blog is free and the prayer list will be on the bottom of the page so you don't have to read it.
If you would like to add someone to the list please email me at mickeyplyler@hotmail.com
*Please let me know when it is appropriate to take the person off of the prayer list.
Those who need our prayers include:Finn Brookover, Mary-Louise Pawlowski (John's daughter), Jo Ann Bachman, Kenneth Bryant, Pruitt Martin, Got igers and his family, David Rowland, Leonard, Gillespie and his family, Jim S, Daniel Rosborough, The Huffman family, Nancy Winkler, John Reeve, Ethel Southard, Vinnie Brock, Kaitlyn L, Susan Miller, Joyce Harley, Steve Proveaux, Jeffrey Greene, the Hutto family, Sherl Drawdy, Caleb Kennedy, Teresa O'Connor, Matt Jacobs,Perrin Seigler, Candee Massee, Lindsey Jordan, Sam Catoe, Tyler Felch, the Nicolopulos family, "the Jacksonville, FL guys", Kim Sims, the Coyle family, Ryleigh Tedder, Steve Lee, Kelly Trakas, Jimmy Moore, the Thomas. V Family, Emary Claire Young, Kitty Bowers,Julie Locke, the Scheider family, Lauren Kittles' family, Frank Gentry, Joyce Bussey, Stacey McKeown, Dale Childs, Larry Lentz, Jr, Carl Sharperson, Scott Hannon, William Perry, Tyler Swaney, Lillian, Mark Feit, David Frame, Chad Berry, the family of Matthew M. Watson, the Dowis family, Shervin Messer, Alan Putnam, the Olivers, Lee Tate, Ronnie Abrams, Eddie Greene, the Jackson family, Bill Vader, Jim Taylor, Tina DeWitt, Rock Horne, Christopher Tuten, Bobby Wayne Thomas, Emma and Danielle Carothers, Robert Ditty, Mr. and Mrs. Murray Smith, Dot Cartee, Ayden Mills, Millie Heatley, Lynn Martin and family, Michael Pinson, Jake David family, Angie Crowley, Ira, Mike Tolson, Poly Wells, Dr. Muriel Bishop, Jack Cunningham, Emily Jefford Meister, Zachary Stoller, Aaron Clackum, Pat James, Cortney Moore, William Moore, Angelia and Savannah Anderson, William Ross, Meredith Legg, Scott Johns, Frank Carroll, Brandon Thompson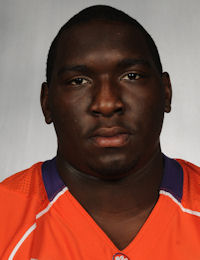 Brandon Thompson
Defensive Tackle
#98 6-2, 310
Thomasville, GA
View Full Profile , Alvin Sammons, Georgine McAlhaney, Glen Davis, Mike Price, Clay Childers, Aaron Knight, Danielle Johnston and family, Nicholas Abrams, Lana Kuykendall, Gary, Billy McLeroy, Gary G, William Huggins, Jim Bennett, Chantz Fowler, Ethel McElveen, Michele Gurganus, William Gentry.

Upgrade Your Account
Unlock premium boards and exclusive features (e.g. ad-free) by upgrading your account today.
Upgrade Now