---
Clemson's Offensive Line
The offensive line is by far the biggest question mark for the Clemson offense heading into the 2012 fall camp which begins Friday afternoon.
Not all news is bad along the offensive line though. Dalton Freeman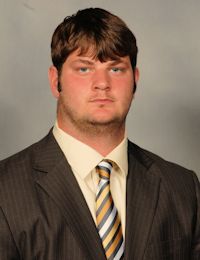 Dalton Freeman
RS Sr. Offensive Line
#55 6-5, 285
Pelion, SC
View Full Profile returns as a three-year starter at Clemson and is the leader of the front. He has started 36 straight games at the position and is considered one of the top centers in the country. Most pre-season publications have Freeman as the top center in the ACC while Lindy's ranks him as the nation's second-ranked center. He has played over 2,400 snaps in his career.
Robbie Caldwell says, "Mentally, attitude and all, it's been extraordinary. He compares with any I've ever had, as good or better. One of our goals was for Dalton to put on a little more weight and become a little more aggressive. He worked on that this spring, got better at it. Dalton could have an opportunity to make a lot of money one day, because - athletically, mentally - he can do very good things at the next level. He struggled putting on weight. It's funny, his mom got after him about it as well. Eating is just not something he enjoys. I don't know. That's amazing for an offensive lineman. He's probably about 285, and I'd like to see him [around] 295, 300 pounds. He's everything you could ask from an individual. He is a guy you could throw a playbook at, and in two days he'll have it."
Ryan Norton
Ryan Norton
RS So. Offensive Line
#58 6-3, 265
Mauldin, SC
View Full Profile red-shirted last season but he caught the staff's attention during that red-shirt campaign. Norton is a tough competitor that has the inside track on the center position once Freeman moves on to the NFL.
The only other returning starter along the offensive line is Brandon Thomas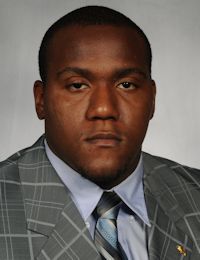 Brandon Thomas
RS Jr. Offensive Line
#63 6-3, 300
Spartanburg, SC
View Full Profile . The two-year letterman has started 10 games and played in 23 games in his career so far. Thomas has played 913 snaps at both guard and tackle but moves outside full-time this fall.
"I think he's got an opportunity to be a very good left tackle," says Caldwell. "Athletically, no doubt, he can. Brandon is a very good leader. But what he's had to do is learn how to talk. I didn't know he could even speak, the first semester I had him. I didn't even know, because he never said a word. He's stepping forward and taking that leadership role, and he's just going to be a junior."
Perhaps the best news on the offensive line is how fast Tyler Shatley
Tyler Shatley
RS Jr. Offensive Line
#43 6-3, 295
Icard, NC
View Full Profile adapted to his new position. This past spring he moved from defense to the offensive line and he looked like he had played there all of his life. Shatley has played 444 snaps in the 26 games he has played in college but the first snap against Auburn in the Georgia Dome will be his first on offense. The staff loves the toughness Shatley brings to the offensive line.
"I knew I wanted him from day one," Caldwell said. "It was about attitude. He just brings toughness and an attitude. He's been on the field. He was a little bit worried about it when he first came over because it was all Greek to him. It didn't take long to put him at ease, because he's a very sharp young man. Academics and football don't always go hand in hand. In this case it does. He's studying to be an engineer. He understands leverage, angles and concepts. That part was pretty easy on him. Probably made less mistakes than a first-time player learning the system than I've ever had in 30-something years. That tells you how hungry he was, how important it was for him to catch it. He wants to earn his way."
The other guard could be manned by Kalon Davis
Kalon Davis
RS So. Offensive Line
#67 6-5, 335
Chester, SC
View Full Profile , a red-shirt sophomore who played 49 snaps from scrimmage in seven games a year ago. He has worked tirelessly to change his body but the work paid off as he took control of the spot this past spring.
"I think he's got an opportunity to be a very good player for us," said Caldwell. "He spent his whole freshman year in the training room, injured. This summer is the first-time in, probably, a year and a half that he's done a squat or a power clean. That tells you he's going to make tremendous progress. I foresee him doing big things for us."
The final spot on the offensive line is currently in the hands of Gifford Timothy
Gifford Timothy
RS So. Offensive Tackle
#70 6-6, 315
Middletown, DE
View Full Profile . The red-shirt sophomore played 45 snaps in seven games last season but he emerged with a good spring.
"Most of his is just confidence," Caldwell explained. "I think he has the ability, and I think he knows that. We see spurts of it. I'm really excited about Gifford. I really think he's a student of the game. He's going to know what to do. You better not tell him wrong, because he is going to do just what you teach him to do."
Caldwell says he feel more comfortable about his depth and expects battles everyday in camp. The tackles will have to hold off two impressive athletes in Isaiah Battle
Isaiah Battle
Fr. Offensive Line
# 6-7, 265
St. George, VA
View Full Profile and Joe Gore
Joe Gore
RS So. Offensive Line
#73 6-6, 260
Lake Waccamaw, NC
View Full Profile . Both are very athletic but both are very inexperienced at this point. Dabo Swinney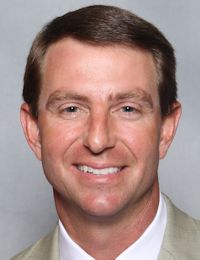 Dabo Swinney
Head Coach
View Full Profile says Gore is ahead of Battle at this point but he thinks both have the feet to help in time.
Spencer Region
Spencer Region
RS So. Offensive Guard
#78 6-4, 370
Cullman, AL
View Full Profile , David Beasley
David Beasley
RS So. Offensive Guard
#68 6-4, 315
Columbus, GA
View Full Profile and Reid Webster
Reid Webster
RS So. Offensive Tackle
#77 6-4, 295
Woodstock, GA
View Full Profile are inside guys who will have a chance to grab the staff's attention in fall camp as well. Region and Beasley have worked to reshape their bodies.
In summary, there are a lot of questions marks and inexperience along this offensive line. However, the staff thinks this line will be more productive than last years at some point this season.
The Brad Hughes All-State Insurance Agency
Prayer List
We have started a prayer list on the blog. Here are the guidelines:
If you are offended by prayer or prayer lists then I apologize in advance. The blog is free and the prayer list will be on the bottom of the page so you don't have to read it.
If you would like to add someone to the list please email me at mickeyplyler@hotmail.com
*Please let me know when it is appropriate to take the person off of the prayer list.
Those who need our prayers include:Finn Brookover, Mary-Louise Pawlowski (John's daughter), Jo Ann Bachman, Kenneth Bryant, Pruitt Martin, Got igers and his family, David Rowland, Leonard, Gillespie and his family, Jim S, Daniel Rosborough, The Huffman family, Nancy Winkler, John Reeve, Ethel Southard, Vinnie Brock, Kaitlyn L, Susan Miller, Joyce Harley, Steve Proveaux, Jeffrey Greene, the Hutto family, Sherl Drawdy, Caleb Kennedy, Teresa O'Connor, Matt Jacobs,Perrin Seigler, Candee Massee, Lindsey Jordan, Sam Catoe, Tyler Felch, the Nicolopulos family, "the Jacksonville, FL guys", Kim Sims, the Coyle family, Ryleigh Tedder, Steve Lee, Kelly Trakas, Jimmy Moore, the Thomas. V Family, Emary Claire Young, Kitty Bowers,Julie Locke, the Scheider family, Lauren Kittles' family, Frank Gentry, Joyce Bussey, Stacey McKeown, Dale Childs, Larry Lentz, Jr, Carl Sharperson, Scott Hannon, William Perry, Tyler Swaney, Lillian, Mark Feit, David Frame, Chad Berry, the family of Matthew M. Watson, the Dowis family, Shervin Messer, Alan Putnam, the Olivers, Lee Tate, Ronnie Abrams, Eddie Greene, the Jackson family, Bill Vader, Jim Taylor, Tina DeWitt, Rock Horne, Christopher Tuten, Bobby Wayne Thomas, Emma and Danielle Carothers, Robert Ditty, Mr. and Mrs. Murray Smith, Dot Cartee, Ayden Mills, Millie Heatley, Lynn Martin and family, Michael Pinson, Jake David family, Angie Crowley, Ira, Mike Tolson, Poly Wells, Dr. Muriel Bishop, Jack Cunningham, Emily Jefford Meister, Zachary Stoller, Aaron Clackum, Pat James, Cortney Moore, William Moore, Angelia and Savannah Anderson, William Ross, Meredith Legg, Scott Johns, Frank Carroll, Brandon Thompson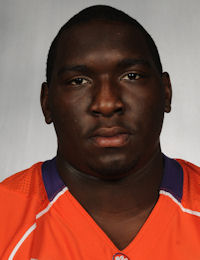 Brandon Thompson
Defensive Tackle
#98 6-2, 310
Thomasville, GA
View Full Profile , Alvin Sammons, Georgine McAlhaney, Glen Davis, Mike Price, Clay Childers, Aaron Knight, Danielle Johnston and family, Nicholas Abrams, Lana Kuykendall, Gary, Billy McLeroy, Gary G., William Huggins, Jim Bennett, Chantz Fowler, Ethel McElveen, Michele Gurganus, William Gentry.

Upgrade Your Account
Unlock premium boards and exclusive features (e.g. ad-free) by upgrading your account today.
Upgrade Now