| | |
| --- | --- |
| Changing Another Piece of the Culture | |
---
Changing Another Piece of the Culture
Years ago Lou Holtz said his biggest challenge at South Carolina was changing the culture. In many ways he was right and it's probably the same for many coaches around the country.
At Clemson, Dabo Swinney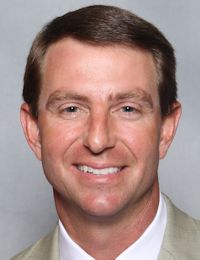 Dabo Swinney
Head Coach
View Full Profile has tried to change many things about the program and as fans we are a part of that culture change. Swinney has won the division in two of his first three seasons and his Tigers are the defending ACC champions. Yet as fans we still have doubt and sometimes look at the glass half empty.
Last night was another example of how things have changed around here and it gives us another example of how we can change as fans.
Clemson received a verbal commitment from Scott Pagano Tuesday evening. Pagano is the sixth best defensive tackle in the country according to rivals.com. The website has him the 104th ranked player in the country and the top ranked player from Hawaii. Yes, that's right. Hawaii.
Recruiting under Swinney and his staff has taken on new heights and he has changed the expectation level of his staff. He and recruiting coordinator, Jeff Scott, have changed the recruiting culture here. They feel they can recruit any player in the country if they can only get him here on campus.
That strategy has paid huge dividends. As Clemson fans we love our campus and we hold it dear in our hearts for a reason. But for someone who has never been here, they may not understand. Swinney and Scott feel like we do when they talk about how special a place this is. They talk about the Clemson family the same way we do. They get it and have done a terrific job in selling that family atmosphere to the team and future prospects.
Earlier this year Clemson got a commitment from the nation's number one prospect, Robert Nkemdiche a defensive end from Loganville, GA. Nkemdiche was thought to be favoring LSU and Alabama.
Last night Pagano announced for Clemson despite reports that had him leaning to either LSU, Florida or Alabama.
Florida, LSU and Alabama have won two national titles each in the BCS era. They have combined to win six of the last nine BCS titles. How did they do it? They dominated on the defensive line.
Clemson has four defensive linemen committed in this upcoming class. Nkemdiche is a five star who is ranked as a 6.1 by rivals.com. He is the number one player at defensive end, the number one player in the country and obviously the number one player in Georgia.
Scott Pagano is ranked number one in the state of Hawaii, number six in the country at defensive tackle and number 104 overall by rivals.com. Pagano is ranked as a 5.9 prospect by the company.
Elijah Daniels is a defensive end commitment that is ranked number 13 at his position in the nation, the third best player in Indiana, and number 172 overall by rivals.com. He is a 5.8 on their scale as well.
Finally, Dane Rogers is the nation's 39th ranked defensive end in the country. He is a 5.6 in rivals scale and is the 21st ranked player in North Carolina.
Clemson may not be done on the defensive line either. DeMarcus Walker is still considering the Tigers. The Jacksonville, FL defensive end was at the All In Cookout this past weekend. He is a 5.9 according to rivals.com. The site has Walker as the number 11 defensive end in the country, the 18th ranked prospect in Florida and the 120th ranked player in the country. Alabama, Auburn, Florida, and Tennessee are among his other favorites.
Clemson is still heavily involved with Montravius Adams, the nation's top defensive tackle according to rivals.com. He is ranked second in the state of Georgia behind Nkemdiche and is the nation's 10th ranked prospect. The 6.1 marker is also high on Auburn, Alabama, Georgia, and Florida.
Powerhouses in college football start on the defensive line and this Clemson staff has done an amazing job in this class.
What Clemson is doing is incredible. Some analysts still shake their heads in wondering how this program can beat LSU and Alabama head-to-head on four and five star prospects.
I understand a national analyst not getting it until he has been here. Last year Urban Meyer told the story on ESPN about how he did not understand how he could lose players to Clemson when he was at Florida. He said after being here and seeing our village, he now understands.
As Clemson fans though, we need to change our expectations. A great friend called this morning and told me how he found out about Pagano's commitment.
"I was on tigernet active chat and someone posted that Pagano had committed to the Tigers," he said. "I turned off my computer and assumed it was LSU because he had been rumored to LSU. I thought this was a big shock to Florida and Alabama, but it did not hurt us because we were never rumored to Clemson. Later last night I was shocked that it was the Clemson Tigers not the LSU Tigers."
I don't blame my friend for feeling shocked or assuming it was LSU. I was shocked too. The point is that maybe we shouldn't be shocked anymore. This staff can go into any home in the country and sell Clemson. If the player gives Clemson a shot and gets on campus then we have a legitimate chance at any prospect.
If we can grab the nation's number one player from LSU and Alabama then what should shock us in the future?
If we can go to Hawaii and beat LSU, Alabama and Florida for a great defensive tackle then who should shock us?
Swinney and Scott have changed the recruiting culture, so maybe it is time that some of us change our expectations. The Clemson family can sell this place and if Adams, Walker, Kendall Fuller or Tyrone Crowder want to jump on board, shock will no longer be my first response.
The Brad Hughes All-State Insurance Agency
Prayer List
We have started a prayer list on the blog. Here are the guidelines:
If you are offended by prayer or prayer lists then I apologize in advance. The blog is free and the prayer list will be on the bottom of the page so you don't have to read it.
If you would like to add someone to the list please email me at mickeyplyler@hotmail.com
*Please let me know when it is appropriate to take the person off of the prayer list.
Those who need our prayers include:Finn Brookover, Mary-Louise Pawlowski (John's daughter), Jo Ann Bachman, Kenneth Bryant, Pruitt Martin, Got igers and his family, David Rowland, Leonard, Gillespie and his family, Jim S, Daniel Rosborough, The Huffman family, Nancy Winkler, John Reeve, Ethel Southard, Vinnie Brock, Kaitlyn L, Susan Miller, Joyce Harley, Steve Proveaux, Jeffrey Greene, the Hutto family, Sherl Drawdy, Caleb Kennedy, Teresa O'Connor, Matt Jacobs,Perrin Seigler, Candee Massee, Lindsey Jordan, Sam Catoe, Tyler Felch, the Nicolopulos family, "the Jacksonville, FL guys", Kim Sims, the Coyle family, Ryleigh Tedder, Steve Lee, Kelly Trakas, Jimmy Moore, the Thomas. V Family, Emary Claire Young, Kitty Bowers,Julie Locke, the Scheider family, Lauren Kittles' family, Frank Gentry, Joyce Bussey, Stacey McKeown, Dale Childs, Larry Lentz, Jr, Carl Sharperson, Scott Hannon, William Perry, Tyler Swaney, Lillian, Mark Feit, David Frame, Chad Berry, the family of Matthew M. Watson, the Dowis family, Shervin Messer, Alan Putnam, the Olivers, Lee Tate, Ronnie Abrams, Eddie Greene, the Jackson family, Bill Vader, Jim Taylor, Tina DeWitt, Rock Horne, Christopher Tuten, Bobby Wayne Thomas, Emma and Danielle Carothers, Robert Ditty, Mr. and Mrs. Murray Smith, Dot Cartee, Ayden Mills, Millie Heatley, Lynn Martin and family, Michael Pinson, Jake David family, Angie Crowley, Ira, Mike Tolson, Poly Wells, Dr. Muriel Bishop, Jack Cunningham, Emily Jefford Meister, Zachary Stoller, Aaron Clackum, Pat James, Cortney Moore, William Moore, Angelia and Savannah Anderson, William Ross, Meredith Legg, Scott Johns, Frank Carroll, Brandon Thompson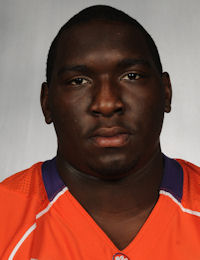 Brandon Thompson
Defensive Tackle
#98 6-2, 310
Thomasville, GA
View Full Profile , Alvin Sammons, Georgine McAlhaney, Glen Davis, Mike Price, Clay Childers, Aaron Knight, Danielle Johnston and family, Nicholas Abrams, Lana Kuykendall, Gary, Billy McLeroy, Gary G., William Huggins, Jim Bennett, Chantz Fowler, Ethel McElveen, Michele Gurganus.

Upgrade Your Account
Unlock premium boards and exclusive features (e.g. ad-free) by upgrading your account today.
Upgrade Now