---
ACC Tournament Preview
Tonight Clemson opens play in the ACC baseball tournament in Durham (instead of Greenville, where it should be). For some unknown reason the ACC has selected pool play for its tournament format. Clemson is in the same pool as NC State, North Carolina and Miami.
The Tigers will play NC State tonight at 7. They get a day off Thursday and play North Carolina Friday at 7. Pool play for Clemson concludes Saturday at 3 PM against Miami.
The other pool includes, FSU, Virginia, Virginia Tech and Georgia Tech. The winner of each pool will play in a single game championship Sunday at 1 PM.
NC State Preview
NC State has two of the nation's top players but Clemson will only see one tonight. Their ace, Carlos Rodon, threw 135 pitches last weekend and is not ready to go tonight. So Clemson will face freshman left-hander Brad Stone (2-2, 6.23 ERA).  The Charlotte, NC native has made 11 starts and three relief appearances for a total of 47.2 innings pitched.  He has allowed 44 hits (.240 opponents' batting average) and 21 walks with 53 strikeouts.
The Tigers will counter with sophomore righthander Daniel Gossett
Daniel Gossett
So. RH Pitcher
#23 6-0, 180
Lyman, SC
View Full Profile (9-3, 2.20 ERA). Gossett has made 14 starts for a total of 86.0 innings pitched.  He has given up 67 hits (.209 opponents' batting average) and 31 walks with 83 strikeouts.
N.C. State is ranked as high as #9 in the nation, enters the ACC Tournament with a 42-13 overall record and 19-10 ACC mark after sweeping Duke at Durham Bulls Athletic Park (site of the tournament) last weekend. N.C. State, who has won 24 of its last 27 games.
Trea Turner is perhaps the nation's best player. The shortstop leads the team with a .383 batting average, 11 doubles, four triples, six homers, 38 RBIs, 58 runs, a .463 on-base percentage, and 24 steals in 45 games.  
Clemson took two out of three from NC State in Raleigh in the first ACC series of the season.
North Carolina Preview
North Carolina is ranked as high as #3 in the nation. They are 48-8 and 21-7 in the ACC.
At this point neither Clemson or North Carolina has announced the starting pitchers but Clemson will be without Matthew Crownover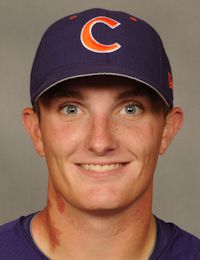 Matthew Crownover
Fr. LH Pitcher
#44 5-11, 205
Ringgold, GA
View Full Profile who has some stiffness in his forearm. The Clemson coaching staff will try to hold Crownover out of the tournament and get him ready for the regionals. The freshman left-hander lead the ACC in ERA in league games.  In 36.1 innings pitched over seven starts, he had a 1.73 ERA, allowing only seven earned runs.  That includes giving up only four combined earned runs in his last six starts in ACC regular-season games.
I would expect Clemson to go with Zach Erwin instead. Erwin has pitched well and has an edge because UNC has eight left handed hitters in its lineup.
The Tar Heels are led in hitting Colin Moran is hitting .376 with 13 homers, 83 RBIs, 66 runs, 52 walks against only 18 strikeouts, and a .504 on-base percentage.  Landon Lassiter is batting .361 with a .514 on-base percentage, while Skye Bolt is hitting .359 with six homers and 44 RBIs.  
The Tar Heels beat Clemson two out of three earlier this year in Chapel Hill.
Miami Preview
Miami enter the tournament with a 35-21 record including a 14-16 mark in the ACC.
Chantz Mack is hitting .299 with a .429 on-base percentage and 13 stolen bases.  Brad Fieger is batting .291, while David Thompson is hitting .284 with 13 doubles, six homers, and 42 RBIs.
Neither team has announced its pitchers for Saturday's game but that could be influenced because either team could have already wrapped up a berth in the title game by the time their game starts.
Ten Run Rule, Runs Allowed Tie Breaker
Because the geniuses in the ACC have selected a pool format, a tie breaker is needed in case there is a three-way tie. The ACC has chosen runs allowed as that tie breaker. In case of a three-way tie, the team that allowed the least amount of runs advances to the title game.
Also from a time stand point, the ACC has a ten run rule much like little league teams. No worry though, we will not have coaches' pitch added to the format.
RPI
The ACC is the nation's top conference in baseball this year and the RPI reflects that. All eight teams in the conference tournament are ranked in the top 22 in the RPI. The rankings are below:
2. UNC
3. Virginia
5. FSU
9. NC State
11. Clemson
15. Virginia Tech
20. Miami
22. Georgia Tech
The Brad Hughes All-State Insurance Agency
Prayer List
We have started a prayer list on the blog. Here are the guidelines:
If you are offended by prayer or prayer lists then I apologize in advance. The blog is free and the prayer list will be on the bottom of the page so you don't have to read it.
If you would like to add someone to the list please email me at mickeyplyler@hotmail.com
*Please let me know when it is appropriate to take the person off of the prayer list.
Those who need our prayers include: Finn Brookover, Jo Ann Bachman, Kenneth Bryant, Pruitt Martin, Got igers and his family, David Rowland, Leonard, Gillespie and his family, Jim S, Daniel Rosborough, The Huffman family, Nancy Winkler, John Reeve, Vinnie Brock, Kaitlyn L, Susan Miller, Joyce Harley, Steve Proveaux, Jeffrey Greene, the Hutto family, Sherl Drawdy, Caleb Kennedy, Teresa O'Connor, Matt Jacobs,Perrin Seigler, Candee Massee, Lindsey Jordan, Sam Catoe, Tyler Felch, the Nicolopulos family, "the Jacksonville, FL guys", Kim Sims, the Coyle family, Ryleigh Tedder, Steve Lee, Kelly Trakas, Jimmy Moore, the Thomas. V Family, Emary Claire Young, Kitty Bowers,Julie Locke, the Scheider family, Lauren Kittles' family, Frank Gentry, Joyce Bussey, Stacey McKeown, Dale Childs, Larry Lentz, Jr, Carl Sharperson, Scott Hannon, William Perry, Tyler Swaney, Lillian, Mark Feit, David Frame, Chad Berry, the family of Matthew M. Watson, the Dowis family, Shervin Messer, Alan Putnam, the Olivers, Lee Tate, Ronnie Abrams, Eddie Greene, the Jackson family, Bill Vader, Jim Taylor, Tina DeWitt, Rock Horne, Christopher Tuten, Bobby Wayne Thomas, Emma and Danielle Carothers, Robert Ditty, Mr. and Mrs. Murray Smith, Dot Cartee, Ayden Mills, Millie Heatley, Lynn Martin and family, Michael Pinson, Jake David family, Angie Crowley, Ira, Mike Tolson, Poly Wells, Dr. Muriel Bishop, Jack Cunningham, Emily Jefford Meister, Zachary Stoller, Aaron Clackum, Pat James, Cortney Moore, William Moore, Angelia and Savannah Anderson, William Ross, Meredith Legg, Scott Johns, Frank Carroll, Brandon Thompson, Alvin Sammons, Georgine McAlhaney, Glen Davis, Mike Price, Clay Childers, Aaron Knight, Danielle Johnston and family, Nicholas Abrams, Lana Kuykendall, Gary, Gary G., William Huggins, Jim Bennett, Chantz Fowler, Ethel McElveen, Michele Gurganus, William Gentry, Lewis Usher and Tanya Sanders, Shon Cooper, Nick Collins, Travis Patterson, Amanda Peake, Danny Hammond, Chip Turner, Nick Collins, Allen Steen, The Sturkey Family, the Lance family, Marcus Lattimore, Nick Chrisley's family, Allison Williams, Lt. Kyle Walker, Summer and Joel Johnson, Nicole O'Donnell, James O. Johnson, Joy Pruett and family, Patrick Heher, Bill Schmidt, Jack Bailey, Bill Early, Gardner Family, Charles Turner, Kathy Bartholomew, Ray Sanders, David and Robin Blocker, J.R. Ray, Kenneth Kowe, Lauren Sielicki, Doug Bailey and family, Johnnie Walker, Jenna Phipps, Mark Lawrence, Harlan Sullins, Peter Laboy, Kat and Carlisle Jones, Elizabeth Galloway and family, Anita McDonald, Willard Harryman, Liz Surratt, Molly Senn, Jackie Shearer, Richard Sellers, Tim Drisdelle, our great country and the men and women in uniform that protect and serve it every day plus their families.

Upgrade Your Account
Unlock premium boards and exclusive features (e.g. ad-free) by upgrading your account today.
Upgrade Now