---
| | | |
| --- | --- | --- |
| Wednesday, July 11, 2012, 9:14 AM | | |
ACC Quarterbacks
1. Clemson
Tajh Boyd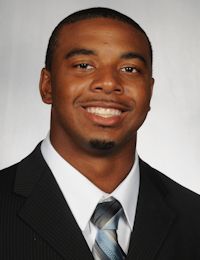 Tajh Boyd
RS Jr. Quarterback
#10 6-1, 225
Hampton, VA
View Full Profile enjoyed an All-ACC season in his first year as a starter. He broke nearly every Clemson passing record by going 298 of 499 for 3,828 yards for 33 touchdowns and just 12 interceptions. Boyd is an All-Conference candidate once again entering his junior campaign and should have an even better grasp of the offense in year two.
Cole Stoudt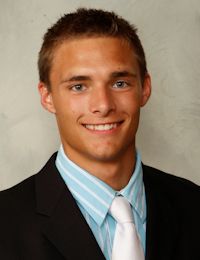 Cole Stoudt
So. Quarterback
#8 6-4, 200
Dublin, OH
View Full Profile and Morgan Roberts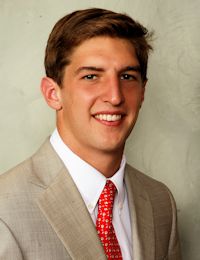 Morgan Roberts
RS So. Quarterback
#16 6-2, 200
Charlotte, NC
View Full Profile are the backups at this point. Stoudt played adequately when pressed into duty last season but Roberts gained on him during a red-shirt campaign.
Chad Kelly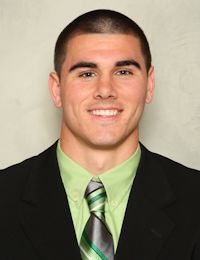 Chad Kelly
Fr. Quarterback
# 6-3, 205
Buffalo, NY
View Full Profile is a terrific athlete and perhaps the guy that could inherit the job after Boyd's days are over at Clemson.
2. Virginia Tech
When you are a 6-6 and 265-pound athletic quarterback you get compared to Cam Newton. At times last season Logan Thomas did a pretty fair imitation. As a sophomore Thomas went 234 of 391 for 3,013 yards with 19 touchdowns and 10 interceptions. He was a force running the ball as well with 469 yards and 11 touchdowns on the ground. He may be close to Newton but Thomas will need to continue to make strides to gain ground on Newton. Like Boyd, Newton should be more comfortable with his gained experience.
Depth and experience is a major concern for the Hokies behind Thomas. Mark Leal saw limited snaps a season ago.
3. NC State
Mike Glennon finally got his shot when Russell Wilson was forced out by NC State's staff and Glennon responded. The rising senior completed 283 of 453 passes for 3,054 and 31 touchdowns with only 12 picks. Glennon is strictly a pocket passer but he finally showed the promise he had coming out of high school.
Tyler Brosius will once again be the back up. The rising sophomore saw limited action behind Glennon a year ago but was another highly recruited prospect.
4. North Carolina
North Carolina has had pretty good quarterback play in recent years and Bryn Renner continued that trend in 2011. The rising junior completed 239 of 350 passes for 3,086 yards for 26 touchdowns and 13 picks. Renner is a decent athlete that can move around in the pocket. He could be a star in Larry Fedora's high scoring offensive system.
Marquise Williams and Caleb Pressley are two red-shirt freshman that will provide depth. Williams was the more highly recruited of the pair.
5. Florida State
E.J. Manuel enters his senior season and I am still not sure what to expect from him. Here is a quarterback that came out of high school with tons of potential but he has not always been the most efficient quarterback. Manuel completed 203 of 311 passes for 2,666 yards and 18 touchdowns with eight interceptions a season ago. He also ran the ball 110 times for 151 yards and four scores. Manuel has been compared to big, athletic quarterbacks like Cam Newton, but so far in his career he has looked more like Terrell Pryor. Still the potential is there for a big senior campaign.
Clint Trickett played pretty well in his backup duties a year ago. He was forced into action due to Manuel's injury and surprised as a freshman. He may have his hands full with Jameis Winston in the future though. Winston enters school this year as one of the nation's top freshmen signal callers.
6. Wake Forest
Tanner Price showed some signs of potential as a freshman and he definitely improved last season when he completed 253 of 422 passes for 3,017 yards with 20 touchdowns and only six interceptions. The southpaw figures to be one of the top signal callers in the league again this season. I was impressed with his composure and development a year ago.
There is depth concerns at quarterback if Price goes down. Three freshman and a sophomore with no experience will battle for the back up duty.
7. Georgia Tech
It is very difficult to compare the quarterback play at Georgia Tech to the rest of the league due to their offense. Tevin Washington is a very quick runner who can make defenders miss in the option game. Last season he rushed for 986 yards and 14 scores. He is limited in the passing game where he went 74 of 150 for 1,682 yards with 11 touchdowns and eight interceptions.
Washington will face stiff competition from highly recruited option quarterbacks like Synlyn Days and Vlad Lee. These are two dynamic runners who will be joined by Justin Thomas another highly regarded option guy entering school this fall.
8. Duke
Sean Renfee entered his junior season with a lot of promise but he had to feel like 2011 was a disappointment. He completed 282 of 434 passes for 2,891 yards and 14 touchdowns with 11 interceptions and injuries played a factor. This season Renfree is the man but Duke has decent depth with Brandon Cornette and Anthony Boone.
9. Miami
The bad news for Miami fans is that they will not have Jacory Harris to blame anymore. Harris was usually in the doghouse of the fans in his four years in Coral Gables. Stephen Morris takes over after seeing limited action a season ago. Miami also gets Memphis transfer Ryan Williams in to compete for the starting job. This is a position of uncertainty for the Canes entering August camp despite Morris seeing a decent amount of snaps the previous two seasons.
10. Virginia
Michael Rocco is not asked to win games at Virginia. Instead he is asked to manage the game which he did well last season. Rocco went 222 of 366 for 2,671 yards with 13 touchdowns and 12 interceptions through the air. The sturdy junior could eventually lose his job to Alabama transfer Phillip Sims whenever he becomes eligible.
11. Boston College
He was not Matty Ice but Chase Rettig did show improvement as a sophomore after getting pressed into playing time as a freshman. Last season Rettig went 170 of 317 for 1,960 yards with 12 touchdowns and nine interceptions. He has had four offensive coordinators in the last 13 months.
Josh Bordner is an athletic backup but there is a clear distinction between the starter and the number two guy here.
12. Maryland
Last season was a strange year for the new Maryland staff. They thought they had a strength in returning starting quarterback Danny O'Brien. However, O'Brien flopped and threw only seven touchdowns and 10 picks.
The Terps turned to CJ Brown who was more athletic but was not the experienced passer O'Brien was. Brown helped in the zone read offense but still must develop as a passer.
Caleb Rowe is a South Carolina native that showed promise in high school and is good enough to get some looks this fall.
The Brad Hughes All-State Insurance Agency
Prayer List
We have started a prayer list on the blog. Here are the guidelines:
If you are offended by prayer or prayer lists then I apologize in advance. The blog is free and the prayer list will be on the bottom of the page so you don't have to read it.
If you would like to add someone to the list please email me at mickeyplyler@hotmail.com
*Please let me know when it is appropriate to take the person off of the prayer list.
Those who need our prayers include:Finn Brookover, Mary-Louise Pawlowski (John's daughter), Jo Ann Bachman, Kenneth Bryant, Pruitt Martin, Got igers and his family, David Rowland, Leonard, Gillespie and his family, Jim S, Daniel Rosborough, The Huffman family, Nancy Winkler, John Reeve, Ethel Southard, Vinnie Brock, Kaitlyn L, Susan Miller, Joyce Harley, Steve Proveaux, Jeffrey Greene, the Hutto family, Sherl Drawdy, Caleb Kennedy, Teresa O'Connor, Matt Jacobs,Perrin Seigler, Candee Massee, Lindsey Jordan, Sam Catoe, Tyler Felch, the Nicolopulos family, "the Jacksonville, FL guys", Kim Sims, the Coyle family, Ryleigh Tedder, Steve Lee, Kelly Trakas, Jimmy Moore, the Thomas. V Family, Emary Claire Young, Kitty Bowers,Julie Locke, the Scheider family, Lauren Kittles' family, Frank Gentry, Joyce Bussey, Stacey McKeown, Dale Childs, Larry Lentz, Jr, Carl Sharperson, Scott Hannon, William Perry, Tyler Swaney, Lillian, Mark Feit, David Frame, Chad Berry, the family of Matthew M. Watson, the Dowis family, Shervin Messer, Alan Putnam, the Olivers, Lee Tate, Ronnie Abrams, Eddie Greene, the Jackson family, Bill Vader, Jim Taylor, Tina DeWitt, Rock Horne, Christopher Tuten, Bobby Wayne Thomas, Emma and Danielle Carothers, Robert Ditty, Mr. and Mrs. Murray Smith, Dot Cartee, Ayden Mills, Millie Heatley, Lynn Martin and family, Michael Pinson, Jake David family, Angie Crowley, Ira, Mike Tolson, Poly Wells, Dr. Muriel Bishop, Jack Cunningham, Emily Jefford Meister, Zachary Stoller, Aaron Clackum, Pat James, Cortney Moore, William Moore, Angelia and Savannah Anderson, William Ross, Meredith Legg, Scott Johns, Frank Carroll, Brandon Thompson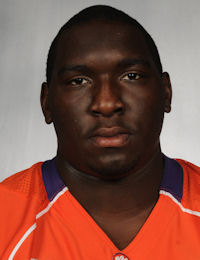 Brandon Thompson
Defensive Tackle
#98 6-2, 310
Thomasville, GA
View Full Profile , Alvin Sammons, Georgine McAlhaney, Glen Davis, Mike Price, Clay Childers, Aaron Knight, Danielle Johnston and family, Nicholas Abrams, Lana Kuykendall, Gary, Billy McLeroy, Gary G., William Huggins.

Upgrade Your Account
Unlock premium boards and exclusive features (e.g. ad-free) by upgrading your account today.
Upgrade Now