---
A Postseason Plan
It is very clear to me and may other observers that the way we finish our college football season is completely broke. We will fix part of the problem in 2014 when we have our first playoff system in place but other problems still exist.
The hope is that eventually we will go to an eight-team playoff and maybe one day we will get a 16-team scenario but again other problems will still confront us.
This year is a great example. I read yesterday where a couple of national sports sites had the Clemson-LSU game in the top five bowls this season. How can a Chic-fil-a bowl that features two teams that did not win their division be the fifth best bowl when we have four BCS bowls and a national title game?
The ten schools that go to the BCS game will make $18 million per school for their conferences but three of the BCS games are not as good as other lower tiered bowls?
I agree with ESPN that Notre Dame and Alabama are two traditional powers and this should make for interesting television. I also will be intrigued to watch Kansas State and Oregon. However, raise your hand if you are excited about the Sugar Bowl matchup of Florida and Louisville? Who among us is really excited about Florida State and Northern Illinois? Wisconsin lost five games this year but they get to go to the Rose Bowl?
The system is broken. Florida is left out. So is Oklahoma and LSU. But Northern Illinois, Louisville and Wisconsin get BCS bowls.
Another major problem with the bowls is this stupid bowl tie in we came up with. How many times can Georgia and South Carolina rotate between Tampa and Orlando? How many times can Clemson play in Atlanta in my lifetime?
Finally, we have too many bad bowls. We have too many bad bowl sites. And we have too many bad teams in bowls.
Below is a plan that could fix this mess.
Eight Team Playoff
Get us an eight team playoff. Four teams is not enough. In an eight-team playoff, champions from the SEC, Big Ten, Big 12, PAC 12 and ACC get in. Three at large teams get invitations for a selection committee who also seeds the teams 1-8. The quarterfinals, semi-finals and finals would be played in seven bowl games. The BCS title game, Rose Bowl, Sugar Bowl, Fiesta Bowl, Orange Bowl, Chic-fil-a Bowl and the Cotton Bowl are the the playoff sites every year with the BCS title game moving each year. Any city can bid on the BCS title game.
Here is how this would have worked out this season:
ACC-FSU
SEC-Alabama
Big Ten-Wisconsin
Big 12-Kansas State
PAC 12-Stanford
At-large-Notre Dame
At-large-Florida
At-large-Oregon
Seeds:
1 Notre Dame
2 Alabama
3 Florida
4 Oregon
5 Kansas State
6 Sanford
7 FSU
8 Wisconsin
Here is an example of how this would work this year:
Cotton-Notre Dame vs Wisconsin
Rose-Oregon vs Kansas State
Chic-fil-a-Florida vs Stanford
Fiesta-Alabama vs FSU
Sugar-Cotton winner vs Rose winner
Orange-Chic-fil-a winner vs Fiesta winner
BCS Finals-Sugar winner vs Orange winner
The Bowl System
We have too many bowls, so we eliminate 18 bowls. Here is a list of cities that don't get bowls:
Shreveport
Birmingham
Detroit
El Paso
Memphis
Boise
Mobile
Charlotte
Albuquerque
Houston
Tempe
Also, no city gets two bowls unless they get the BCS title game. So Miami, Orlando, Tampa, New Orleans, Dallas and San Diego don't get two bowls.
We get down to ten bowl games and those bowl games go to "destination" cities. If you are not a great vacation spot then you don't get a bowl. The ten bowl sites would be:
Orlando
Tampa
Jacksonville
Nashville
Las Vegas
San Francisco
New York
Washington, DC
Hawaii
San Diego
We would no longer have conference tie-ins. In this system the bowls are ranked 1-10. If Orlando is number one then they get the first and second picks. The next year they would rotate down to number 10. If Tampa was number two this year they would get the third and fourth picks then move up to number one the following year. This would continue down the line.
In this scenario we would get much more interesting matchups. This would also eliminate useless games. We don't need 35 bowl games. There are not 70 teams that are bowl worthy. In this system there are a total of 28 teams in the post season.
Every bowl would have the same payout. The teams that make it to the BCS title game make more money than the ones they beat in the semi-finals. The semi-final teams make more than the quarterfinal teams.
Teams that make the playoffs make more money than the ones that go to the ten bowl games but again, all teams that make the bowls and not the playoffs make the same money.
Here is a hypothetical example of what the the bowl games would look like this year under my plan:
Orlando-Georgia-LSU
Tampa-A@M-South Carolina
Jacksonville-Oklahoma-Clemson
Nashville-Oregon State-Nebraska
Las Vegas-UCLA-Michigan
San Francisco-Cincy-Mississippi State
New York-Rutgers-Texas
Washington, DC-Louisville-Northwestern
Hawaii-Boise State-Northern Illinois
San Diego-Utah State-San Jose State
Here is who is in bowls this year but would not be included in my system:
Baylor, Kent State, Nevada, Arizona, Toledo, UCF, Ball State, BYU, San Diego State, East Carolina, Lafayette, Washington, Fresno State, SMU, WKU, Central Michigan, Bowling Green, Duke, Ohio, UL Monroe, Virginia Tech, Nevada, Minnesota, Texas Tech, Rice, Air Force, West Virginia, Syracuse, Navy, Arizona State, Michigan State, NC State, Vanderbilt, So Cal, Georgia Tech, Iowa State, Tulsa, TCU, Purdue, Oklahoma State, Pitt, Ole Miss and Arkansas State.
This plan rewards the five conference champs and gives everyone a chance at making it to either the playoffs through at-large bids or the bowl system through their selection committees. This system eliminates bad bowl sites and bad bowl teams. It gives us a true national champion on the field and it makes the bowls more meaningful by eliminating the bad bowl teams and sites.
The Brad Hughes All-State Insurance Agency
Prayer List
We have started a prayer list on the blog. Here are the guidelines:
If you are offended by prayer or prayer lists then I apologize in advance. The blog is free and the prayer list will be on the bottom of the page so you don't have to read it.
If you would like to add someone to the list please email me at mickeyplyler@hotmail.com
*Please let me know when it is appropriate to take the person off of the prayer list.
Those who need our prayers include:Finn Brookover, Jo Ann Bachman, Kenneth Bryant, Pruitt Martin, Got igers and his family, David Rowland, Leonard, Gillespie and his family, Jim S, Daniel Rosborough, The Huffman family, Nancy Winkler, John Reeve, Ethel Southard, Vinnie Brock, Kaitlyn L, Susan Miller, Joyce Harley, Steve Proveaux, Jeffrey Greene, the Hutto family, Sherl Drawdy, Caleb Kennedy, Teresa O'Connor, Matt Jacobs,Perrin Seigler, Candee Massee, Lindsey Jordan, Sam Catoe, Tyler Felch, the Nicolopulos family, "the Jacksonville, FL guys", Kim Sims, the Coyle family, Ryleigh Tedder, Steve Lee, Kelly Trakas, Jimmy Moore, the Thomas. V Family, Emary Claire Young, Kitty Bowers,Julie Locke, the Scheider family, Lauren Kittles' family, Frank Gentry, Joyce Bussey, Stacey McKeown, Dale Childs, Larry Lentz, Jr, Carl Sharperson, Scott Hannon, William Perry, Tyler Swaney, Lillian, Mark Feit, David Frame, Chad Berry, the family of Matthew M. Watson, the Dowis family, Shervin Messer, Alan Putnam, the Olivers, Lee Tate, Ronnie Abrams, Eddie Greene, the Jackson family, Bill Vader, Jim Taylor, Tina DeWitt, Rock Horne, Christopher Tuten, Bobby Wayne Thomas, Emma and Danielle Carothers, Robert Ditty, Mr. and Mrs. Murray Smith, Dot Cartee, Ayden Mills, Millie Heatley, Lynn Martin and family, Michael Pinson, Jake David family, Angie Crowley, Ira, Mike Tolson, Poly Wells, Dr. Muriel Bishop, Jack Cunningham, Emily Jefford Meister, Zachary Stoller, Aaron Clackum, Pat James, Cortney Moore, William Moore, Angelia and Savannah Anderson, William Ross, Meredith Legg, Scott Johns, Frank Carroll, Brandon Thompson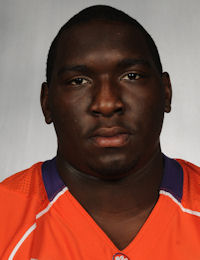 Brandon Thompson
Defensive Tackle
#98 6-2, 310
Thomasville, GA
View Full Profile , Alvin Sammons, Georgine McAlhaney, Glen Davis, Mike Price, Clay Childers, Aaron Knight, Danielle Johnston and family, Nicholas Abrams, Lana Kuykendall, Gary, Gary G., William Huggins, Jim Bennett, Chantz Fowler, Ethel McElveen, Michele Gurganus, William Gentry, Lewis Usher and Tanya Sanders, Shon Cooper, Nick Collins, Travis Patterson, Jennifer Chancy, Amanda Peake, Danny Hammond, Chip Turner, Nick Collins, Allen Steen, The Sturkey Family, James Caylor, the Lance family, Marcus Lattimore, Nick Chrisley's family, Allison Williams, Lt. Kyle Walker, Summer and Joel Johnson, Nicole O'Donnell, Jennifer McManus, James O. Johnson, Joy Pruett and family, Patrick Heher, Bill Schmidt, Jack Bailey, Bill Early, Gardner Family, our great country and the men and women in uniform that protect and serve it every day plus their families.

Upgrade Your Account
Unlock premium boards and exclusive features (e.g. ad-free) by upgrading your account today.
Upgrade Now