---
A Different Off-Season
I spent part of last week traveling the state speaking to Clemson Clubs about the 2013 recruiting class and other topics concerning the program. Over a span of six days I visited with a few hundred Tigers from clubs in Greenville, Charleston, Columbia and Charlotte.
In these events I try to answer questions about some of the prospects that chose the Tigers but I also learn a lot too. The main thing I learned this year is that Clemson Nation has changed over the past two years.
I did rounds in Greenville, Charleston and Columbia two years ago after the season ended with a loss to South Florida in a bowl game. Those sessions were filled with fans that wanted more heads to roll. They wanted answers and at the time few were satisfied no matter what they heard.
In this round they still had questions two years later, but they were different questions. Last week the questions were about beating Georgia, winning a national title and Tajh's chances at a Heisman. What a difference two years make.
I have said many times that I think it takes about two years to change the culture of a program. Last season Clemson beat Auburn, Virginia Tech and Florida State all in a three week span. Clemson dominated the opponent and climbed into the top five in the country. However, the doubters were proven right and the season ended with a dud.
This past season Clemson won 11 games and ended with a walk-off win over national power LSU. It was a shocking way to end another successful campaign.
A program that can boast of 21 wins in two years, a division title, a conference title and a BCS bowl berth does have a lot to be proud of. However, I believe it was the last play of the season that changed most Tiger fans attitude.
The months of December and January had two totally different feelings in Tiger Nation. December was about bitching and moaning about another loss to the arch rival. Message boards and sports talk shows were filled with doom and gloom.
Fast forward one month and the feeling is totally different. Now the talk is of national titles and Heisman trophies.
Imagine if that kick would have not gone over the cross bar and through the uprights of one of the Georgia Dome goalposts. The feeling around here would have been totally different. We would have had to hear about the mighty SEC. We would have heard the cries of "Same old Clemson."
Instead, Clemson dominated LSU and physically wore down the national powerhouse. In the process the Lake Hartwell Tigers beat the favored Mississippi River Tigers and sett off grand visions in Clemson fans' heads.
The final game of the 2012 season set in motion pre-season expectations not only among Clemson fans but among the national media as well. Two different ESPN talking heads have Clemson in their top five for next season. Most pre-season polls at this point have the Tigers between eighth and 13th.
The other thing that Chandler Catanzaro
Chandler Catanzaro
RS Jr. Punter / Kicker
#39 6-2, 195
Greenville, SC
View Full Profile 's kick did was add even more fuel to the Georgia-Clemson expectation fire for the season opener in Death Valley this August. This has now become one of the nation's most anticipated games in the first month of the season. The game will feature two national championship contenders and at least two potential Heisman candidates.
With all this in mind, I am thankful the Tigers upset LSU and ended the season on one of the most positives notes in recent history. I am glad that they overcame a turnover on the first drive of the game and injuries to two offensive starters including perhaps one of the best wide outs in the country.
The win over LSU was a program changer for Clemson. It may be short lived but it has changed the culture in this off-season. Tiger fans have visions of sugar plums dancing in their heads instead of switches and ashes. It made for entertaining visits to Clemson Clubs across this state and Charlotte for me last week and should continue to make for a crazy off-season on the radio show for the next six months.
The Brad Hughes All-State Insurance Agency
Prayer List
We have started a prayer list on the blog. Here are the guidelines:
If you are offended by prayer or prayer lists then I apologize in advance. The blog is free and the prayer list will be on the bottom of the page so you don't have to read it.
If you would like to add someone to the list please email me at mickeyplyler@hotmail.com
*Please let me know when it is appropriate to take the person off of the prayer list.
Those who need our prayers include: Finn Brookover, Jo Ann Bachman, Kenneth Bryant, Pruitt Martin, Got igers and his family, David Rowland, Leonard, Gillespie and his family, Jim S, Daniel Rosborough, The Huffman family, Nancy Winkler, John Reeve, Ethel Southard, Vinnie Brock, Kaitlyn L, Susan Miller, Joyce Harley, Steve Proveaux, Jeffrey Greene, the Hutto family, Sherl Drawdy, Caleb Kennedy, Teresa O'Connor, Matt Jacobs,Perrin Seigler, Candee Massee, Lindsey Jordan, Sam Catoe, Tyler Felch, the Nicolopulos family, "the Jacksonville, FL guys", Kim Sims, the Coyle family, Ryleigh Tedder, Steve Lee, Kelly Trakas, Jimmy Moore, the Thomas. V Family, Emary Claire Young, Kitty Bowers,Julie Locke, the Scheider family, Lauren Kittles' family, Frank Gentry, Joyce Bussey, Stacey McKeown, Dale Childs, Larry Lentz, Jr, Carl Sharperson, Scott Hannon, William Perry, Tyler Swaney, Lillian, Mark Feit, David Frame, Chad Berry, the family of Matthew M. Watson, the Dowis family, Shervin Messer, Alan Putnam, the Olivers, Lee Tate, Ronnie Abrams, Eddie Greene, the Jackson family, Bill Vader, Jim Taylor, Tina DeWitt, Rock Horne, Christopher Tuten, Bobby Wayne Thomas, Emma and Danielle Carothers, Robert Ditty, Mr. and Mrs. Murray Smith, Dot Cartee, Ayden Mills, Millie Heatley, Lynn Martin and family, Michael Pinson, Jake David family, Angie Crowley, Ira, Mike Tolson, Poly Wells, Dr. Muriel Bishop, Jack Cunningham, Emily Jefford Meister, Zachary Stoller, Aaron Clackum, Pat James, Cortney Moore, William Moore, Angelia and Savannah Anderson, William Ross, Meredith Legg, Scott Johns, Frank Carroll, Brandon Thompson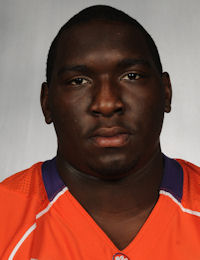 Brandon Thompson
Defensive Tackle
#98 6-2, 310
Thomasville, GA
View Full Profile , Alvin Sammons, Georgine McAlhaney, Glen Davis, Mike Price, Clay Childers, Aaron Knight, Danielle Johnston and family, Nicholas Abrams, Lana Kuykendall, Gary, Gary G., William Huggins, Jim Bennett, Chantz Fowler, Ethel McElveen, Michele Gurganus, William Gentry, Lewis Usher and Tanya Sanders, Shon Cooper, Nick Collins, Travis Patterson, Amanda Peake, Danny Hammond, Chip Turner, Nick Collins, Allen Steen, The Sturkey Family, the Lance family, Marcus Lattimore, Nick Chrisley's family, Allison Williams, Lt. Kyle Walker, Summer and Joel Johnson, Nicole O'Donnell, James O. Johnson, Joy Pruett and family, Patrick Heher, Bill Schmidt, Jack Bailey, Bill Early, Gardner Family, Charles Turner, Kathy Bartholomew, Ray Sanders, David and Robin Blocker, J.R. Ray, Kenneth Kowe, Lauren Sielicki, Doug Bailey and family, Johnnie Walker, Jenna Phipps, Mark Lawrence, Harlan Sullins, our great country and the men and women in uniform that protect and serve it every day plus their families.

Upgrade Your Account
Unlock premium boards and exclusive features (e.g. ad-free) by upgrading your account today.
Upgrade Now