TigerNet

is the oldest and largest Clemson Community online with 150,372 members, 55,801 news articles and 28M forum posts.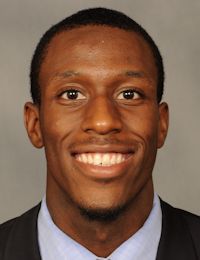 #3
Adonis Filer
Guard
| | |
| --- | --- |
| Position: | Guard |
| Ht./Wt.: | 6-2, 190 lbs |
| Hometown: | Chicago, IL |
| High School: | Notre Dame Prep |
| Class: | Sophomore |
| Exp: | 1VL |
| Years: | 2012 - 2013 |
| Major: | PRTM |
B I O
Overview: Signed in the fall of 2011 with Brad Brownell's program...athletic, quick point guard who saw significant action in his first year with the Tiger program...played in all 31 games as a first-year freshman and logged 617 minutes, second-most among Clemson's five signees...showed an ability to drive to the basket and score, as well as get to the free throw line...plays solid on-ball defense...played with and against some of the nation's best players at the prep school ranks before enrolling at Clemson...played on same team with 2012 signees from Fordham (Mandell Thomas), Pittsburgh (Steven Adams) and Xavier (Myles Davis)...played one year of prep school ball at Notre Dame Preparatory in Massachusetts, the same school that produced multiple NBA players, including former college Player-of-the-Year Michael Beasley...recruited by former Clemson assistant and current Mississippi State Head Coach Rick Ray...brother, Steve, played linebacker at the University of Notre Dame...possesses a 35-inch one-step vertical leap and only six percent body fat...majoring in communication studies.

In Italy (August 2013): Averaged 5.0 points and 19.8 minutes per game over four contests against club teams and all-star groups...earned one start and posted double figures in the second game vs. Dream Team Italy, he had 10 in that contest...posted 11 assists, second-best on the team...third on the squad with nine steals in 79 minutes on the trip.

In 2012-13: Played in all 31 contests with four starting assignments...averaged 19.9 minutes per game, second only to Jordan Roper in Clemson's freshman class...also second to Roper in scoring, he averaged 6.3 points per game...third on the team with 47 assists...tied for second on the team with 54 made free throws, he was second with 80 attempts...shot 31 percent from three-point distance and 68 percent at the charity stripe...collected 23 steals, one of six players on the team with at least that many...scored double figures in nine games, including six times during the non-conference portion of the schedule...played double figure minutes in all but one game, which was Florida State in the ACC Tournament after suffering a knee sprain in practice a few days before the contest.

Best Games of 2012-13: Posted season-high 21 points against The Citadel on New Year's Day game...made all seven of his field goal attempts, including 4-of-4 from long range, and added a 3-for-4 clip at the line...first Tiger freshman since Terrence Oglesby in 2007 vs. Ole Miss to score at least 20 points in a game...posted 14 points in 23 minutes versus Florida A&M on Dec. 15...made 7-of-10 free throws in that game...scored 13 points against two ACC teams, first versus Wake Forest on Jan. 15 and later at Virginia Tech on March 2...in the first game with Wake, made 4-of-6 field goals and 4-of-5 free throws...posted similar numbers at Virginia Tech, going 4-for-8 from the floor and 4-of-6 at the stripe...posted 10 points in all three games of the Old Spice Classic, including the opening round against eventual No. 1 NCAA Tournament seed Gonzaga...added eight rebounds in 25 minutes against Marist on Nov. 28...scored 10 on Dec. 8 against Arizona in 27 minutes of action...made 3-of-8 shots and 4-of-6 at the line, while adding four rebounds and only one turnover...scored seven at South Carolina on Dec. 2, all on free throws, in 29 active minutes...scored 10 at Boston College, most of which came during a frantic comeback effort late...added four assists in that game...posted seven points, four assists and no turnovers in 20 minutes at Maryland.

In High School: Three-star prospect according to most national recruiting services...rated as high as the nation's No. 117 prospect by Rivals.com...rated the No. 24 point guard in the nation by Rivals.com and No. 28 at his position by Scout.com...played at two different high schools in Indiana, prior to enrolling at Notre Dame Prep for 2011-12...rated No. 8 prospect in the state of Massachusetts by New England Recruiting Report...led Notre Dame to semifinals of National Prep Championship...scored 19 points in a win over South Kent (CT) and 18 in a BABC Classic loss to Tilton School (NH)...averaged 14.2 points and 4.5 assists per game as a junior for Mount Carmel High School in Illinois...was a Chicago Catholic League first-team selection...averaged 16 points and 4.5 rebounds per game as a senior at Bishop Noll Institute in Hammond, IN...led Bishop Noll to 26-1 overall record, with only loss coming in the state championship game...played for coach Ryan Hurd at Notre Dame Prep...also recruited strongly by former Clemson Head Coach Oliver Purnell at DePaul...born July 11, 1993.


*Courtesy Clemson Media Guide
S T A T S
Filer Career Statistics

Year

GP-GS

Min/Avg

FG-FA

Pct

3FG-FA

Pct

FT-FTA

Pct

Off/Reb/Avg

A-T

BS-ST

PF-D

Pts/Avg

2012-13
31-4

617/19.9

61-165
.370
20-64
.313
54-80
.675
21/72/2.3
47-39
1-23
60-0
196/6.3

Totals

31-4

617/19.9

61-165

.370

20-64

.313

54-80

.675

21/72/2.3

47-39

1-23

60-0

196/6.3
Filer Career Highs
Points: 21 vs. The Citadel, 1/1/13
Field Goals Made: 7 vs. The Citadel, 1/1/13
Field Goal Attempts: 12 vs. Gonzaga, 11/25/12
Field Goal %: (1.000, 7-7) vs. The Citadel, 1/1/13
3-Pointers Made: 4 vs. The Citadel, 1/1/13
3-Point Attempts: 5 vs. Gonzaga, 11/25/12; 5 vs. Boston College, 3/5/13
Free Throws Made: 7 vs. South Carolina, 12/2/12; 7 vs. Florida A&M, 12/15/12
Free Throw Attempts: 10 vs. South Carolina, 12/2/12; 10 vs. Florida A&M, 12/15/12
Rebounds: 8 vs. Marist, 11/25/12
Offensive Rebounds: 3 vs. Florida A&M, 12/15/12
Assists: 4 vs. many (3), last vs. Maryland, 2/23/13
Blocked Shots: 1 vs. Boston College, 2/2/13
Steals: 3 vs. The Citadel, 1/1/13
Minutes: 29 vs. South Carolina, 12/2/12
| | |
| --- | --- |
| | VIDEO HIGHLIGHTS |
Latest Adonis Filer News
Click the link below to read more!