TigerNet

is the oldest and largest Clemson Community online with 153,937 members, 58,628 news articles and 29M forum posts.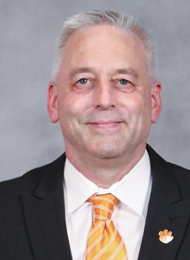 Dick Bender
| | |
| --- | --- |
| Position: | Assistant Coach |
| Born: | Grantsville, MD |
| As a Player: | Two-year letterman and team MVP at Western Maryland. |
| College: | Graduated from Western Maryland in 1986 and earned a master's degree from DePauw in 1989 |
B I O
Dick Bender, Clemson's director of men's basketball operations from 2010-14, returned to the program as an assistant coach for the Tigers in the summer of 2016. Bender worked two seasons as an assistant coach under Earl Grant, who left Clemson in 2014 to take the head coaching position at College of Charleston. Bender enters his fourth season as an assistant in 2019-20. Bender brings 34 years of collegiate coaching experience, including 33 at the Division I level. Bender has had a positive effect on Clemson's lead guards in his first three seasons back on staff. Marcquise Reed emerged as a top scoring threat for the Tigers in 2017-18 – leading the team with 15.8 points per contest, while adding in 116 assists (second on the squad). Reed upped that averaged to nearly 20.0 points per game in 2018-19, while becoming a 1,000-point scorer in a Tiger uniform. Reed made second-team All-ACC in 2017-18 and third-team All-ACC in 2018-19. Mitchell made second-team All-ACC Tournament. Shelton Mitchell was the Tigers' second-leading scorer and posted over 100 assists in his first season at Clemson, while upping his points-per-game to a career-high 12.2 and finished with a team-best and career-high 119 assists in 2017-18. Combined with All-NCAA Regional selection Gabe DeVoe, the Tigers won 25 games in 2017-18. Avry Holmes led the ACC in three-point shooting percentage in 2016-17 and Bender saw the Tigers win 17 games in his first season, including a 62-60 thriller at South Carolina, a team that went on to the Final Four. In two seasons at Charleston, Bender helped orchestrate an eight-win improvement overall from 2014-15 to 2015-16. The Cougars went 17-14 in Bender's second season on staff, with an 8-10 record in the Colonial Athletic Association. Six of the Cougars' players earned postseason honors, including Cameron Johnson, an All-CAA Third Team and All-Defensive Team selection. Bender served as Clemson's operations director in Brad Brownell's first four seasons, 2010-14. During that stretch, the program compiled a 74-58 record and advanced to the postseason on two occasions, including the 2011 NCAA Tournament. In 2013-14, his most recent season, he was part of a staff that saw the Tigers improve their overall record by 10 wins and advance to the semifinals of the NIT. In his first season at Clemson, Bender was an important part of the staff that led the Tigers to a 22-12 final record in 2010-11. Clemson was the No. 4 seed in the ACC Tournament with a 9-7 record. The Tigers advanced to the NCAA Tournament for a record fourth straight season and won their first-round game over UAB, 70-52, in Dayton, Ohio. He began his collegiate coaching career at DePauw in 1987 under the late Royce Waltman. He helped the Division III Tigers to an outstanding four-year overall record of 80-30 and to a national runner-up finish in the 1990 NCAA Tournament. One of the players he coached was Brownell. After his stint with DePauw, Bender served as an assistant coach under Ron Bradley at Radford from 1991-97. The Highlanders compiled the top conference record and non-conference record of all the teams in the Big South during Bender's six seasons with the program. Bender was reunited with Waltman as part of the staff at Indiana State and coached with the Sycamores for 10 seasons from 1997-07. He helped ISU to consecutive 20-win seasons and NCAA Tournament appearances in 1999-00 and 2000-01. The Sycamores went on to upset No. 4 seed Oklahoma, 70-68, in the first round of the 2001 NCAA Tournament. The native of Grantsville, Md., graduated from Western Maryland in 1986 and earned a master's degree from DePauw in 1989. He was a two-year letterman and team MVP at Western Maryland. He was third in the nation in 1985-86 in free throw accuracy for Division III players with a 91 percent clip. Bender and his wife, Beth, have two sons, Dalton and Dillon.

*Courtesy Clemson Media Guide
| | |
| --- | --- |
| | VIDEO HIGHLIGHTS |
Latest Dick Bender News
Click the link below to read more!