TigerNet

is the oldest and largest Clemson Community online with 153,937 members, 58,628 news articles and 29M forum posts.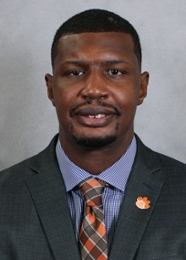 Antonio Reynolds Dean
| | |
| --- | --- |
| Position: | Assistant Coach |
| Born: | |
| College: | |
B I O
Antonio Reynolds Dean enters his third season on Brad Brownell's staff at Clemson after most recently serving as an assistant coach with the University of Rhode Island's 2017 Atlantic 10 Championship team. Reynolds Dean primarily works with the Tiger bigs and Clemson has seen lots of production from that area in his two seasons on the court. Elijah Thomas flourished under Reynolds Dean, averaging nearly a double-double with 10.7 points and 8.1 rebounds per game in 2017-18 and adding a terrific senior season with 13.1 points and 7.9 rebounds per game. Thomas also led the team in blocks with 79 in 2017-18 and 74 in 2018-19 en route to being named to the ACC All-Defensive Team in back-to-back seasons. Thomas finished his career tied for fourth in blocks per game (1.95) and eight in total blocks (181). He posted 18 of his 20 career double-doubles under the tutelage of Reynolds Dean. Aamir Simms improved over his freshman season into his sophomore campaign, doubling his points per game (8.1) and increasing his rebounds per game by over 1.5 rebounds per contest. Simms shined in his freshman debut, taking over for the injured Donte Grantham in the starting lineup. Simms provided sparks on offense and defense averaging 3.7 points and 3.2 rebounds while swatting 29 shots. Reynolds Dean and his post players helped Clemson to a 25-10 record, including 12 wins over ACC opponents his first season. Reynolds Dean helped the Rams to a 25-10 record and the 2017 NCAA Tournament where they defeated Creighton and lost by just three points to eventual Final Four team Oregon. He is the only person in Rhode Island men's basketball history to play on, and coach on an Atlantic 10 Conference championship team. He was a starter on the Rams 1999 team that won the title with a two-point win over a Temple team coached by Hall of Fame mentor John Chaney. Reynolds Dean was inducted into the University of Rhode Island Athletic Hall of Fame in 2015. The native of Atlanta, Ga. finished his college career as one of just three players in program history to tally at least 1,000 points and 1,000 rebounds, finishing his career from 1995-99 with 1,576 points (11th-best) and 1,028 boards (3rd-best). He averaged double figures all four years of his career and played in 131 games. Reynolds Dean also ranks third all-time in blocked shots (235) and career games played (131). The Atlantic 10 Rookie-of-the-Year in 1995-96 also earned a spot on the A-10's All-Defensive team in 1996-97. He was a third-team All-Atlantic 10 selection in 1998-99. A member of one of the winningest classes in program history, his Rhode Island teams reached postseason play three times. His career was highlighted by a run to the 1998 NCAA Elite Eight that included a victory over then No. 1 ranked Kansas. A two-point loss to Stanford ended the Rams run in the regional final. As a senior, Reynolds Dean was part of URI's 1999 Atlantic 10 Tournament championship – the first A-10 tourney title in school history. He played two years under Al Skinner and two years under Jim Harrick at Rhode Island. Reynolds Dean spent nine years playing professional basketball. After beginning his pro career with the Dakota Wizards of the International Basketball Association, he was named the league's Rookie of the Year in 1999-2000. Reynolds Dean played throughout Europe and Argentina professionally. Reynolds Dean began his coaching career as director of basketball operations at Fairfield in 2008-09 under Ed Cooley, now the head coach at Providence. He began his career as a full-time assistant coach at Northeastern in 2009-10. He served under Head Coach Bill Coen for five seasons. Northeastern won 20 games overall, finished 14-4 in conference play, and reached the NIT in 2010 and 2013. In 2014-15, Reynolds Dean moved to the College of Charleston where he worked under former Clemson assistant Earl Grant. Current Clemson assistant Dick Bender was also on that staff. Reynolds Dean then returned to his alma mater for the 2015-16 and 2016-17 seasons. Reynolds Dean earned his bachelor's degree in education with an emphasis in human development and family studies from Rhode Island in 1999. In 2012, he added a master's degree in sports leadership from Northeastern. He is the proud father of two daughters, Jasmine and Naomi.

*Courtesy Clemson Media Guide
| | |
| --- | --- |
| | VIDEO HIGHLIGHTS |
Latest Antonio Reynolds Dean News
Click the link below to read more!