TigerNet

is the oldest and largest Clemson Community online with 153,937 members, 58,628 news articles and 29M forum posts.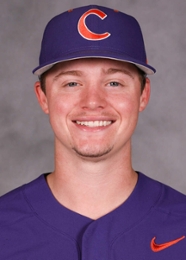 #6
Elijah Henderson
| | |
| --- | --- |
| Position: | |
| Ht./Wt.: | 5-10, 185 lbs |
| Hometown: | Greer, SC |
| High School: | Blue Ridge HS |
| Class: | Sophomore (RS) |
| Exp: | 1VL |
| Years: | 2019 - 2021 |
| Major: | Undeclared |
B I O
Has the versatility to play in the infield and outfield … a career .266 hitter with a .372 slugging percentage and .397 on-base percentage in 36 games (25 starts) over two active seasons … has seven doubles, a homer, 17 RBIs, 13 runs, 18 walks, three hit-by-pitches and three steals.
2020: Received a redshirt from the NCAA with the season's suspension on March 12 and cancellation due to a coronavirus (COVID-19) pandemic … co-winner of the Mitchell Award, given to the team's most valuable player … hit .323 with 10 runs, seven doubles, 12 RBIs, a .435 slugging percentage, .456 on-base percentage, 13 walks, three hit-by-pitches and three steals in 17 games (17 starts, including eight at second base, five in right field and four in left field) … tied for third in the ACC in doubles … led the team in doubles, on-base percentage, multiple-hit games (7) and two-out RBIs (10) … tied for the team lead in games, starts and steals … only had six strikeouts … had a .970 fielding percentage as a second-baseman … hit .385 with runners on base, .421 with runners in scoring position and .500 with two outs … went 2-for-4 with a double, two RBIs and a run against Liberty on Feb. 16; was 6-for-11 (.545) with three RBIs in the series … was 2-for-2 with a walkoff single in the 10th inning, two walks and a hit-by-pitch against Stony Brook on Feb. 22 … went 3-for-4 with a double, four RBIs, a run and walk against Boston College on March 7.
2019: Hit .156 with three runs, a homer, five RBIs, a .270 on-base percentage and five walks in 19 games (eight starts in left field) … was 3-for-10 with two outs … was 4-for-5 (.800) with three RBIs in the first two innings … scored the walkoff run on a balk as a pinch-runner in the first game of a doubleheader against No. 3 North Carolina on March 9 … hit a two-run single at Virginia Tech on March 29; was his first career hit … went 1-for-2 with his first career homer and a walk against No. 8 Louisville on April 5 … played for Forest City in the Coastal Plain League in the summer, where he hit .270 with four doubles, four homers, 13 RBIs, 24 runs, a .382 on-base percentage and 15 steals in 35 games; Coastal Plain League All-Star Game selection; second-team All-CPL selection.
2018: Redshirted as a member of the developmental squad … No. 130 freshman in the ACC in the preseason by Perfect Game … played for Forest City in the Coastal Plain League, where he hit .250 with a homer, two triples, six doubles, 16 RBIs, 25 runs and eight steals in 34 games; named to the Coastal Plain League Select Team.
Before Clemson: South Carolina Select Team participant … three-time all-state and all-region selection … region player-of-the-year as a senior … lettered four times in baseball at Blue Ridge High School, where he was coached by Travis Henson.
Personal: Majoring in agribusiness … born Elijah Manning Henderson on Sept. 23, 1998 in Greenville, S.C. •
Favorite hobbies – Hunting and fishing•
Interesting facts about family/parents – His mother is a retired dental hygienist•
One fact that most people don't know – Enjoys going to class•
Favorite food or candy – Steak and sushi•
Proudest childhood accomplishment – Winning his high school's regional tournament•
Ideal vacation spot – Any beach in Mexico•
Childhood hero – Derek Jeter•
One person, living or dead, to eat dinner with – George Washington

*Courtesy Clemson Media Guide
| | |
| --- | --- |
| | VIDEO HIGHLIGHTS |
Latest Elijah Henderson News
Click the link below to read more!