| | |
| --- | --- |
| Danny Ford inducted into College Football Hall of Fame Tuesday | |
---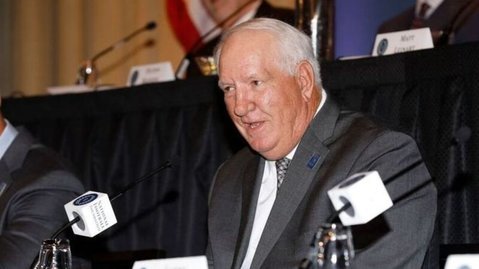 Former Clemson football coach Danny Ford was inducted into the National Football Foundation College Football Hall of Fame Tuesday night.
The awards dinner held in New York City is available online on ESPN3.
The national-title winning coach was inducted along with Bob Crable (Notre Dame), Marshall Faulk (San Diego State), Kirk Gibson (Michigan State), Matt Leinart (Southern California), Peyton Manning (Tennessee), Bob McKay (Texas), Dat Nguyen (Texas A&M), Adrian Peterson (Georgia Southern), Mike Ruth (Boston College), Brian Urlacher (New Mexico), Larry Kehres (Mount Union [Ohio]) and Steve Spurrier (Duke, Florida, South Carolina).
Clemson coach Dabo Swinney was in town for the event, as a guest of the former rival coach Spurrier.
Ford, an Upstate resident, talked about his time in Clemson today and how the program has evolved since his highly-successful 11-year run as head coach:
Danny Ford Hall of Fame Q&A
QUESTION (ESPN's Holly Rowe the moderator): Coach, at age 33, you were the youngest head coach to win a national championship. Why do you think at such an early age you had the skills to be successful? And what were those?
DANNY FORD: Well, I'm not so sure I had the skills to do that. I believe if you're 33 years old and you get a head coaching job at 30 and you've never done it before and your first football game is on national TV against Woody Hayes, that ain't no fun. (laughter)
So I didn't learn that fast in two years, I assure you that. I think what caused that to happen is that we had some good, young men that were like a lot of these guys who were hungry and not highly recruited and overachieved and some really good players mixed in. And they got a little bit better every week.
We started with Wofford because Villanova had dropped football, and we had to pick up an interstate school. And Wofford was ahead of us at halftime. We weren't setting the woods on fire like we were going somewhere. And then we just got a little bit better each week, and our players overcame our coaches. I believe they did.
QUESTION: I get to cover Clemson now. And one of the things that strikes me is it's a very special place. Clemson's fans and people, there is feeling, a very unified beautiful feeling. How were you able to really capture that magic, and what did you appreciate about that time in '81?
FORD: Well, we were a small school back in '81. We were -- our president back then, we had to stay under 12,000 students. And we played Ohio State. And the people in Ohio didn't know if Clemson was in Georgia, Tennessee, or North or South Carolina. They had a hard time placing it. We weren't very well-known. And Coach [Frank] Howard had been there for many, many years. And we were an agriculture school. And we developed a great family atmosphere there. It was really all we had, just us and our people in northwest part of South Carolina.
So today it's grown, and I like to think that our players from back in that era and the people who played for Coach Howard and Coach [Jess] Neely, and all the other coaches, Coach [Ken] Hatfield all the way through Coach [Tommy] Bowden. They all helped to get to where Clemson is today. And today I think they can pretty much -- and I think they've proven -- that they can compete and play with anybody in the country. And that's coming a long way from where we came from, and that's what we're most proud of.
Ford bio
Clemson University (1978-89), Arkansas (1993-97)
Head Coach, 122-59-5 (66.9%)
The youngest coach in college football history to win a national championship, Danny Ford was only 33 when he led Clemson to a perfect 12-0 season in 1981 after defeating Nebraska in the Orange Bowl. After coaching one of the most successful runs in Clemson history from 1978-89, he also coached at Arkansas from 1993-97.
He guided the Tigers to six wins in eight bowl games, the second-most bowl victories among ACC coaches, with five coming against Hall of Fame coaches. The 1981 AFCA and Eddie Robinson Coach of the Year coached Clemson to a school-record 41 consecutive weeks in the AP Top 20 and eight top 20 seasons, including four in the top 10. A two-time ACC Coach of the Year, Ford led the Tigers to five conference titles and his 51 wins over his first six years is an ACC record.
Ford's 76.0 winning percentage with the Tigers ranks second in school history among coaches who served at least three seasons, and he is now third in wins at Clemson (96) behind College Football Hall of Fame coach Frank Howard and current Tigers coach Dabo Swinney. Ford never had a losing season at Clemson, guided them to the second most postseason appearances in school history and led the university to its first national championship in any sport.
At Arkansas, Ford led the Razorbacks to the 1995 SEC Western Division title, a spot in the conference championship game and a bowl berth.
During his career at both universities, Ford coached 15 First Team All-Americans, including Hall of Famers Jeff Davis and Terry Kinard at Clemson. He also coached 73 first team all-conference selections, 21 Academic All-ACC players, three ACC Players of the Year, two ACC Rookies of the Year and two recipients of the ACC Jacobs Blocking Trophy. He also coached 1978 NFF National Scholar-Athlete Steve Fuller.
Ford was a team captain and earned First Team All-SEC honors playing for College Football Hall of Fame coach Bear Bryant at Alabama. Before becoming Clemson's head coach, he served an assistant coach at Clemson, Virginia Tech and on Bryant's 1973 national championship team. A member of the Clemson Ring of Honor, Ford is enshrined in the Clemson, Orange Bowl, Peach Bowl, State of Alabama Sports and State of South Carolina Sports halls of fame. A scholarship at Clemson has been named in his honor.